You: 8 Big Questions We Have After Season 4 Part 2
I'm getting close to my limit, man.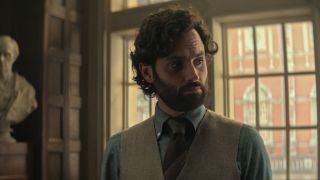 (Image credit: Netflix)
BIG Spoilers from You Season 4 (Part 2) ahead!
Well hello, you – again, over and over. At least that's what it's looking like right now.
After waiting a month for the second part of You Season 4, we were finally given Part 2 on March 9th as part of the 2023 TV premiere schedule, and wow what a freaking five episodes it was because this man, Joe Goldberg (played by Penn Badgley), got me all messed up and practically throwing my dinner at the television. He hit my last nerve during these episodes.
But then the finale came quicker than I expected, and all of a sudden, I am left burning with questions and thoughts and I just need to ask them here. I'm sure if you're like me, you're wondering just what is going to happen next if there is a You Season 5. Here are several big questions that I need answered if the show continues on.
This Isn't The Last We've Seen Of Nadia... Right?!
Poor Nadia, man. That girl got screwed over big time.
One of the biggest questions that I had after the first part of You Season 4 was about Nadia. While I was excited to see the new characters as part of the You Season 4 cast, I was curious to see if she was going to play a bigger role in the season besides being a student who had an affair with her professor. And boy, did I get my answer and more in the second part.
Nadia found out about Joe's past when she discovered Marienne in his classic glass cage that we've seen used since Season 1, and made it a mission to free Marienne and somehow get Joe in jail. While at first it looked like she had succeeded, Joe got the drop on her and ended up framing her for the murder of Nadia's boyfriend, Edward. And apparently, as Joe says at the end, she was arrested and refused to speak in defense of herself.
I mean, that can't be the end of Nadia, right? I can't imagine that they would just write off her character like that. We have had people from Joe's past show up in later seasons, so if she did end up coming back, it would make sense. But something just doesn't sit right with me knowing what she went through. Does she have a plan to get out of jail? Hopefully we haven't seen the last of her!
Is Joe's Darker Half Going To Become A Main Character?
I think the biggest twist of this part two was that it was revealed Joe was actually just going literally insane and was the Eat the Rich killer, but his own mind couldn't handle it, so he spun it around that Rhys was the killer.
Netflix's You EP Opens Up About Major Killer Twist And How It Made Season 4 The 'Hardest' Her Team Has Ever Worked On
Later on, it seemed he was about ready to let go of that part of him and kill himself, but when he is resuscitated by the police and Kate comes to visit him, he decides to just embrace it.
I didn't think that the character of Rhys would be sticking around – but I suppose it's not even really Rhys anymore, just the manifestation of Joe's inner anger and evil behavior. And to be honest, I actually almost like their strange interactions. Certainly added entertainment. If he ended up becoming a main character, I wouldn't complain.
Did Joe Buy The Bookstore He Used To Work At?
If you caught that bit of information in the last few minutes of You Season 4, Part 2, it's revealed that Joe has bought a bookstore, but we are unaware of what bookstore it is.
Considering Joe's obsession with reading, it does line up that now that he has money, he would end up doing something like that, but I can't help but wonder if maybe he bought the old bookstore he used to work at – the one that he met Beck at, who actually had a guest appearance Season 4 Part 2.
Did Joe Ever Tell Kate The Truth About What Happened To Her Father?
As we see in the finale of Season 4, we know that Kate knows that Joe was involved with Rhys' death, but that she has actually helped in covering up Joe's involvement with his death. We see that Kate asks him about his past, and we know that he reveals his real name is Joe, but what else did he tell Kate?
We see that they are together in the jump forward when they are living in New York City, but how much have they shared about themselves? And better yet, does Kate know the truth about her father's death? It seemed that she believed the story that he was killed for money, and that she didn't question Joe about it, but it makes me wonder what her part is going to play into this.
Now That Joe Is Very Publicly Back In The U.S., Will Anyone From His Past Seek Him Out?
It's not rare that people from Joe's past tend to show up in his life. Those moments tend to become shocking scenes that happen across the series, but now, Joe isn't just back in the United States, he is very publicly back, with his story out there repainted as a victim and some other supposed misinformation being cleared up (or avoided) in that interview.
There are so many people that could return. The Quinns could come back, considering they sent a PI after him to look into where he vanished. Ellie (played by Jenna Ortega) could return somehow. Or maybe even Nadia, if she's able to. I could even believe seeing Joe's son coming back into the show somehow. But then again, Joe also has hella resources now, so who knows how much of an issue this might even be.
Will Marienne Ever Show Up Again?
To be honest, I really want Marienne (played by Tati Gabrielle) to just live in Paris and never do what Candace did in trying to find Joe again, but I can't help but wonder. She seemed pretty disgusted about that article that featured Joe on the cover while she was playing with her daughter, and I can't help but wonder if she'll return.
I mean, the ladies who do come into Joe's life often don't have a good way out, and Marienne was lucky she was given the chance to live when she did thanks to Nadia and her quick thinking (before she was incarcerated). I really hope she just stays away.
And Is Joe Going To Find Another Girl To Chase After?
Once a serial lover, always a serial lover. Let's be real, at this point, he's just a serial killer with a ridiculous obsession over love, I can't even defend this man anymore. But I don't know, something feels off with Kate.
I'd like to think that Joe has actually found his perfect match – someone who isn't as violent as Love was (as much as I loved her out of everyone he's been with) but someone who isn't afraid of his dark past (like Beck and everyone else was). It seems like he's found someone who can keep up with him, but I can't help it, man – just just never seems satisfied. I can't help but think he might find another girl to obsess over – maybe in that new bookshop he bought.
Is Joe Ever Going To Get Caught?
I really thought Joe was turning a new leaf and then the writers had to pull an UNO reverse card on me with that twist and I just wanted to bang my head against the wall in frustration.
On a real note, I fully don't know if Joe is ever going to get caught. He's gotten so close so many times and yet, he always gets away with it. And now he has Kate and all her money on his side, with plenty of PR people and so much more. This basically gives him free reign to do whatever the heck he wants.
I'm going to admit it now – I want this dude behind bars. I didn't the first time around, even when he was trying to get away from Love, but if the way his story ends is with him in prison, I will be fully satisfied.
But knowing this show, I won't be that lucky.
What surprised you the most during the finale of You Season 4, Part 2? Even if Season 5 isn't confirmed yet, hopefully we'll get the answer to these questions soon enough – and I'm starting the trend here: #JusticeforNadia.
Your Daily Blend of Entertainment News
Big nerd and lover of Game of Thrones/A Song of Ice and Fire. Will forever hate season eight. Superhero and horror geek. And please don't debate me on The Last of Us 2, it was amazing!