After You Season 4 Dropped The Teaser For Part 2, The Internet Is Pumped About A Major Character Possibly Returning
Could a major character return to You?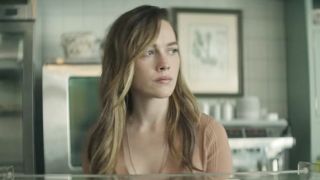 (Image credit: Netflix)
Spoilers lie ahead for Season 4, Part 1 of Netflix's You, so read at your own risk!
Penn Badgley is back as Joe Goldberg in the fourth season of Netflix's stalker drama You and, this time, he's taken his antics across the pond. While Season 4 has mostly highlighted new characters aside from the lea, fans have seen a bit of Marienne, who ran away after Love told her about Joe in Season 3. After Part 1 of the season was released, a teaser for the second half dropped, and it has fans pumped about the possibility of seeing Love Quinn return.
Before Joe was Jonathan, he went by the name Will Bettelheim and moved to LA from New York in Season 2, during which he met and fell for Love Quinn. (And she was equally as unstable maybe even more so.) The two welcomed a baby, Henry, and moved to the California suburb of Madre Linda, where things took a turn for the worse. Long story short, in the You Season 3 finale, Love tried to poison Joe, but he was one step ahead. He ultimately poisoned his partner before staging his own death at her hands and burning down their home.
Now, based on a teaser for Season 4, Part 2, it seems like Love may not be dead (or will at least show up in a flashback), as she was featured in just a couple of seconds of new footage. Though her appearance is brief, fans are excited about what might be coming. One user on Twitter pointed out a particular book that Love was reading in the split-second she's seen, and it just so happened to be written by the actual Eat The Rich Killer, Rhys, which is interesting:
Love adored reading, so it wouldn't be surprising if she just so happened to check out one of Rhys' books before her death. It's an interesting thought and one that viewers may want to keep in mind going into this next set of episodes.
Based on what fans know about Love's apparent fate on the show, many seem to be of the thinking that she will indeed only appear via a flashback sequence. Nevertheless, some are holding out hope that she survived being poisoned:
It's no surprise that fans are so attached to the character. In her two seasons on the show, Love proved to be the first person to truly match Joe's chaotic energy. There's no telling what will happen in Season 4, Part 2, but some are clearly set on manifesting Victoria Pedretti's return as Quinn while they wait for the new episodes:
Of course, there is still a chance that Love returns in the present, and fans are throwing out theories left and right on just how it was possible. Even though she was poisoned and Joe burned the house down, we didn't actually see Love's body afterward, which is a pretty ominous thought. Interestingly, another fan thinks that she not only survived but is also in some sort of secret relationship with Marienne, and honestly, I'd be on board with it:
You can't help but wonder just how Love Quinn could be revived for the new episodes, but it's safe to say that regardless of how it might happen, fans are down to see her in any way that they can:
Fans have just less than a month before the second half of Season 4 arrives -- and hopefully provides an update on Love's fate. She wouldn't be the first of Joe's exes to return, so the idea of her making a comeback somehow isn't all that far-fetched. Victoria Pedretti has been greatly missed, and I'd love nothing more than to see her rejoin the cast of You.
Season 4, Part 1 of You is available to stream now using a Netflix subscription! Season 4, Part 2 is set to drop on Thursday, March 9. Check out CinemaBlend's 2023 Netflix TV schedule to see what else is coming to the streamer. Those looking for other small-screen fare can also take a look at our 2023 TV schedule.
Your Daily Blend of Entertainment News
Passionate writer. Obsessed with anything and everything entertainment, specifically movies and television. Can get easily attached to fictional characters.