You: 6 Feelings I Had Watching The First Five Episodes Of Season 4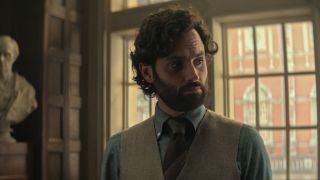 (Image credit: Netflix)
There are some amazing, bingeable Netflix shows, and one of them is You. No, not you, the reader, but the show You; the story of Joe Goldberg, whom I would call a serial lover – a person who falls in love way too easily and tends to get himself into trouble because of it. Now, You Season 4 Part 1 has been released, and throughout my binge, I felt many feelings.
I have to admit – this is one of the strongest starts since Season 2 and I am fully awaiting what Part 2 of Season 4 has to offer, but let's talk about how amazing this show truly is.
Delight
It's funny, when I watch You, delight isn't usually the first emotion that comes to mind. Since Joe can move up and down on the scale of creepiness, in my eyes, I didn't know how I was going to feel about him moving to a whole new country to continue his endeavors.
Instead, I was surprisingly delighted when I found out that he was truly trying to do none of that in London. In fact, he was trying to turn his whole life around. He'd changed his name – which isn't that surprising considering he does that all the time – but made it a point not to follow Marienne (played by Tati Gabrielle) anymore and start living his own life to prove that he wasn't a killer.
I mean, obviously he is. Joe is Joe and he'll always be able to kill someone if he feels he has too, as we have seen several times before. But it surprised me to see how he was truly trying to turn his life around. If not for these rich aristocrats, he would be living the high life.
Intrigue
I have to say, I love a good whodunit TV show. You in my eyes has never been a classic whodunit show, just because normally, we know exactly who's the killer – Joe. In Season 4, the writers decided to change it and make Joe the one who is stalked, giving him the clues to figure out who is doing the killings. It's not only a great option to freshen up the series, but to add more character development to Joe as a whole. It's like some of the classic whodunits I grew up watching, like Pretty Little Liars, or True Detective. So, the fact that You has a murder mystery is intriguing to me.
Will Netflix's You Get Renewed For Season 5? Showrunner Says 'It Was Never Anyone's Intention To Run This One Into The Ground'
I remember when Delilah was killed in Season 2, that episode was the most intriguing to me because it was all about Joe trying to figure out how the hell it had happened. How he had done it. But in the end, it wasn't even him. That was just a great mystery and I'm really happy they're moving more in that direction with Season 4.
Something else I love is that Joe is the one being stalked. The stalker is being stalked.
If this season isn't the definition of "the pot calling the kettle black," I don't know what is. It's the perfect way to not only give Joe some character development and show that "hey, you're kind of creepy when you stalk like this," but give him a real challenge because it's more than just a stalker – it's a stalker who also murders people around him.
Curious
I have to say, every single one of these new aristocrats annoy the hell out of me – but I'm also very curious as to what their end goal is.
Obviously, three out of the whole bunch are dead now thanks to the "Eat The Rich Killer" (which is honestly a great title), but I'm curious to see what their ultimate goals are. They all seem to either like Joe or absolutely despise him, but most seem to tolerate him for the time being because Phoebe really likes him – for what reason, I'm not entirely sure.
Regardless, I'm pretty sure that none of them are going to live up to the L.A. crew we saw in Season 2. That was true purgatory for Joe and they were giving me life during those episodes.
Kinda Annoyed
Okay, I'm going to say it – I sort of don't like Kate.
It's not because she's not necessarily the type of woman Joe would go after. He's been all around with different people, from a grad student to a baker to a librarian, but there's just something about Kate (played by Charlotte Ritchie) that doesn't do it for me – and honestly, I think it might be the way she reacts to things, because she kind of annoys me then.
Throughout the first four episodes, I'm always on edge when I see her on screen because it always feels like she's in defense mode, trying to counteract everything Joe or someone else says. It's only when we get some time alone with her that I really start to understand where she's coming from and the pressure she feels from her family and friends.
As of this point in the season, she's not my favorite. However, I do wonder if Kate will make it out alive. That's one of my biggest questions of Season 4 so far.
Really Creeped Out
Alright, so, Joe's a stalker, right? But he's not, like…super creepy. I mean, he's had his moments, we've all seen them, and yeah, they're pretty gross, but he's never been "take a picture up a woman's skirt" gross, which to me is just another level of disgusting. And Roald is on that level.
To be honest, I don't even like most of the aristocrats because they're just so high and mighty and I know that's the point, but I didn't expect to come out of this hating Roald the most. He's just so insufferable and sucks the air out of the room, but when we were shown the picture he had of Kate on his phone, I felt even more disgusted and really creeped out.
I'm not positive that Joe will get something out of saving his life in the first part of You Season 4, but we will see.
Genuine Shock
Okay, Malcolm's death I'm pretty sure we all saw coming. Same with Simon, just because they seemed like such mean people, but I genuinely was not expecting Gemma to be the next one from the new cast members of You. Granted, she had absolutely no filter and said some pretty bad things, but I don't think that warranted her death. It truly made me gasp at the screen at the end of episode four.
I think what shocked me more is Rhys being the killer. I knew this had to be some sort of misdirect, but I didn't know it was going to be something like that. He just didn't seem like the type at all but I guess it's always the quiet ones – you never know what to expect.
What did you love the most about You Season 4 Part 1? Are you just as excited for Part 2 as I am, or am I in this fanboat all alone? All I know is that I can't wait for the next part to come on March 9th as part of the 2023 TV schedule – I'm counting down the days until You returns with more shocking moments.
Your Daily Blend of Entertainment News
Big nerd and lover of Game of Thrones/A Song of Ice and Fire. Will forever hate season eight. Superhero and horror geek. And please don't debate me on The Last of Us 2, it was amazing!