You Season 4: 7 Big Questions I Really Hope Part 2 Answers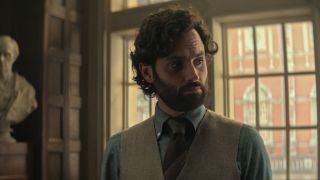 (Image credit: Netflix)
Well hello, you.
You Season 4 is finally here – well, the first half that is. When it was announced that it was going to be split up into two parts, fans were surprised to see that the popular Netflix show would be going down the path that Stranger Things did with their fourth installment. However, the midseason finale of You Season 4 was the perfect place to stop until Part 2 – because we have many questions.
Before You Season 4 Part 2 releases in March, later during the 2023 TV schedule, we have plenty of inquiries that we want answered.
Major spoilers from You Season 4 Part 1 ahead!
Does Rhys Have Any Accomplices?
In Episode 5, it was revealed that Rhys was actually the "Eat the Rich Killer" and the person who has been stalking Joe (played by Penn Badgley) since the first episode of the series. Rhys, who is portrayed by Ed Speleers, a part of the new cast members for Season 4, was someone no one was thinking of, since he seemed like such a genuinely kind person – but there Joe was, knocked out by him in the middle of the woods.
Joe does manage to escape Rhys after he breaks free from his chains and gets both him and Roald out of the burning cellars before they are killed, but now, Joe is back in London and Rhys is still around. My biggest question is that I'm curious about whether or not Rhys is working with anyone else. With the detail that he has put into this ploy to lure Joe in, I'd be pretty surprised if there wasn't someone else helping him out.
How Is Roald Going To Factor Into All Of This?
To be honest, I would have been perfectly happy letting Roald burn in that fire because he was quite the jerk and literally hunted down Joe when he believed him to be the killer – but it goes to show just how much Joe has actually changed over the last few seasons to save him.
You can clearly tell there's still animosity between Roald and Joe by the way he looks at him after Kate saves them from the fire. I honestly wonder what this means for him and Roald. Is he going to let go of the petty jealousy that he has of Joe because Kate is into Joe more than him? Or is Roald going to ignore the fact that Joe literally saved his life and still go after him? I'm not entirely sure, but I'm positive we'll find out in Part 2.
Are We Going To Get Any Update On Marienne And Her Daughter?
Tati Gabrielle: What To Watch If You Like The You Season 3 Actress
One of the biggest questions I had after Season 3 of You was if we were going to get to see Marienne again (played by Tati Gabrielle). We were given that answer in the first episode of Season 4, where we actually saw Joe let her get home to her daughter, even when the private investigator that the Quinns hired found him and threatened that if Joe didn't kill Marienne, it would come back to haunt him.
We haven't gotten another update on Marienne and if she's alright, or if her daughter is okay. Granted, I don't know if we're going to get any updates on Marienne, because Joe is so deep in the world of British aristocrats, but it's worth pondering.
Will Anyone From Joe's Past Show Up?
While Joe is pretty much half-way across the world, there are people that are from Joe's past who could possibly show up if they somehow found out he was in London. Originally, Jenna Ortega was set to return in Season 4 of You but reportedly couldn't due to filming Wednesday, but there are other people who could show up and throw a major wrench in Joe's current life.
We could see Will again from Season 3, or Sherry and Cary, since they are still alive after finding a way out of Joe's glass cage at the end of the same season. Who knows who we might see — all I know is that I am here for anyone to pop up in the last five episodes.
Is Nadia A Good Ally For Joe Or Is There More Going On There?
Nadia is one of those characters where I'm not sure if she's innocent or not. Joe makes the deduction that she was sleeping with Malcolm – which she did confirm – but other than that, she's seemed like an okay person to trust, and she's been pretty helpful with her ideas. But I can't help but wonder if there's something else going on there that we don't know.
I want to trust Nadia, because she just seems like a typical bright and motivated college student, but who knows? We might get to dig a little bit more into her story in the next part.
Where Is Joe Going To End Up At The End Of Season 4?
Joe has quite literally been in so many places. He started off in New York City, moved on over to Los Angeles and then later into the suburbs of said city. Now, after Season 3, he is all the way in London, but if you remember before Season 4, Joe was actually in Paris, France, because he was looking for Marienne.
I'm genuinely curious if Joe is going to end up staying in London at the end of the season, or if he might go somewhere new altogether. There are plenty of places he could go, but London seems to be where he feels the most at home, and I doubt he'll want to let that go. However, a part of me is hoping he finds some new group of people to follow instead, because these British aristocrats are driving me a little crazy.
Is Kate Going To Survive This Season?
I mean, someone had to say it. Kate has been Joe's main love interest throughout Season 4, and while she's certainly been a delightful change in character with her being so work-focused and basically not caring that much about Joe at first, she's started to take a liking to him now.
We've learned more about her. We know that she has a powerful family, that she was only with Malcolm because he made her forget about them, and that she tries to outrun her past just like Joe does. But now, she's entangled with Joe, and I can't help but wonder what might happen next.
Joe killed Beck in Season 1. Delilah was killed by Love in Season 2, and so was Candace. Then in Season 3, Love killed Natalie, and Joe killed Love. One of the only people who has made it out alive so far is Marienne, and that's because Joe let her live. To be honest, I'm probably going to add that to my list of moments in the series that surprised me, because I didn't think she'd survive.
I am quite worried for Kate. Joe's lovers don't seem to have the best luck, so I'm not entirely sure if she's going to be lucky or not. I want to believe she will, but who knows?
What are your theories for the second part of You Season 4? It has certainly become one of the most bingeable shows to watch on Netflix, and it makes me sad that I'm going to have to wait a whole month before seeing what happens next. Guess I'll just need to obsess over something else in the meantime.
Your Daily Blend of Entertainment News
Big nerd and lover of Game of Thrones/A Song of Ice and Fire. Will forever hate season eight. Superhero and horror geek. And please don't debate me on The Last of Us 2, it was amazing!