Brendan Fraser On Time He Auditioned For Superman, And What Went Wrong
Brendan Fraser could have been the Man of Steel.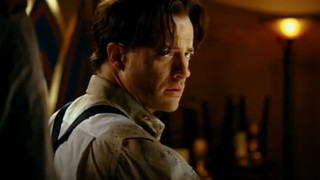 (Image credit: Universal Pictures)
Brendan Fraser is in the middle of a comeback after receiving praise for his newest role in The Whale. With the Brenaissance train rolling, there's always time to think back on his best movies as well as the films that almost were. One of Fraser's films that never came to fruition was when he auditioned to be Superman back in the early 2000s, and now he's explaining what went wrong during the audition.
While we can't look past the acclaimed performance of Christopher Reeve as Superman, we've also seen actors like Brandon Routh and Henry Cavill don the red cape. It's kind of crazy to think Brendan Fraser could have come this close to joining that list too. His audition came before J.J. Abrams' Superman: Flyby became one of the many movies that never happened at DC. The Whale actor spoke on The Howard Stern Show about what the casting process was like to become the next Superman, saying:
It's very true that Brendan Fraser playing Superman could have been a decade-long commitment because where there are superhero movies, there are usually sequels that follow. But even if the movie offered a very lucrative big-money deal, you fall under the risk of being known only for superhero films. For example, WandaVision's Elizabeth Olsen admitted playing the Scarlet Witch prevented her from doing other films since she signed a multi-picture deal with Marvel. So, she ended up having to pass on Oscar-nominated movies like The Lobster. Playing a superhero can definitely give you Hollywood exposure though, as it sends actors to another level of fame. However, it would be nice for casting directors to see you as other types of characters too.
Ultimately, no one got to play Clark Kent in Superman: Flyby never because it ended up being one of many Superman movies that never happened. Brendan Fraser continued to talk about how it felt to find out this superhero film ended up being canceled.
In the early 2000s, J.J. Abrams was going to create his own origin story for Superman. Jor-El releases his son Kal-El to Earth before he's sent to prison and has to defeat three Kryptonians who come to Earth after the Man of Steel reveals himself to the world. However, there were a lot of crazy details Abrams included in his script that deviated from the origin story we know like Krypton not exploding, Lex Luthor being Kryptonian, Matrix-inspired Kryptonian Kung-Fu, and more.
The closest we'll ever get to Abrams' vision would be his storyboards for Flyby that offer glimpses at what we would have seen. But, production troubles, an abnormally large budget, and the failure to nail down the film's title role led to its cancellation. You can watch Brendan Fraser talk more about this experience to Howard Stern below.
Brendan Fraser may not have gotten to play Superman, but he did have a key role in HBO Max's Doom Patrol where he played a hero of an entirely different sort. Considering Fraser's live-action performance as Cliff Steele was cut short due to his character's body being destroyed in a car accident, he lent the voice to Robotman later on. While you can't watch The Mummy star as the Man of Steel, you can watch him in the DC universe by checking out the completed four-seasoned Doom Patrol series with an HBO Max subscription.
Your Daily Blend of Entertainment News
Just your average South Floridian cinephile who believes the pen is mightier than the sword.