I Finally Watched Both Ant-Man Movies And I Don't Get Why People Don't Love These More
The best Avenger, honestly.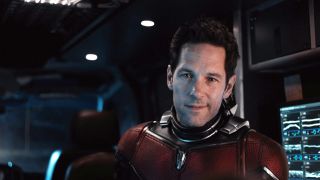 (Image credit: Marvel Studios)
It was 2012 when I found out that Marvel was making an adaptation of Ant-Man, the hero that could shrink down to the size of an ant in order to take down his enemies. When I first heard about this hero, I'm pretty sure I had laughed my butt off.
How could something so small be so mighty? We were living in the Marvel Cinematic Universe where we had heroes that were otherworldly, such as Thor, or super strong ones like Captain America and The Hulk – how could someone who shrinks down and gets big in size be a hero? Admittedly, that was a reason I didn't watch the Ant-Man movies for some time, thinking they might not be good.
But boy, was I wrong.
And now, I really don't understand why more people don't enjoy these movies as much as some of the other Marvel movies, and why they aren't getting the hype they deserve. It absolutely deserves more praise, and now before Ant-Man and the Wasp: Quantumania, I'm going to give you five good reasons to check them out.
Paul Rudd Is An Absolute National Treasure
I mean, this isn't that big of a surprise but Paul Rudd is an absolute treasure when it comes to these Ant-Man movies, oh my God.
I've seen Paul Rudd in many things before. Obviously, I thought his portrayal of Ant-Man in the Avengers movies was funny – which was why I checked out these films in the first place – but there were plenty of other movies I had seen him in that made me laugh out loud. I'm talking about Anchorman, or Ghostbusters: Afterlife, or even the legendary, Clueless. I knew he was a funny guy.
But then I saw him as Ant-Man and he was just born to play the role. You know how when you look at Ryan Reynolds and he just fits the part of Deadpool that you can't imagine a single other person ever playing him? That's what Rudd does for me with Ant-Man. His comedic timing lines up perfectly with the character, but he's also able to act very dramatically when the time calls for it.
Truly, I don't think there's been a better casting decision since Rudd was announced to play Ant-Man, because he's just that good.
The Music Is Honestly So Much Fun
Music is something that has always been deeply important to the world of Marvel. I'm sure at this point, we all have the Avenger's theme memorized in our head. But something I've always personally loved about many Marvel films is their usage of modern day songs to set the scene. My favorite use of songs for a long time was Guardians of the Galaxy, but I have to say that Ant-Man took the cake for that, both with songs featured and score.
Christophe Beck, who has composed music for other Marvel properties such as WandaVision and Hawkeye, really made such a fun score that really captures every single scene. My absolute favorite part of the first movie is the fight between Ant-Man and the Falcon – and now, it's not just because I love Anthony Mackie in the MCU, but the music was just so much fun and made that scene that much more hype.
It's beautifully composed and I would certainly recommend the whole album to anyone who wants to listen to a great Marvel film soundtrack. You heard that awesome music in the trailer for Ant-Man and the Wasp: Quantumania – it just makes me even more hype to see the movie coming out.
Evangeline Lilly Is Also A Great Hope Van Dyne
Let's talk a little now about Ant-Man and the Wasp. I have to say, I do prefer the first film in terms of jokes and story, but the one thing that I did love about Ant-Man and the Wasp was letting Evangeline Lilly really shine as Hope Van Dyne.
I've followed Evangeline Lilly for many years in her film and TV career, watching her in shows like Lost (and all its brilliant episodes) and movies such as The Hurt Locker, so I knew she was an incredible actress, but seeing her in the first Ant-Man felt almost like a let-down because I feel like she barely got the chance to really show off her talents. However, the second film gave her that chance to shine and boy did she.
I loved Lilly as Hope Van Dyne. Not only is this character absolutely brilliant, but she's just a freaking badass. Seeing her get that Wasp costume was one of the most incredible feelings because you know she has been waiting her entire life for this and there it was, served to her, passed down from her mother. I loved it.
Also, The Jokes Are Better In These Films Than Any Other Marvel Film
I was actually lowkey expecting this just because I knew that Paul Rudd was the star of these movies, but wow, I wasn't expecting to laugh as much as I did while watching them. I can fully say I believe that these movies are funnier than most other Marvel movies – maybe it's just under Thor: Ragnarok, but it's hard to beat that film.
The first film was certainly a little funnier, but overall, both made me laugh a good amount. I especially just loved Paul Rudd's jokes the most. I mean, that whole entire dialogue that he had with that one customer in Baskin Robbins, where he literally looked like he'd rather be anywhere else than right there – it had me holding my side, because wow, have I experienced that kind of pain.
Also, this is random, but huge praise towards Michael Peña, who portrayed Luis in Ant-Man and Ant-Man and the Wasp. This man made me laugh more than I could've imagined and I would fully watch a spinoff of just him, please and thank you.
The Action Is Stellar On A Molecular And Massive Scale
While there are plenty of action movies and superhero movies that are quite creative with their fight sequences, I feel like there are some that feel very generic. There have been plenty of great action moments in Marvel, such as The Avengers final battle or even Avengers: Endgame, but in other movies, others leave a little less to be desired.
However, both Ant-Man films go beyond that and make their action so interesting to watch. Think about it – you're watching someone shrink down and get big, but they still have intense strength and are able to take people down from their small or big state. The ways in which these scenes are done are so creative that I couldn't take my eyes away from the screen.
I have to say, I loved the action more in these movies than Black Widow and Thor: Love and Thunder combined, and both of those had immense action. It was just done better.
Ant-Man and the Wasp: Quantumania is going to be releasing soon, and with that will come even more intense action and more jokes (and a very scary Jonathan Majors). But if you haven't had the chance to check out the Ant-Man movies, be sure to see them on Disney+ before you head to the theaters. It'll be a good time, I swear – and take that from a former skeptic.
Stream Ant-Man on Disney+. (opens in new tab)
Stream Ant-Man and the Wasp on Disney+. (opens in new tab)
Your Daily Blend of Entertainment News
Big nerd and lover of Game of Thrones/A Song of Ice and Fire. Will forever hate season eight. Superhero and horror geek. And please don't debate me on The Last of Us 2, it was amazing!