The 10 Best New TV Shows That Premiered In 2015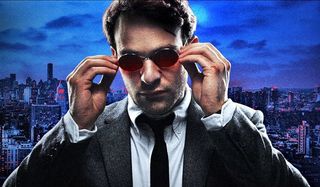 It never really strikes the staff at CinemaBlend how much great TV is produced every year until we start looking back at the shows that recently hit the schedule. This year, a ton of brand new comedies and dramas were produced that both found avid fanbases and earned critical acclaim. Narrowing them down to the 10 best is damn near impossible, but we've endeavored to do so anyway. If some of your favorites didn't make this list, we also put together a bunch of nods to other good shows near the end, because we know it's hard to recommend when tastes are so varied. Without further ado, here are the best TV shows that premiered in 2015. The only criteria is that a show's first season had to air this year. So, if it hit the schedule in the fall of 2014 it's out. If it hit the schedule in the winter of 2015, it could be in. Here are our picks:
10. The Last Man On Earth
Fox's comedy The Last Man on Earth kicked off on a high note when it hit the schedule last winter. While the series struggled to match the heights of its pilot throughout its first season, the comedy has really come into its own this fall. If you haven't given it a watch or gave up during the early part of 2015, now's a great time to head back.
Original Premiere Date: March 1, 2015
9. Agent Carter
ABC's Marvel follow-up to Agents of S.H.I.E.L.D. has a lot going for it, including its kickass female protagonist, played by Hayley Atwell. The period setting, the cheeky humor (we can't get enough of the "Captain America Adventure Hour" radio show that annoys Carter) and the stylish way the show is shot all helps. It's a fun series more often than it is an overly dramatic one, but the last couple of Season 1 episodes did build up the stakes. Catch the ABC drama when it returns for Season 2 in 2016.
Original Premiere Date: January 6, 2015
8.The Grinder
There's a good chance if you are reading this list that you are not watching The Grinder. We know this because The Grinder is not getting the ratings it should be getting, and it's a damn shame. It's hard to explain why exactly The Grinder works, but it mostly has to do with the solid performance Rob Lowe is putting in as Dean Sanderson Jr. and how that is offset by the likable Fred Savage. Oh, Sanderson's whole subplot as an actor on a law drama definitely helps. The Grinder hits all of the right notes, and features some great guest stars to boot. Catch it on Tuesday nights when it returns from winter hiatus.
Original Premiere Date: September 29, 2015
7.Daredevil
It's hard to believe that the first Netflix and Marvel series premiered this year. It feels like it was ages ago that Netflix started putting together a lot of widely acclaimed originals, but it has really only been in the past year that Netflix has really started pumping out original programs on a more frequent and consistent basis. Daredevil's hallway scene by itself probably would have allowed the drama to make this list, but luckily there are a lot of other action sequences, a gripping villain and more that makes Daredevil one of the top shows of 2015.
Original Premiere Date: April 10, 2015
6. Galavant
ABC's musical comedy took some time to get into, but it's silly lyrics and generally amazing premise make it a cult favorite with audiences, so much so that ABC ordered a second season of the comedy, which is written by Dan Fogelman, Alan Menken and Glenn Slater. ABC also bills the series as a "comedy extravaganza" and dumps the episodes out really quickly so that they are almost binge-watchable. This really works for this type of series. You can catch Season 2 next month.
Original Premiere Date: January 4, 2015
5. Empire
When Empire first hit the schedule last winter, it was an instant hit, premiering strong and picking up in the weeks that followed until it became a ratings phenomenon for Fox. While Season 2—likely because of a longer episode count—hasn't been the must-watch TV that Season 1 was, it's still a compelling drama, mostly thanks to a ton of solid performances. (You all know I'm mostly talking about Taraji P. Henson, right?)
Original Premiere Date: January 7, 2015
4. The Man In The High Castle
Probably the quietest new show on this list in terms of internet chatter, The Man In The High Castle has picked up where Transparent left off, proving that Amazon can make satisfying TV for Prime viewers that can compete with all of the other TV out there. Based on a novel by Philip K. Dick, The Man in the High Castle is a dystopic series with popular appeal. It's also really, really good—maybe even good enough to purchase Prime for.
Original Premiere Date: November 20, 2015
3. Better Call Saul
Let's be honest, the Breaking Bad prequel could have been a disaster. Saul Goodman's a great character, but no one knew if he could carry his own show. Luckily, Bob Odenkirk was up to the task, and the writing staff gave him material that easily earned the AMC series a Season 2 renewal. Watch it if you haven't. Hell, we'd say give it a chance even if you aren't into Breaking Bad.
Original Premiere Date: February 8, 2015
2. Master of None
Anyone who watched Parks and Recreation should already have known Aziz Ansari is hilarious, even when he's playing a 30-year-old acting hopeful who still hasn't figured out exactly what he wants out of his life. Both trendy and offbeat, his latest vehicle Master of None premiered at the beginning of November on Netflix, which means, should you wish to, you could binge-watch the whole thing right now. We suggest you do so, if you haven't already.
Original Premiere Date: November 6, 2015
1. Mr. Robot
In years past, USA hasn't been a station that has attempted to air a lot of prestige TV. But that's exactly what the network has done with Mr. Robot, a dark series that delves into the world of hacking. Hacking has a tendency to look a little silly when dumbed down for TV audiences, but Robot does it well, mostly because the show is more about its troubled protagonist Elliot than about the hacking world he gets into. Do try and catch up before Season 2 premieres.
Original Premiere Date: June 24, 2015
Wayward Pines Fresh Off The Boat
Unbreakable Kimmy Schmidt
Crazy Ex-Girlfriend
Supergirl Togetherness
Narcos
American Crime
Bloodline
Jessica Jones
Ash Vs. Evil Dead
Blindspot
Amazing Race & Top Chef superfan with a pinch of Disney fairy dust thrown in. If you've created a rom-com I've probably watched it.