10 Perfect Choices To Replace Tina And Amy As Golden Globes Hosts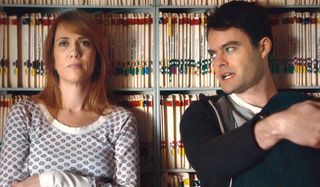 As their three-year reign comes to a close, Tina Fey and Amy Poehler will be passing the Golden Globes hosting gig over to new (or potentially old) blood. Their time on the stage was strong, and the next candidates will have very large shoes to fill, but unfortunately the dynamic duo has repeatedly claimed that this year will be their last.
So, they went out with a big bang including jokes about the Cosby rape allegations, as well as comparing George Clooney to his wife (who holds much more impressive achievements than he). You could tell that the celebrity crowd enjoyed the comediennes performance and Poehler and Fey made sure to roast the crowd without creating serious heat, as other hosts have done in the past. The pair have incredible chemistry and stage presence, and will be dearly missed. But, since they aren't going to be back next year, we need to start campaigning! Take a look at our choices for 2016 Golden Globe hosts and tell us your favorite in the last page poll.
Bill Hader & Kristen Wiig
We got a taste of what a Bill Hader and Kristen Wiig hosting performance would look like at last night's Golden Globes, and it was pretty fantastic. The two undoubtedly have great chemistry. We've seen them together on SNL and most recently co-star in the film Skeleton Twins. Last night as the pair presented the best screenplay, their short bit was filled with hilarious one liners, Robert De Niro impressions, and some classic Wiig and Hader facial expressions. The two bring a fun and dorky lightness to the stage that is a hysterical mix among the intensity of some of the faces in the crowd. They don't overdo it, and their performance was awkward but also totally sincere. It'd be great to see what more they could come up with hosting the entire show.
Kevin Spacey (as Frank Underwood)
When Kevin Spacey took the stage after winning the Golden Globe for Best Actor in a TV Drama, he began his speech in true Frank Underwood fashion stating, "This is just the beginning of my revenge." Along with a new trailer released during the commercials of the Globes, we just can't get enough of Frank Underwood, and oh how perfect of a character it is for Spacey. Spacey has played up his role as the psychotic Southern politician on The Colbert Report and even with a cameo at last year's Oscars. And (spoiler) now that he is stepping up as Mr. President for Season 3, it would only be natural to assume the role of Golden Globes host.
Chris Pratt & Anna Faris
So this past year was obviously the year of Chris Pratt as he won over hearts in his roles as Star-Lord in Guardians of the Galaxy and Emmett Brickowski in The Lego Movie. But Pratt's heart only belongs to one, the beautiful and hilarious Anna Faris. The two of them together, are absolutely adorable. They are quirky, silly, and so seriously in love. The couple had their fair share of fun on the red carpet last night, and when they announced the award together for Best Actress in a TV Drama they had an equally entertaining exchange. Faris started, "Chris and I have a mixed marriage. I'm CBS, he's NBC." To which Pratt responded, "But we plan to raise our children HBO."
Margaret Cho (with special guest, Meryl Streep)
In light of the recent scandal surrounding The Interview, the Golden Globes played up a gag including Margaret Cho playing a North Korean general obsessed with Hollywood. The reactions to the ongoing gag were mixed, with some taking offense to the impersonation. But, regardless of the controversy, Margaret Cho is hilarious. It may not be as relevant to see her impersonating a North Korean soldier next year, but she has a relationship with Meryl Streep now with the photo to prove it. The comedian has done it all, best known for her stand-up that makes strong social and political commentary. She'd be a smart and sassy host deserving of the role.
Stephen Colbert & Jon Stewart & John Oliver
Any one of these gentlemen alone on stage would do a bang up job, but put them all together. We might be crazy. It could be too good to even work, but we just want to see them all together, all at once, poking fun at the crowd in front of them. Between John Oliver's new, edgier style of political parody, to Stephen Colbert's hilarious character acting, and Jon Stewart's comedic rants, their satirical approach to the world around them would be jaw-droppingly wonderful at an awards show. The celebrities in the crowd could never prepare themselves for the extreme wit, but at home, we'd all be falling off our seats laughing.
Prince
Prince is a big deal to not only you and me, and the average person, but did you see the crowd's reaction when he stepped on stage last night to present Best Original Song? There was cheering and whistling among wide-eyes and pure joyful excitement at the surprise. The notoriously reclusive artist was reason for the number one moment on Twitter last night, according to Variety and even the celebrity royalty in the crowd would bow down and kiss the Prince's feet. Wanting Prince to host an entire awards show is a completely unrealistic goal, but we all have dreams. And this is a dream that the Golden Globe attendees including Allison Janney can most definitely agree upon.
Kevin Hart & Will Ferrell
Kevin Hart and Will Ferrell will co-star in upcoming Etan Cohen film, Get Hard. The two comedians are hilarious on their own, but placed together, the film promises major laughs. Over the process of filming, the two would post Vines of each other, and they were always clowning around. We got to see some of Chris Rock's quirky humor last night on the red carpet as he pointed out to Ryan Seacrest that he grew all the way to 5'4" and Will Ferrell is always a goofball. The both of them on stage, especially if Get Hard is a successful comedy, would be an awesome treat.
Ricky Gervais
Another hot topic on Twitter last night, was Ricky Gervais and fans' reactions after his hysterical minutes on stage. The major consensus, was that the viewers at home want him back to host. Gervais spoke frankly to the Golden Globes audience stating, "You're better than ordinary people. You know and they know it, deep down." Gervais did what he does best, bashing the ridiculous qualities of the crowd, but also bashing himself. He also brings up past events at the Globes, and is just the perfect personality to mock celebrity culture. The actor was at the awards for a Best Actor nomination for the comedy, Derek and is a talent very worthy of reviving the role of host.
Melissa McCarthy & Sandra Bullock
Melissa McCarthy has been on the rise as of late starring in the CBS TV show, Mike & Molly and in big blockbuster hits from Bridesmaids to The Heat. She even is up for the lead role in the Ghostbusters reboot. We just can't get enough of her, and would love to see her host the Golden Globes. But what could make it even better? If she did so with one of her best friends, and co-star in the film The Heat, Sandra Bullock. In the film, the two have terrific chemistry, and apparently it's because it exists off screen as well. They've been called the next Tina Fey and Amy Poehler, so it would only be natural to let them take a stab at the hosting roles.
Chris Rock
This year Chris Rock showed off his talents with Top Five a film he wrote, directed, and starred in. It received high praise, drawing comparisons to Woody Allen, and may even be up for an Oscar nod. He's one of the best stand-up comics, and after negative reception for his Academy Awards hosting in early 2005, he deserves another shot, and the Golden Globes are a place where his comedy could strive. The man has done it all from music videos to stage plays to TV to film. Place him up on that stage, and he'll make it look easy.
This poll is no longer available.
Your Daily Blend of Entertainment News
Thank you for signing up to CinemaBlend. You will receive a verification email shortly.
There was a problem. Please refresh the page and try again.