10 TV Shows From The Past 5 Years That You Probably Forgot Existed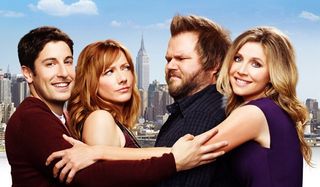 Whether you have a bad memory or a great memory, there's no denying that the modern age of television has so many series popping up on a yearly basis that remembering all of them is seemingly impossible. But it's definitely possible for networks to continue pumping out shows that may or may not stand the test of time.
Here are 10 series that have aired in the past five years that you probably don't remember. Whether it was because of early cancellations or generic plotlines, these shows are definitely tucked away in a dark attic corner of television's history.
The Paul Reiser Show – NBC
In the 1990s, comedian Paul Reiser was a TV mainstay as part of the hit NBC sitcom Mad About You, but he pretty much stayed away from television for the next decade, resurfacing in full for NBC's The Paul Reiser Show in April 2010. It had the right post-modern flavor, in that it followed him playing a version of himself who hadn't been on TV in a while and then signs up for a new show. Unfortunately, reviews for the show were largely negative and the ratings were equally dismal, and it was canceled after only two episodes. Thankfully, Reiser is great on FX's Married and Amazon's upcoming Red Oaks.
Happy Town – ABC
There are many actors that make every project they're in that much better, and Sam Neill is one of them. Unfortunately, his presence did not help to make the 2010 thrillerish drama Happy Town very successful, either critically or ratings-wise. The show was about a small town plagued by a group of kidnappings supposedly committed by the "Magic Man," whose abilities to disappear people was seemingly paranormal in nature. But nobody got to find out how anything was resolved, as ABC canceled the show after six of the first season's eight episodes had aired, due to not magic, but declining ratings.
Monday Mornings – TNT
There are so many medical dramas on TV at any given time, it's no surprise that some of their names don't immediately bring up any details. Such is probably the case for most with Monday Mornings, David E. Kelley's 2012 hospital drama from TNT that had a solid cast including Alfred Molina, Ving Rhames, Jennifer Finnigan and Bill Irwin. But rather than taking on a more general approach, this series focused on the weekly peer-review conferences where the surgeons were judged for their previous efforts. The show wasn't a critical hit, and also didn't bring in very many viewers on a weekly basis, and TNT canceled it after one season.
Does Someone Have to Go? – Fox
Despite reality TV's long-term grasp on American audiences, there are a slew of shows that came and went with less impact than a falling mothball. This entire list could have been made up of those, but I chose to focus on Fox's 2013 series Does Someone Have to Go?, a workplace reality show that saw employees of a company granted complete control of everything from the bosses. They were allowed to change things up, but what they should have changed was the mundaneness of the show itself, which failed to bring in very many viewers, and it went away after six episodes and never came back.
Lights Out – FX
For whatever reason, FX decided that 2011 was the perfect time to capitalize on the dwindling state of boxing fandom by bringing Holt McCallany to audiences as Patrick "Lights" Leary, a former heavyweight champ who is following the age-old boxing drama storyline by setting himself up for a comeback, even though he's past his prime and is suffering from health and problems. Financial trouble will do that. Despite good reviews throughout its first season, though, barely anybody was watching after the premiere, and FX axed it a few weeks before the final episode had even aired.
Cult – The CW
A show that I wholeheartedly loved with as much irony as I could muster, given its bafflingly awful approach to storytelling, Cult debuted on The CW in 2013 as a highly anticipated return to TV from Farscape creator Rockne S. O'Bannon. The seemingly self-aware mystery centered on the effects that the show-within-a-show also called Cult is having on its massive fanbase, who appear to be recreating the dastardly fictional events. It starred Matthew Davis as a clueless blogger and Jessica Lucas' production assistant as his partner in crime in investigating how everything is connected. Cult suffered from ridiculously horrible ratings and saw its first season cut short, although The CW aired the remaining episodes months later.
Mad Love – CBS
It's still strange to me that Mad Love, a respectively rated series that featured four relatively great main cast members, only made it one season. Created by Worst Week creator Matt Tarses, the comedy featured Jason Biggs and Sarah Chalke as a pair of New Yorkers that fall in love, while their friends, played by Tyler Labine and Judy Greer respectively, initially dislike each other and everything about the relationship. And even though critics were largely kind to it, CBS canceled it the day before its final episode aired, citing declining ratings.
Rubicon – AMC
Between the two highly acclaimed dramas Mad Men and Breaking Bad, AMC was coming right out of the original programming gate as a force to be reckoned with, but not everything was so infallible as those series. Case in point: 2010's Rubicon, which followed James Badge Dale's intelligence analyst working with a team in investigating the death of his former mentor, which uncovers a massive conspiracy and a secret society. While Rubicon was well-reviewed by many, they seemed to be the only people watching the show, and AMC canceled it due to low ratings.
Past Life – Fox
Based on the novel The Reincarnationist, Past Life was a series that debuted in the 2010 midseason that centered on Kelli Giddish's soul-centered Dr. Kate McGinn and Nicholas Bishop's cynical former detective Price Whatley as they help clients by making them regress back to past lives, which then inform the present. Despite the presence of the always great Richard Schiff, Past Life was the victim of plummeting ratings and was canceled after three episodes. Anyone who really wanted it back had a chance to watch two more episodes that aired later in the year, but Fox decided to not air the final two episodes of the stunted first season.
Partners – CBS
Created by Will and Grace's Max Mutchnick and David Kohan, Fox's 2012 comedy Partners also featured a pair of gay characters (including one played by former Superman Brandon Routh), but even combined they didn't have the energy of Sean Hayes. The show centered on the always enjoyable David Krumholtz and Michael Urie as longtime best friends and partners at an architecture firm whose friendship comes under fire when both of them take their romantic relationships to the next stage. Unlike most shows that don't last long, this one had fairly decent ratings, but reviews were abysmal, and CBS canceled it after only six episodes had aired.
Assistant Managing Editor
Nick is a Cajun Country native, and is often asked why he doesn't sound like that's the case. His love for his wife and daughters is almost equaled by his love of gasp-for-breath laughter and gasp-for-breath horror. A lifetime spent in the vicinity of a television screen led to his current dream job, as well as his knowledge of too many TV themes and ad jingles.
Your Daily Blend of Entertainment News
Thank you for signing up to CinemaBlend. You will receive a verification email shortly.
There was a problem. Please refresh the page and try again.