12 First Season Shows That Definitely Won't Get Cancelled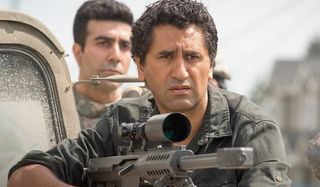 Now that most TV programs are back from winter hiatus, we're getting far closer to the time that the various networks across the board are making decisions about whether or not TV programs will be coming back next year. First-year programs are especially vulnerable to the whims of networks, as they are trying to build a brand new audience in a market that has way more original content than it used to. Luckily, there are some freshmans shows that are doing just peachy in the ratings, leading to early renewals or at least what seems to be a vote of confidence for the network. Here are the 14 first season TV shows that definitely won't be getting cancelled this year.
Supergirl, CBS
Status: Doing very well in the ratings.
What You Need To Know: Alright, we know Supergirl isn't doing The Big Bang Theory-level ratings. However, while the show had some ratings ups and downs at the beginning, Supergirl's ratings were always pretty good—just not quite as high as the lofty heights set by the premiere. In the weeks since, Supergirl producer Andrew Kreisberg has said the show has had time to work some of the kinks out, and with the Martian Manhunter twist, the drama has finally hit its stride. Expect it to be around next year.
Chicago Med, NBC
Status: Renewed for Season 2.
What You Need To Know: Chicago Med literally got renewed right in the middle of this list coming together, which is pretty swell, if you ask me. Sister shows Chicago Fire and Chicago P.D. are coming back next year (which means crossover opportunities), and Chicago Med is doing strongly in viewership each week. So, consider this show one of the least shocking renewals, ever.
Blunt Talk, Starz
Status:Renewed.
What You Need To Know: Bet you didn't see that one coming. The Patrick Stewart-led comedy hasn't been a big show in terms of buzz over at Starz, but if you haven't been keeping tabs, Blunt Talk was renewed over at Starz quite some time ago. In fact, when the subscription cable network signed on for the Seth MacFarlane and Jonathan Ames-produced comedy, the network agreed to produce 20 entire episodes. Since 10 were produced in Season 1, that means we will be getting 10 more in Season 2. I love it when math works out.
Rosewood, Fox
Status: Full season order. Also, the drama can thank Empire for a steady audience.
What You Need To Know: I'm still not sure Rosewood is the perfect vehicle for Morris Chestnut, but luckily there are plenty of people watching TV on Fox each week that disagree with me. Rosewood has had a pretty cushy timeslot, airing after Empire in the schedule. It's a lineup that works, and doubtless Fox will give the show a second season. Good numbers are good numbers, after all.
Quantico, ABC
Status:Full season order. No Season 2 yet.
What You Need To Know: Honestly, of all of the shows on this list, Quantico is on the least steady footing, yet that show still crushes each week. The Priyanka Chopra-starrer does consistent ratings, and has has developed a rabid fanbase. It helps that it has one of the most exciting and most interesting new premises of the TV season. Since I'm a betting woman, I'm willing to say that Quantico will be back next year. Watch it if you haven't already.
Billions, Showtime
Status: Renewed for Season 2.
What You Need To Know: It only took a few days for Showtime to decide its Paul Giamatti and Damian Lewis-led series was a winner. Shortly after the Season 1 premiere, Showtime decided Billions would 100% be returning for Season 2. So, yes, we will be getting new episodes in 2017. Even better? Season 1 only started a few weeks ago, and there is still plenty of time to catch up on all the drama.
Blindspot, NBC
Status: Renewed for Season 2.
What You Need To Know: The big networks have made plenty of early renewals this year, but most of these have been related to established shows like Law & Order: SVU and The Simpsons. Ultimately, NBC decided to take a chance on its freshman thriller and signed on for Season 2 of Blindspot months ago. So, if you are Jane figuring out who she is, you need not worry that the show will end this season. Jane will be back.
Scream Queens, Fox
Status: Renewed for Season 2.
What You Need To Know: Scream Queens' total viewers numbers never reached particularly great heights in the ratings, but on the bright side, a lot of young people seem to have loved Ryan Murphy's latest TV program. (sidenote: he also has American Crime Story coming up.) Those who didn't perish during the first season will return for a new set of episodes.
Dr. Ken, ABC
Status: Full season order.
What You Need To Know: While not officially confirmed for Season 2, Dr. Ken has been one of the most successful comedies to hit the schedule this year, despite being critically panned early in its run. ABC signed on for a full season order rather quickly, and we're assuming Dr. Ken will land the same Friday slot next year. It's about time, too, as ABC has seen comedies come and go on Friday nights for the last several years.
Fear The Walking Dead, AMC
Status: Renewed.
What You Need To Know:Fear The Walking Dead got the ultimate vote of confidence when AMC actually decided to renew the series before one episode had even aired on the network. The two-season renewal likely allowed the creative staff to look further ahead than just one season on the network and gave Season 1 the opportunity to end on a bit of a cliffhanger. We'll learn more in Season 2.
Sex&Drugs&Rock&Roll, FX
Status: Renewed for Season 2.
What You Need To Know: FX's show didn't hit the schedule with a huge viewership, but as it turns out, a lot of people were catching Sex&Drugs&Rock&Roll via the DVR. The Denis Leary starrer is expected to return sometime in 2016, but so far even FX hasn't indicated exactly when that will be. Still, Season 2 is a go, people.
Ash vs Evil Dead, Starz
Status: Renewed for Season 2.
What You Need To Know: Starz has been fond of early renewals for several years now, and Ash vs Evil Dead earned the ultimate early renewal, landing a second season three days before the show was even set to premiere on the subscription cable network. Awesomeness ensued, and Ash and Co. are set to bring more blood and gore to the small screen in 2016—likely around the Halloween holiday.
This poll is no longer available.
Your Daily Blend of Entertainment News
Reality TV fan with a pinch of Disney fairy dust thrown in. Theme park junkie. If you've created a rom-com I've probably watched it.