12 Shows ABC Should Be Embarrassed About Cancellng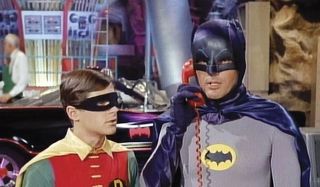 Few things are as guaranteed as death and taxes are, but you can be damned sure that TV networks are going to cancel some pretty amazing shows, usually on a yearly basis. Some are new dramas that are ended before they have a chance to build an audience, while others are comedies seemingly destined for cult status. Whatever the reason is from the network, the viewer's anger is all the same when a great show is taken off the air.
Here are 12 shows from ABC's broadcast history that were downright great, but didn't last nearly as long as they should have, and so the network should always be criticized for canceling them. Let's get our logs whittled down to a nice and pointy spear as we dive into the surreal world of David Lynch.
Twin Peaks
Am I saying that the second half of Twin Peaks Season 2 was so damned amazing that there is no other rational choice for ABC to have made than renew it for Season 3? No, although I found the final batch of episodes far more enjoyably ridiculous than many others have. But it was ABC that forced the hands of co-creators David Lynch and Mark Frost to reveal Laura Palmer's killer, something that they'd intended to keep a mystery throughout the series' run. And although the network wanted the resolution at the end of Season 1, Lynch and Frost held off until the middle of the next season, and viewers just stopped giving a shit after that. A good lesson for the network that didn't stick. Thankfully, Showtime is behind the upcoming revival series, so we don't have to worry about ABC giving us a lukewarm cup of coffee again.
Police Squad!
David Zucker, Jim Abrahams and Jerry Zucker are beloved by comedy fanatics for their many fabulous entries in the genre. Back in 1982, they were only known for Airplane! and for writing The Kentucky Fried Movie, both pillars of excellence, but not exactly calling cards at the time. So their first small screen effort, Police Squad!, didn't have the credential legs to carry it through ABC's boneheaded decision to trash the well-received show after just four of six episodes aired, all because it required too much attention to appreciate the humor. That definitely wasn't the norm for TV at the time, but it wasn't a fault. It was a plus, just like Leslie Nielsen was, and the fanbase for the shortlived comedy grew enough to warrant an eventual three feature films that people paid attention to with ease.
Forever
The most recent entry on this list, Forever's cancellation is still fresh, so this is like ripping off a Band-Aid that's been there for 200 years. Though some gimmick-based shows implode under their own premises, Forever's lone season rose above thanks to solid performances from Ioan Gruffudd as the immortal medical examiner Henry Morgan and Alana de la Garza as the straightforward Detective Jo Martinez, as well as an often intriguing look at life and death all tied together with procedural elements. Though the ratings took a nosedive in the episodes immediately following the premiere, the audience quickly leveled off and stayed within the 4-5 million range for the remainder of the season. And even though the network suits were reportedly pleased with creator Mark Miller's vision for Season 2, those execs were the ones who actually killed Henry Morgan for good.
Better Off Ted
It's bizarre to think that of the multiple series created by TV vet Victor Fresco – including Sean Saves the World, Life on a Stick and Andy Richter Controls the Universe – somehow Better Off Ted lasted the longest, with 26 hilariously satirical episodes. A comedy with its finger on the pulsing forehead vein of corporations and the people who work in them, Better Off Ted is one that packed in jokes of all flavors and sizes – the unwittingly racist light sensors plot was executed almost too perfectly – and boasted a pitch-perfect cast that included Jay Harrington, Portia de Rossi, and Adrea Anders, with Jonathan Slavin and Malcolm Barrett as the bumblingly brilliant spinoff-ready lab scientists. It wasn't the most promotion-accessible premise, so maybe that's why ABC didn't know how to advertise it and thus couldn't build up an audience properly. Or maybe it took the corporation jabs personally.
The Wonder Years
Is there any other series that captures a time and place, as well as a state of mind, as beautifully and effectively as The Wonder Years? The sharply realized dramedy got six seasons, and it's impossible to complain about that, but the show's cancellation was in part due to network execs not wanting to get into mature subject matter as Kevin got older, combined with not wanting to pony up the rising costs that would come with following a teenage boy with a car around. And while I'm not that into seeing a modern day Wonder Years reunion special, I would have liked – like-liked, even – to have seen Kevin Arnold finish high school before the show got shitcanned and we found out that Kevin and Winnie didn't stay together. So much wasted potential there.
The Addams Family
They're creepy and they're kooky, mysterious and canceled well before they should have been. I'm talking, of course, about The Addams Family, arguably the only black-and-white macabre comedy with a talking ball of hair that is based on New Yorker cartoons. Inexplicably airing in the same fall season as that other horror-driven comedy The Munsters, The Addams Family was less goofy and drew its humor from more absurd and off-putting places. (Though it's obviously child's play by today's standards.) The comedy lasted just two seasons, though the 64-episode span therein is commendable, and the show's cancellation came largely without a lot of reasoning. It's possible ABC didn't want to justify making the transition to color, which was becoming the norm, but few shows in TV history are better suited for an all black-and-white look than The Addams Family. The movies were fine, but the TV show is where my heart lies, Cara Mia.
My So-Called Life
In the halls of "Best Possible '90s Teen: Television Edition – Female," the Daria statue is neighbored by that of My So-Called Life's Angela Chase, because duh. One has to assume no one at ABC knew the decades-long effect My So-Called Life would have on youngsters hitting that angst-ridden and issue-splattered time of adolescence. The adult world has tons of "canceled too soon" shows, but this remains a personal shot to the heart for love-stricken teens who were far from finished understanding just how deep Jordan Catalano could get, and how many Real World seasons Rickie would end up on. By today's standards, the ratings would be just fine, but they weren't back then, and ABC chose not to move on. Star Claire Danes reportedly didn't want to continue anyway, so who knows where it would have gone? No one. Because it was canceled.
Happy Endings
One of the few worthy successors to Friends as far as "comedies about friends hanging out together with mild consequences" goes, Happy Endings housed a ton of comedic talent in both its central cast as well as the recurring and guest stars, and it seemed destined for a long shelf life on the network. Unfortunately, ABC had no fucking clue how to air this like a normal show over its three seasons, and Happy Endings went through a series of changes both in timeslots and nights which it aired, eventually ending its run on Friday nights. Just insult to injury to insult, really. Creator David Caspe had even less luck with Marry Me on NBC, which featured several actors from this ensemble, and though reunion and comeback talks have continued, there still aren't any happy re-beginnings on the horizon.
Pushing Daisies
Drink every time you see Bryan Fuller's name on a list about canceled shows, and you'll spend your life in a liquor-infused haze. But at least you'd have good tunes if you were watching the 22 episodes that Pushing Daisies was able to get on the air. Pushing Daises was about a guy who could bring the dead back to life (and then the alive back to death) just by touching them, and how he falls in love with a childhood friend he reanimated but can't ever touch, and also about him running a pie company and helping a private detective solve crimes. Oh, and Kristin Chenoweth's voice. Few shows on television have ever been as precious and shirtsleeve-hearted as Pushing Daisies, and its fanbase has let its pie-hole give ABC the business over the years. Hope remains that more will come, but Fuller is a busy guy, maybe even with shows that air for too many years rather than too few.
Batman
For all of Batman's dark and brooding adventures over the years – in universes Burton-ish, Nolan-ary, and Miller-esque – it's impossible to think about the cowled vigilante without mentally landing on Adam West's earnestly iconic take on the character during the campy TV series of the 1960s. You won't find me bitching about ABC's decision to give Batman 120 often multi-part episodes in just three seasons, but my tone stiffens when it comes to the show getting booted from the air after its ratings drooped in Season 3. Considering this was the era of Yvonne Craig's Batgirl and Eartha Kitt's Catwoman, it is shameworthy. This show still has some of the best villains in live-action superhero media, from the core squad of rogues played by Burgess Meredith, Cesar Romero, Julie Newmar and Frank Gorshin to the slew of lesser-seen baddies, with standouts including Vincent Price, Milton Berle and even Liberace.
Kolchak: The Night Stalker
Every Christmas, TV viewers get tons of chances to see Darren McGavin as the father in A Christmas Story, but I'd much rather see networks annually embracing the actor's earlier work on the horrorish crime drama Kolchak: The Night Stalker. First entering the world through a pair of TV movies, Carl Kolchak fronted the ultra-rare genre-based procedural as he solved crimes caused by vampires, werewolves, Satan, and a ton of other evil entities. And not in a corny way, but in the way that continues to make the show a cult classic and the inspiration for all kinds of TV shows and movies in the past 40 years, most notably The X-Files. ABC canceled it before its first season had even finished, and one could only laugh heartily when they ate crow unsuccessfully trying to reboot the series in 2005.
Sports Night
Aaron Sorkin's career is often summed up in a series of hallway-traversing conversations and Jack Nicholson denying someone the truth, and it's inarguable that the two-season brilliance of Sports Night showcases all the hallmarks of the writer's bag of tricks, minus the Jack. The rare half-hour series to tip the balance to drama over comedy, this behind-the-scenes look at a cable sports show was far more about intra-personal relationships than athletes, and the talent-oozing cast did a stellar job in reminding viewers that these jobs are filled by people with all kinds of problems. (Maybe not the show's intention.) Despite enormous critical acclaim, ABC canceled the show because its average ratings of over 10 million people just weren't cutting it in 1998-2000. Monsters.
Check out our other lists about canceled Fox shows, shows that NBC should have kept on and shows that CBS screwed.
This poll is no longer available.
Nick is a Cajun Country native, and is often asked why he doesn't sound like that's the case. His love for his wife and daughters is almost equaled by his love of gasp-for-breath laughter and gasp-for-breath horror. A lifetime spent in the vicinity of a television screen led to his current dream job, as well as his knowledge of too many TV themes and ad jingles.
Your Daily Blend of Entertainment News
Thank you for signing up to CinemaBlend. You will receive a verification email shortly.
There was a problem. Please refresh the page and try again.