Why Shawn Levy Knew Stranger Things Would Be A Major Hit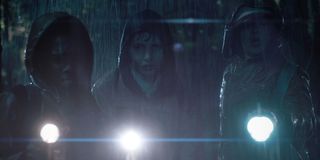 Netflix's new drama Stranger Things only hit the schedule a couple of weeks ago, but the show has been well-received by a large faction of the subscription streaming service's subscribers. Shawn Levy produces the series, and he recently explained that from the time he heard the initial pitch he really believed the show would be a major hit. Here's what he had to say about the drama:
The Duffer brothers [the writers] came in, and within 10 minutes I knew that these were future major guys. They had a self-assurance that was self-evident. So, we pitched it to Netflix, and within 24 hours, we had the whole season bought. We decided that we would direct all of the episodes ourselves... It's deeply addictive. I would read a script, give notes on the script, and be waiting for my inbox to deliver me the next script. We've really broken out stories and told the story in a way so that it works if you want to take a breather between episodes, but we expect that you won't.
In general, it can be difficult to stop watching a Netflix series once I start. There was one day when I planned to catch the first episode or two of The Ranch and instead ended up plopping down on my couch and watching a total of eight episodes before I could tear my eyes away from the screen. Generally, this doesn't have anything to do with the quality of a Netflix series; I think The Ranch, for instance, is just OK. However, Netflix's ease of use is something to behold. A series will keep running, one episode after another and will only periodically check in to see if the subscriber is still watching. (In my case I usually am).
However, Shawn Levy's comments to THR indicate that it's not simply Netflix's formatting that has made Stranger Things such a huge success with fans. Really, it's a little bit of everything. It's a genre thriller that is set in and pays homage to the eighties and stars popular eighties and nineties actress Winona Ryder. It's a moody horror series that's less gory than a lot of the horror movies that are around these days. It has a lot of pros, and you don't even have to take my word for it; there are tons of different reasons to watch.
Netflix has yet to sign on for a second season of the series, but that hasn't stopped the creative team from planning where Season 2 could go. Plus, Netflix has frequently signed on for second seasons of shows that have been middling or even low-reviewed, and the buzz surrounding Stranger Things _has been extra special. It's hard to tell just how popular _Stranger Things is compared to some of the streaming service's other originals as Netflix notoriously does not release ratings, but Shawn Levy clearly wasn't surprised that Stranger Things was a hit, and neither are we.
While we wait on a renewal order, you can find out what else Netflix has coming up, here.
Your Daily Blend of Entertainment News
Reality TV fan with a pinch of Disney fairy dust thrown in. Theme park junkie. If you've created a rom-com I've probably watched it.