12 Big TV Shows That Aren't Coming Back This Fall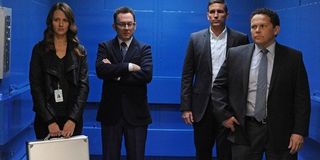 As fall is approaching, we've started preparing to set our DVRs and cement our TV-watching schedules. However, while there are a slew of new and returning programs headed to TV this fall, we did have to say goodbye to a lot of lovely shows last season. From cable shows to network TV, there were a lot of shows with avid fanbases that still got the axe or---best case scenario---ended a lengthy run. If you are wondering whether or not your favorite show will return this fall, this is the list for you.
You can check out 12 well-liked shows that sadly will not be returning to the schedule, below
Castle
After eight seasons, Castle was getting a little long in the tooth. Still, for a while it seemed as if we would be getting Season 9 this fall, just minus a few of the key players that have been a part of the series over the years. Without Stana Katic, the show would have been pretty weird for fans, and apparently that coupled with continually lowering ratings convinced ABC to give the drama the boot. Luckily, Nathan Fillion has already landed his next TV gig and is heading to Modern Family this fall.
What We'll Miss Most: Castle's ability to get us to invest in Caskett, even when the drama was over-the-top.
Hell On Wheels
AMC's drama about the rise of the railroad in the United States had a pretty nice run on the cable network. While it was never a big ratings-bringer, fans really like the historical drama, which prominently featured some of the personalities on the Union Pacific Railroad and later, the Central Pacific Railroad. The series ended on a more optimistic note than normal this past July, but AMC had split the fifth and final season of Hell on Wheels, and the end unfortunately came with little fanfare.
What We'll Miss Most: Cullen Bohannon taking no shit.
Person Of Interest
Person of Interest was extremely innovative when it was released, mixing a crime thriller with technological components and including some incredible-looking special effects. Unfortunately, as the show continued its run, its audience dwindled somewhat. CBS gave it a half season order during last TV season, but then the show was kept off both of the fall and midseason schedules, forcing POI to air during the summer months. It's hard to gain traction during the summer, and it wasn't a huge shock when the network promptly cancelled the Bad Robot drama. Still, it will be missed by its avid fanbase.
What We'll Miss Most: The show's great cliffhangers. Seriously, even during that finale the door was left open for a spinoff.
Mike & Molly
Mike & Molly had major scheduling issues on CBS for more than one season. For a TV series starring a major a-lister, the show was shuffled around far more than expected and was used to fill space when CBS inevitably cancelled programming. This went on for a few seasons before the network ultimately opted to pull the plug on the comedy. Despite the ridiculous treatment Mike & Molly received, avid fans really stuck with the series and were devastated when the cancellation occurred. If you were hoping it was off of the premiere schedule because CBS had shuffled it again, we're sorry to inform you that it won't be back.
What We'll Miss Most: Having the pleasure of seeing Melissa McCarthy on TV---TV---every week! (Good thing she's appearing in the Gilmore Girls revival.)
Agent Carter
Marvel has had a pretty great track record with its TV programs. Agents of S.H.I.E.L.D. is heading into Season 4, and Netflix has so many seasons of Marvel shows in development it's hard to keep track of all of them. However, one Marvel drama didn't fare so well on TV. Marvel's Agent Carter earned pretty good acclaim and decent ratings during its first season, but during Season 2, fans didn't really bite quite so hard. Unfortunately, ABC ultimately decided to pass on another season of the drama, despite plenty of fan petitions hoping for otherwise. Hopefully, Peggy Carter will still find a way to be around in some form.
What We'll Miss Most: Peggy Carter's one-liners.
Mythbusters
While Discovery has been a TV channel for a long time, it was really programs such as Deadliest Catch and Mythbusters that made Discovery more of a memorable content creator. Over a whopping 15 seasons, Mythbusters became an institution on the network, and a lot of people tuned in to watch Mythbusters' last hurrah. While the long-running series has now ended, there is good news. Old episodes of Mythbusters will still air on Science, and Science Channel is also looking to revive the format of the series with some new hosts. It won't be the same without Adam Savage or Jamie Hyneman, however.
What We'll Miss Most: The creative duo blowing things up, of course.
The Good Wife
CBS' critically acclaimed law-oriented drama was rumored to be ending before the network made the announcement, but the channel still did it in style. We found out The Good Wife was ending during a Super Bowl commercial, and the show wrapped up in May. If you missed it, the finale was certainly polarizing for fans, but it also capably wrapped up the series. Have no fear, however, a Good Wife spinoff is heading to CBS All Access, otherwise known as the network's streaming site.
What We'll Miss Most: Elsbeth, and if not Elsbeth, then Alicia always pounding back a glass of wine at the end of a long day.
Galavant
ABC's musical comedy Galavant was rather short-lived compared to some of the titles on this list. However, what the series lacked in longevity, it certainly made up for in uniqueness. The musical series was medieval but with a modern flare. Plus it sported lyrics written by Alan Menken and Glenn Slater. Despite being quite popular on streaming services like Hulu, no more new episodes will be produced.
What We'll Miss Most: All the fun and sometimes kooky guest stars. (Remember Weird Al?)
The Soup
After 22 seasons on the air, E! finally said goodbye to The Soup, it's long running topical program featuring plenty of jokes. I don't know if The Soup ever really had the sort of die hard fans that tuned in every single night the show was on the air---maybe it did---but I do know that The Soup was a leftover from a different generation of television, and as such, its impact can still be felt on other networks and cable stations. We said goodbye to the series back in December, but it doesn't feel like it has been that long since the show graced our TV sets.
What We'll Miss Most: Joel McHale's snarky personality.
American Idol
The 2015-2016 TV season was really a year that said goodbye to a lot of long-running programs. Unfortunately, American Idol went out with more of a whimper than a bang, as its final season didn't show an increase in ratings, despite all of the hype Fox tried to put on the final set of episodes. Still, at one time American Idol was the most popular show on television, and it changed the way the entire country thought about reality TV. For that, it's greatness cannot be understated.
What We'll Miss Most: The show's heyday when Simon Cowell loved to tease Paula Abdul.
Gravity Falls
While Gravity Falls was never intended to be a long-running show, after two seasons the animated series had developed a big fanbase. Because of this, the cancellation of the series came as a bit of a shocker for those who followed the series. If you were expecting new episodes of the show to continue airing, here's what the creator has to say about ending the show.
What We'll Miss Most: The epic voice cast.
The League
The League was never one of the most popular series on cable, but what it lacked in popularity, it made up for in refreshing comedy. And what a great comedy it was. Featuring a slew of hilarious but completely selfish protagonists, The League was a great comedy pairing with It's Always Sunny In Philadelphia, and while it didn't outlive FX/FXX's flagship comedy, it will still be fondly remembered, even if that Stephen Rannazzisi drama mars the memory of the show a little bit.
What We'll Miss Most: Rafi, obviously.
To find out which of your favorite shows will be returning next year and see all the premiere dates, check out our fall TV premiere schedule.
Your Daily Blend of Entertainment News
Reality TV fan with a pinch of Disney fairy dust thrown in. Theme park junkie. If you've created a rom-com I've probably watched it.
Your Daily Blend of Entertainment News
Thank you for signing up to CinemaBlend. You will receive a verification email shortly.
There was a problem. Please refresh the page and try again.