When The Gravity Falls Series Finale Will Air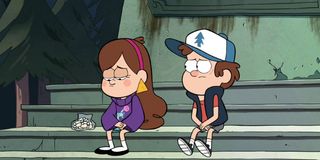 Fantasy, mystery, and adventure are all part of a days work in Gravity Falls, Oregon. However, as many fans of the series already know, the mystery won't last forever as the show will be soon coming to an end. While we've generally been in the dark about the finer details of the upcoming conclusion, it has finally been revealed when exactly the Gravity Falls finale will air on Disney XD.
Variety reports that a premiere date for the Disney XD series has finally been set in stone by the network. An hour-long episode, the finale will air roughly six weeks from now on February 15. Gravity Falls has never formatted itself in a normal way when compared to other TV series. Rather than a story told through weekly installments, the series could go weeks, and even up to months, without a new episode. For example, the last original episode of the series aired on November 23.
Series creator Alex Hirsch has previously explained that longevity was never really his intention when it came to creating Gravity Falls. The show is designed around a mystery that would eventually be solved by the characters, and wouldn't draw audiences along on an unending search for clues. While the show has developed quite the following since it first premiered, it now seems that it will make good on its promise and give fans the answers they have been hoping for.
Like us, chances are you will miss Gravity Falls quite a bit when it finally comes to an end. However, bear in mind that the spirit of the series may very well live on in another beloved sci-fi cartoon: Rick and Morty. A long assumed but never confirmed fan theory suggests that Gravity Falls and Rick and Morty actually take place in the same continuity, just within parallel worlds. This theory came about when it was noticed that a mug, notepad, and pencil went through a portal opened up on Gravity Falls and came out the other side on an episode of Rick and Morty. Check it out below to see for yourself.
Despite the intriguing nature of this fan theory, it ultimately doesn't change the fact that the story of Dipper (Jason Ritter), Mabel (Kristen Schaal), and Grunkle Stan (Alex Hirsch) will soon indeed be coming to an end. Mark you calendars and set your DVR units, because Gravity Falls will air its final episode on February 15.
Your Daily Blend of Entertainment News
Originally from Connecticut, Conner grew up in San Diego and graduated from Chapman University in 2014. He now lives in Los Angeles working in and around the entertainment industry and can mostly be found binging horror movies and chugging coffee.