Luke Cage Review: Netflix's Latest Marvel Show Is Every Bit As Awesome And Exciting As We Wanted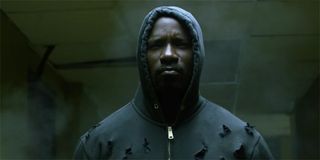 With the release of their first two Netflix shows, Marvel Studios took the opportunity to showcase a different side of the Marvel Cinematic Universe. Approaching material as close to R-rated as we'll ever see from the larger franchise, Daredevil and Jessica Jones pull no punches, and establish a much darker tone to ground their street-level heroes. Now the streaming service and the comic book company are about to release their third collaboration with Luke Cage - and while it's familiar in that it's a show that's able to get a bit more hardcore than its PG-13 blockbuster cousins, it also has a unique flavor that could very well lead it to being called the best Netflix/Marvel series so far by the time it's first season is over.
This review is based on seeing the first seven episodes of Luke Cage (more than half of the season's total of 13), and it's incredible to watch the show develop a vivid and distinct environment around its titular hero, who was brilliantly portrayed by Mike Colter last year in Season 1 of Jessica Jones. Moving the man with unbreakable skin from a bar in Hell's Kitchen to a barber shop in Harlem, showrunner Cheo Hodari Coker sculpts a specific vision of Upper Manhattan, and populates it with not only tremendous characters brought to life with great performances, but a culturally-driven crime story guided by two standout central villains in burgeoning crime lord Cornell "Cottonmouth" Stokes (Mahershala Ali) and his corrupt politician cousin "Black" Mariah Dillard (Alfre Woodard).
Mike Colter's performance in his seven episodes of Jessica Jones last year was really the only thing that the Luke Cage series needed as far as promotion -- as the actor managed to find a perfect balance between grim and charismatic in the role -- but he's even better as the lead of his own show. There's a certain level of visual confidence that has to be recognized in playing a character who can take a bullet to the face and not flinch, and it amplifies the many thrilling action sequences with a special kind of fun. When Luke smirks knowing that he's about to beat down a room full of overly-aggressive gangsters, you can't help but smirk with him.
But as you would expect from a man living outside the law, grieving his ex-wife, getting over an intense break-up, and recovering from a shotgun blast to the head, the life of Luke Cage is very far from all proverbial sunshine and rainbows. At this early stage, I actually recommend not necessarily becoming too attached to any one supporting character in the show, because their end may very well be one episode away. There is a whole lot of heartbreak and devastation portrayed in Luke's Harlem life -- and it's in those moments that Colter shines as well. Cage is a man who has lived through tremendous pain (realized in an "origin story" episode towards the middle of the season), but his capacity to get through it all and continue to try and help people shows an honorable strength that Colter perfectly evokes as he literally, figuratively, and regularly rises through the rubble.
As alluded to, a surprising number of strong supporting characters in the show shockingly find themselves with a target painted on their back by the writers, but Luke Cage's world is one filled with colorful personalities brought to live-action from Marvel Comics. The standout is Simone Missick as the smart, brash Detective Misty Knight -- who finds herself having a very complicated relationship with the titular hero -- but Frank Whaley also does wonderful work as her entertainingly dickish partner, Det. Rafael Scarfe. Closer to Cage's inner circle, Frankie Faison is perfect as reformed-gangster-turned-barbershop-owner Pops, and Theo Rossi's Shades seems ready to explode on-screen following the first seven episodes, as he opens the series mostly lurking in the background subtly pulling the strings.
Of course, the standouts in Marvel Netflix shows thus far have been the antagonists -- including Vincent D'Onofrio's Kingpin, David Tennant's Kilgrave, and Jon Bernthal's Punisher -- and that's a streak that Luke Cage blissfully keep alive and well. This time the titular hero's big opponents come as a pair, but they are equally phenomenal in their portrayals. As the real psychopath of the two, Mahershala Ali's Cornell Stokes is disturbingly sinister as he repeatedly flies into passionate viscera-spewing rages. But as scary as these frequent bouts of red-lit violence are, it's his shark-like smile and deep laugh that are the most effectively chilling elements of his performance. Cottonmouth is a villain raised to value power above all, and its captivating watching him both climb to the top and fight to stay there.
Playing an entirely different kind of ferocious is Alfre Woodard, whose Mariah Dillard tries to work the system from the inside as a politician and rise above her upbringing in the criminal world. She has big visions for the future of Harlem, but requires the resources that her more brazen cousin can provide -- leaving her with a foot in both worlds. A torn morality is what makes the character so fascinating, and Woodard's execution makes every moment she's on screen compelling. And given where things are left at the end of episode seven, things are only going to get more interesting for her in the back half of Luke Cage's first season.
The common denominator between all of these key figures is the neighborhood of Harlem, which effectively finds a way (for better or worse) to drive the blood through their veins, and lends Luke Cage an aesthetic that is uniquely created as a result of having a predominantly black cast and showrunner. As has been highly touted, this especially extends to the series' use of music, which is special on the level of James Gunn's Guardians of the Galaxy. Music orchestrator Miguel Atwood-Ferguson infuses episodes with a smooth, retro, Blaxploitation-reminiscent score that immediately sets the show apart stylistically from Daredevil and Jessica Jones; and there are even a number of expertly interlaced live-performances that wonderfully come packaged with Cornell owning the hottest club in town.
What flaws Luke Cage does possess, including weak exposition delivery in the pilot, repetitive narrative structures, and individual arcs that are cut short too soon, are far outweighed by the greatest elements of the show and what it offers superhero fiction. The latest work from Marvel and Netflix presents a corner of the world unlike anything ever presented in comic book films or television - and built with a compelling vision and atmosphere, the first seven episodes suggest that it will ultimately come together as one of the best examples of the genre.
Luke Cage will be available to binge watch on Netflix starting on September 30th. To see when everything else is heading to Netflix and beyond, check out our premiere schedule and our fall TV schedule.
Your Daily Blend of Entertainment News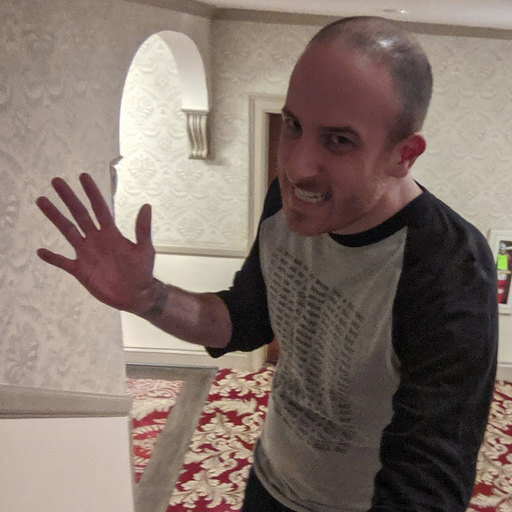 Assistant Managing Editor
NJ native who calls LA home and lives in a Dreamatorium. A decade-plus CinemaBlend veteran who is endlessly enthusiastic about the career he's dreamt of since seventh grade.