Looks Like The Punisher Just Added A Major Daredevil Actor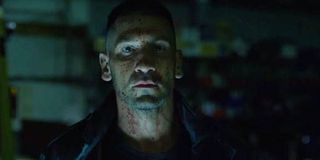 Daredevil deserves the credit for kicking off the Netflix branch of the Marvel Cinematic Universe with the origin story of Matt Murdock in Season 1. The highlight of Daredevil Season 2, however, has to be Frank Castle as the Punisher. Legions of fans responded positively to John Bernthal in the role, so the announcement that he'd be getting his own series as the Punisher didn't come as a huge surprise. Now, it looks like a major Daredevil star will be joining Bernthal on The Punisher. Deborah Ann Woll will evidently appear as Karen Page in The Punisher Season 1.
We only just learned the The Punisher may have started filming thanks to appearances proving Jon Bernthal was filming in New York City. We also knew he had unexpectedly cancelled convention appearances due to his Netflix schedule. Considering that The Punisher originally wasn't set to debut until after Iron Fist, The Defenders, Jessica Jones Season 2, and Daredevil Season 3, it was entirely possible that Bernthal was filming a cameo or two for other Netflix MCU series.
The apparent appearance of Deborah Ann Woll in at least one scene with Bernthal indicates that The Punisher might be much farther along than expected at this point. Surely the Netflix MCU wouldn't bring two heavy-hitters like Frank and Karen together in a throwaway scene. Going by the photos from Coming Soon, we can't say much more about the Frank/Karen reunion other than the facts that Frank has grown some epic facial hair and Karen isn't planning on running anywhere in her high heels. Luckily, we know a bit more about some of the other players who will turn up on The Punisher.
The comic character Micro will appear in The Punisher as a former NSA analyst with intel that could be valuable to the good guys as well as the bad guys. He'll be played by Girls actor Ebon Moss-Bachrach. Son of God alum Amber Rose Revah will play Homeland Security agent Dinah Madani, who isn't necessarily a big fan of Frank. We've now learned that Ben Barnes will be playing Frank's Special Forces friend Billy Russo, who may or may not end up becoming the comic villain known as Jigsaw. Presumably,Rosario Dawson will turn up in some capacity as Netflix MCU frequent flyer Claire Temple. There's no saying how large of a role Deborah Ann Woll will play in The Punisher, but Karen is joining a solid cast of characters.
Karen was in a unique position when she was last seen in the Netflix branch of the MCU. After spending Daredevil Season 2 dealing with Frank and being lied to by her friends, she finally learned that Matt is actually Daredevil. Maybe Punisher will give us a good look at how much her attitude toward vigilantism has or has not changed since the reveal that her pal/love interest fights crime in a mask.
It looks like we may be in for The Punisher sooner than anticipated, so stay tuned to CinemaBlend for the latest on what's to come for the Marvel Cinematic Universe on Netflix. Check out our Netflix TV premiere schedule to see what you can watch in the meantime.
Resident of One Chicago, Bachelor Nation, and Cleveland. Has opinions about crossovers, Star Wars, and superheroes. Will not time travel.
Your Daily Blend of Entertainment News
Thank you for signing up to CinemaBlend. You will receive a verification email shortly.
There was a problem. Please refresh the page and try again.