8 Terrible TV Shows That Somehow Got A Second Season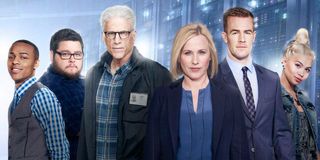 Television is a fickle industry. Some shows live on for years, while others die almost immediately. For every legendary, long running show like The Simpsons, there's plenty of others that come and go through pilot season and never seem to gain any traction. That's the way the TV landscape works, and we really do not expect it to change in any major way anytime soon.
However, there's another category of television show that almost never gets acknowledged: terrible shows that managed to live on beyond Season 1. With that in mind, we have compiled a list of horrible television shows that somehow managed to garner second seasons from their respective networks. Check out our list and let us know what you think in the comment section below! Now let's get the ball rolling with one of the most ill-conceived police procedurals of all time...
CSI: Cyber
After the CSI franchise took its typical procedural style to three different American cities, the producers decided to get a bit bolder. CSI: Cyber saw the crime scene investigation series follow a team in the FBI's Cyber Crime Division as they worked together to solve technology-based crimes. Despite a fairly relevant premise, and a strong cast (which consisted of Patricia Arquette, Ted Danson, and James Van Der Beek), CSI: Cyber failed to really do anything new or interesting with the overall CSI premise. The CBS series lasted for two seasons and ended in March 2016. In a world where Mr. Robot exists, CSI: Cyber simply couldn't cut it.
The Ropers
At first glance, a spin-off of Three's Company centering on Mr. Roper doesn't seem like a terrible idea. However, in execution The Ropers seriously failed to capture the magic of its predecessor. Combining elements of All in the Family and The Jeffersons (while never living up to either of those shows) The Ropers followed our favorite rough around the edges landlord, Stanley Roper, and his wife, Helen, as they moved into an upscale neighborhood after selling their apartment building. The spin-off series trudged along for two full seasons before finally coming to an unceremonious end in 1980.
AfterMASH
There's absolutely no question that MAS*H is the greatest TV show to ever take place during the Korean War. Granted, that's a small category, but the show's eleven seasons have become legendary for their seamless blend of comedy and drama. That being said, AfterMASH completely dishonored the memory of its predecessor when it debuted in 1983. Taking the action away from Korea, the show centered on Potter, Mulcahy and Klinger as they reunited to work together in a Missouri hospital after the end of the war. The show struggled with critics almost immediately, and it limped along for two seasons before finally getting the ax. It has since gone down in history as one of the most disliked spin-offs in the history of television.
Joanie Loves Chachi
A television spin-off forever immortalized by Ben Stiller's utterance of its title in Dodgeball, Joanie Loves Chachi was an attempt to cash in on the overwhelming success of Happy Days in 1982. Only, it didn't quite pan out the way networks executives had hoped. Riding high off of the Happy Days brand, the show initially attracted a strong following, but viewership quickly plummeted as interest began to fade. Eventually the reasons for Joanie Loves Chachi's failure became clear: people tuned into Happy Days for Fonzi; they didn't care nearly as much about Joanie or Chachi. The show has since become legendary in the annals of television history, but not necessarily for the right reasons.
Extant
Science fiction has certainly experienced a major resurgence over the course of the last few years -- particularly science fiction which centers on the idea of space travel. That being said, not all science fiction shows have managed to reach the heights enjoyed by Star Trek. Extant centered on an astronaut (Halle Berry) who comes home from a 13-month space exploration mission to find herself mysteriously impregnated after years of infertility. The series premiered to generally favorable reviews due to its mysterious nature and creepy atmosphere, but its story quickly went off the rails with its bizarre manner of storytelling and its revamping for Season 2. Like all of the other shows on this list, Extant was cancelled by CBS after two seasons on the air.
The Pick-up Artist
The mid 2000s was a uniquely terrible time for reality television, and few shows epitomize that idea more than MTV's short-lived series, The Pick-up Artist. Hosted by a self-proclaimed "pick-up artist" named Mystery (seriously) the show used a game show format in which Mystery would train male contestants in the art of seduction, and then have them compete to see which of the competitors could pick up women in a variety of different, competitive situations.The Pick-up Artist debuted to negative reviews almost immediately, but it still managed to live on for two full seasons before MTV finally called it quits. Clearly it wasn't very seductive for audiences.
Smash
We may never truly know what went wrong with NBC's Smash. The show debuted to a great deal of fanfare back in 2012, and was held up as the series that could've potentially saved the network's wavering lineup. However, the series -- which centered on the tumultuous behind-the-scenes world of a major Broadway musical -- was plagued with plenty of its own behind-the-scenes drama, as NBC clashed repeatedly with showrunner Theresa Rebeck. In the face of waning quality, Smash managed to sustain viewership for a second season (primarily due to people "hate watching" it) before NBC finally decided to lower the curtain on the failed experimental series.
Joey
The mother of all failed spin-offs. There was a ton of anticipation associated with the inevitable Friends offshoot when fans learned that Matt LeBlanc's Joey would be the one to get a solo series, despite the fact that few people would've guessed that he would be the one to receive it. Despite negative reviews from critics, Joey premiered to strong viewership back in 2005 - likely due to the sheer amount of goodwill built up by Friends. However, the show eventually started to hemorrhage viewers on a weekly basis over the course of two seasons until NBC opted to pull the plug. The cancellation of the show proved so hard on Matt LeBlanc that he even took a four-year hiatus from acting once NBC called it quits.
Were you a fan of any of these ill-fated series? Let us know what you think in the comments to keep this conversation going!
Your Daily Blend of Entertainment News
Originally from Connecticut, Conner grew up in San Diego and graduated from Chapman University in 2014. He now lives in Los Angeles working in and around the entertainment industry and can mostly be found binging horror movies and chugging coffee.