How Those Strange Arrow Cameos Happened, According To Marc Guggenheim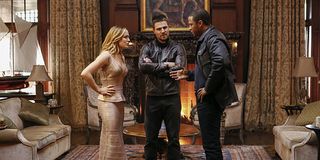 Warning: spoilers ahead for the 100th episode of Arrow.
The milestone 100th episode of Arrow has finally aired on The CW, and viewers got to see the returns of some of the most unforgettable characters of seasons past. Oliver spent most of the hour in a hallucination world in which he had never been shipwrecked and his world had never been shattered. The episode featured all manner of callbacks and cameos, including unexpected appearances from Colin Donnell as Tommy and Colton Haynes' Roy. Arrow executive producer Marc Guggenheim explained how Tommy and Roy became part of Episode 100, saying this:
Oliver saw plenty of Moira, Robert, and Laurel throughout his time in the hallucination world, but it wasn't until he was on the verge of returning to reality that he turned around and saw a ghostly crowd of his friends and family urging him on. Tommy and Roy were among them, despite the fact that neither Colin Donnell nor Colton Haynes returned for the 100th episode. Marc Guggenheim's reveal to ComicBook.com that a visual effects team combed through a ton of footage to find the perfect versions of Tommy and Roy to insert into the scene is proof that the whole Arrow crew was dedicated to turning Episode 100 into something truly special for fans. The plot of the episode wasn't changed by Tommy and Roy turning up, but the emotional stakes felt even higher as Oliver turned his back on the people he loved and jumped back into the fight.
Of course, as great a job as the visual effects team did on bringing in Tommy and Roy, it was pretty obvious that we were seeing footage from past episodes rather than anything new for Episode 100. The whole scene might have looked ridiculous if it was just ghostly Tommy and Roy watching Oliver go. Instead, the scene was comprised of Moira, Robert, Laurel and Felicity, in addition to Tommy and Roy, so Tommy and Roy blended in with everybody else.
Personally, I'm glad that Tommy and Roy made it into the 100th episode. It would have been nice if Colin Donnell and Colton Haynes had been able to film in the flesh and spare the visual effects team the trouble of digitally inserting them into the scene, but the episode wouldn't have felt right if it managed to bring back everybody except for Oliver's pre-island best friend and his first sidekick. Tommy and Roy helped turn the crossover into a perfect 100th episode.
Tune in to The CW on Wednesdays at 8 p.m. ET to see what's next for Oliver and Co. on Arrow. Tommy is still dead (as far as we know), but Roy is alive and flipping somewhere, and he's set to return at some point in Season 5 without visual effects magic at work.
Resident of One Chicago, Bachelor Nation, and Cleveland. Has opinions about crossovers, Star Wars, and superheroes. Will not time travel.
Your Daily Blend of Entertainment News
Thank you for signing up to CinemaBlend. You will receive a verification email shortly.
There was a problem. Please refresh the page and try again.