Check Out The Wildest Walking Dead Complaints The FCC Got For Negan And Season 7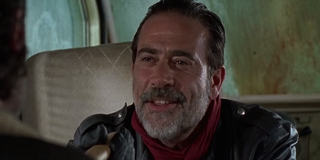 When The Walking Dead dropped its Season 7 premiere on fans in October, fans were subjected to one of the most horrifying sequences in not only the history of the AMC drama, but of TV in general. And in the weeks that followed, the show continued forth down its dark and lightly censored past, winning over some fans (like myself) while losing other audience members. Several of those less-than-happy viewers brought their grievances to the FCC, and we've pulled together a handful of the wildest and most intense complaints that were available.
I'm going against my better instincts here by starting off with my favorite of the bunch, and it won't take long to understand why I'm particularly fond of it. (Note that all complaints are presented almost exactly as they were sent to the FCC, with mild exceptions like capitalizing and italicizing The Walking Dead.)
I think it's safe to say that this completely shaken viewer probably wasn't watching the midseason finale, and that if he or she had been, another whopper of a complaint would have been sent about the particularly vicious moment that happened therein. I do not wish to make fun of this person's traumatized 12-year-old daughter, since Glenn's death was indeed super gross, especially for a kid. But I do want to congratulate this parent for making it 44 years in life without going through anything more traumatizing than this fictional TV scene (that absolutely and definitely cannot happen again).
And now, a complaint that threatens to be more obscene than the scene in question.
Wowzers, guys. Minus all the typos, I think this viewer could have a future in the genre. So many adjectives and hard-edged phrasings. I almost want to write to the FCC to complain about that complaint, which was acquired by The Daily Dot, since the TV watchdogs are always harder on language than onscreen violence.
Let's step away from the mega-violence The Walking Dead is known for to focus on another offending element: the language. Personally, I'm always surprised that more conversations aren't fully bleeped-out, as I know I'd be cursing pretty hardcore in the dreadfulness of the post-apocalypse. But it was Negan's introduction that brought a new wave of foul, comic-specific phrasings that not all viewers' ears are desensitized to. This person has a lot to say about one particular exchange between Negan and Rick.
It's one thing for someone to just not want to hear the show's spicier dialogue, but it's another to assume that it's completely illegal for Negan to tell Rick anything about dicks being slid places. "Book 'em, Danno." The genuine wholesome inquisitiveness behind this entry is hard to rail on, and it even ends with a "thank you." I'm guessing a Canadian living in the States wrote it.
From sexually charged words to religious icons, we go!
I like the mutual exclusiveness of these two complaints; one is all about the stereotypical curse words, while the other is honed in on just the sacrilegious utterings, as when survivors say "Jesus!" or similar exclamations. But it is extremely hard to take any of this seriously when one sentence begins with "I am a big fan of the Shoe." I roared louder than Shiva after reading that.
Our next entry takes us back to someone angered by The Walking Dead's violence, but the big difference here is that the viewer's target swiftly shifts from the AMC show to the FCC itself.
Perhaps this person has never been told not to bite the hand that feeds. In this case, that advice would be "Don't crap all over the government entity you're attempting to solicit a positive reaction from." There may have been a two-tiered goal in mind when penning this rant. Nobody gets out unscathed.
Our last complaint is kind of a perfect bookend to the first one, largely (but not solely) because of how surprisingly outrageous it gets.
First, I'm not making light of someone being harassed over the phone, because that's a terrible situation for several reasons. But I am super-gluing my head to my desk over the fact that, instead of going to the actual police or some authority entity that can actually do something about the perceived threat, this person took umbrage with and sought assistance from the FCC. What did he or she think was going to result from this request?
The Walking Dead will return to AMC for the rest of Season 7, which will likely bring in another round of stellar complaints, on Sunday, February 12, 2017. To see what else is coming to the small screen in the near future, head to our midseason premiere schedule.
Your Daily Blend of Entertainment News
Assistant Managing Editor
Nick is a Cajun Country native, and is often asked why he doesn't sound like that's the case. His love for his wife and daughters is almost equaled by his love of gasp-for-breath laughter and gasp-for-breath horror. A lifetime spent in the vicinity of a television screen led to his current dream job, as well as his knowledge of too many TV themes and ad jingles.