Luke Cage Season 2: What We Know So Far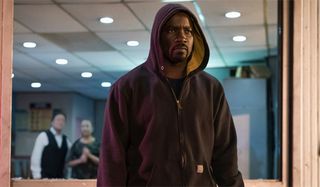 Marvel Studios has had a number of successes since the launch of the Marvel Cinematic Universe back in 2008, and their run of Netflix shows is no exception. It began with them launching the best live-action interpretation of Daredevil we've seen, and then critical acclaim for the first adaptation of Jessica Jones. The streak very much continued with Luke Cage in Fall 2016, and we couldn't be more excited to see the bulletproof hero back in action for a second season.
Luke Cage Season 2 is admittedly one of many balls that Marvel Studios is currently juggling, but, like many of you, we're hungry for details. What can we expect in terms of story? How will it fit into the world post-Defenders? What characters can we expect to return, and who will be introduced? To keep track of all the answers to those questions and more, we've put together this handy What We Know So Far guide. Read on and learn a bit about the sophomore season of Luke Cage!
What Have We Seen From Luke Cage Season 2?
Luckily, we've finally been treated to the first full trailer from Season 2 of Luke Cage, and it's got everything we could have hoped for. We've gotten a look at Bushmaster (a new villain for the upcoming season), Misty's shiny new bionic arm, badass fights, fire and a lot of poor, innocent hoodies getting destroyed left and right.
Luke Cage (Mike Colter)
Even after his introduction to audiences in the first season of Jessica Jones, Luke Cage remained mostly a mystery as he entered his own solo series -- and a whole lot of interesting information was revealed about his history in those 13 episodes. We not only saw his superhero origin story play itself out -- with Carl Lucas undergoing experiments in prison that would make his skin impenetrable -- but we even learned about his upbringing in Atlanta and some uncovered dark secrets about his reverend father and family.
Of course, that doesn't mean that the lid has been fully pulled off on Luke Cage, and there is plenty more for us to learn about the character and where he's been (for example, we still don't know anything about the frame-up that landed him in prison in the first place). And, in the aftermath of The Defenders, Luke Cage will be a full blown Harlem-based hero with quite the fan club on his side.
Returning to the part of Luke Cage will be Mike Colter, who has become a favorite amongst devotees. Prior to joining the Marvel Cinematic Universe, he had significant roles on shows like The Following and The Good Wife, but he has now become fully associated with his superhero role, and fans are excited to see him back in the part.
The Showrunner
Taking the reins of Luke Cage, television veteran Cheo Hodari Coker was given the opportunity to leave a very individualistic stamp on what a superhero show could be -- and he very much did that. The music used in each episode is as influential as the work that James Gunn did on Guardians of the Galaxy, and the stories explore new and different avenues that we've not seen before in the genre. And, from the trailer, it looks like we'll be treated to more awesome music, along with cool storylines and villains. This is likely due in no small part to the fact that Coker will be back to steer the bulletproof ship in Season 2.
When Marvel and Netflix announced that we would be getting a Luke Cage Season 2, it came as a video that merely noted that another set of episodes would be "coming soon." While it took a while for the show to confirm that the main players in front of and behind the camera would be back on board for the new season, response to Season 1 was so positive (overall) that it was always hard to imagine that anyone would be replaced. Aside from the controversial decision to kill off Cottonmouth Stokes half way through the season, people loved what Coker and his team did with the characters. As such, it's great that Coker is, once again, in charge.
The Story
In Season 1 of Luke Cage, audiences watched as the titular hero set up roots in Harlem, tried to stop the corruption taking it over, and had an epic personal spat with his half-brother. As for what we'll see in Season 2... we really don't know. From the recently released trailer we can gather that Luke is the big man around Harlem these days, with scores of people admiring him publicly. We also see that Mariah Dillard, who was able to turn some of New York's most influential people against the bulletproof hero, is back and up to no good. And, while Diamondback is in custody instead of dead, and it's entirely possible that he could make a comeback, the bigger threat seems to be new villain Bushmaster, who's a bit bulletproof himself.
While we'll get more into it later in this feature, one presence who could certainly shake things up post-Defenders is Danny Rand a.k.a. Iron Fist. In the comics, Luke Cage and the Kung Fu hero are not only best friends, but co-owners of a Heroes For Hire business -- which is something that is hinted at by Bobby Fish (Ron Cephas Jones) in Luke Cage Season 1. After the two men met in Defenders, it sounds like they continue to hang out in Luke Cage Season 2. Mike Colter has confirmed that we will get at least a taste of the Heroes for Hire dynamic with the new friends, which is something fans have been looking forward to.
Misty Knight (Simone Missick)
Misty Knight has persisted as one of the most badass heroes in the Marvel universe, and that tradition was continued by Simone Missick in the making of Luke Cage Season 1. Portrayed as a hard-working detective in Harlem, she proved herself a key asset for the show's titular character and for justice in her district of New York. And, the trailer fully confirms that she'll be back in Luke Cage Season 2.
So, what will Misty Knight be up to in the second season of the superhero show? There were a whole lot of people who wanted to see her lose her right arm, and, they got their wish at the end of The Defenders. In the comics, the character is famously outfitted with a bionic limb courtesy of Tony Stark after she loses her arm in the line of duty. This was teased in a big way during Season 1, but The Defenders finally gave people what they wanted when Misty lost her arm in a fight with a katana-wielding member of The Hand. Maybe her new super-limb will help her take on an old high school rival who ends up taking over her job at the precinct. We'll have to wait and see.
Mariah Dillard (Alfre Woodard)
Luke Cage faced down three very different kinds of villains in the first season of his own show. Cornell "Cottonmouth" Stokes (Mahershala Ali) was a crime lord -- using his connections in politics and crime to flood the streets of Harlem with drugs and weapons. Then there was Diamondback -- a psychotic killer with a personal vendetta. The third was Alfre Woodard's Mariah Dillard -- who used her influence and power to turn the world against the eponymous hero. While Luke was able to outlive Cottonmouth and defeat Diamondback, it was Dillard who wound up claiming victory by the time the 13th episode was over, not only getting away with murder, but watching as Luke was taken back to prison.
Right now, we can't say for certain where we will find Mariah Dillard in Luke Cage Season 2, but we're going to make a leap and all but guarantee that she will have a dangerous role to play. Given her big win in Season 1, it's not hard to imagine Luke Cage returning to Harlem and doing everything he can to make sure she is taken down and thrown in prison. Of course, we expect that this narrative will be combined with some fresh threads that will be pulled over the course of the season.
Shades Alvarez (Theo Rossi)
Mariah Dillard most notably carved a path towards victory in Luke Cage Season 1, but a lot of credit is due to Theo Rossi's Shades Alvarez for successfully reading the tea leaves. While he initially was just an agent for Diamondback sent to keep an eye on Cottonmouth, he got a very strong whiff of the way the tide was turning after Mariah killed her cousin, and established his real alliances. Expect Shades to still be attached to her at the hip during Season 2.
Shades is definitely a character who we want to see more from in the second season of Luke Cage. Throughout the first 13 episodes, he played a Littlefinger-esque role in manipulating the various chess pieces on the board, but we never really got to see him really go for the brass ring. He hit a low point when he got his ass kicked by Claire Temple and Misty Knight before being carted off to jail, but he's back on the streets at the end of Season 1, and it will be interesting to see what damage he can do with Mariah Dillard backing his every move.
Diamondback (Erik LaRay Harvey)
Erik LaRay Harvey's Willis Stryker a.k.a. Diamondback caused quite a bit of chaos in Luke Cage Season 1, not only introducing a weapon that can legitimately kill the hero, but also executing a plan for vengeance that he had been planning for years. Unfortunately for him, his specially-designed armor wasn't enough to defeat the bulletproof hero, and he was taken away by the police to be thrown in prison.
Diamondback may be locked up, but there's every chance that he could still wind up having a massive influence and presence in Luke Cage Season 2 (just look at what Daredevil did with Kingpin). We still want to know the details of how he managed to get Luke Cage thrown into prison in the first place. He probably won't be front and center in Luke Cage Season 2, but we still fully expect Diamondback to make some kind of appearance in an episode or two.
Claire Temple (Rosario Dawson)
To date, Rosario Dawson's Claire Temple has been the glue that has kept all of the Marvel Netflix shows together, and her role in Luke Cage Season 1 was her biggest since Daredevil Season 1. On the 2016 show, Temple not only saved Cage's life, but the two of them also started a romantic relationship, and this appears to still be going strong by the time the new season rolls around. But, what else should we expect from her in Luke Cage Season 2?
The most recent trailer for Luke Cage Season 2 doesn't give us much in the way of Claire's storyline beyond her being fully on her bulletproof boyfriend's side, but it's hard to imagine that Rosario Dawson isn't given a part to play in the story that's bigger than that on the next season of the show. Regardless of what happens on the romantic side, it's always a good thing to have a medic around when Luke Cage is doing his hero business. And, we know that Claire has never been afraid to get her hands dirty when she feels like an injustice is being done, so she'll likely get in on the action in her own right..
Bushmaster (Mustafa Shakir)
Luke Cage came up against a powerful physical opponent in Season 1 and the new season will be no different. This time around, he'll have to deal with John McIver, a.k.a. Bushmaster, who's looking for vengeance against those who've done bad things to (and in) Harlem, and, as you might expect, even though his goal sounds worthy, he's not going to be gentle. In the comics, Bushmaster was a crime boss who had gone through the same experiments as Luke Cage, and from what we see of him stopping bullets with his chest in the trailer, he certainly seems to be similarly powered as the superhero. We also see that Bushmaster can really give Luke an unexpected beat down, so watching these two battle it out is sure to be intense.
Tilda Johnson (Gabrielle Dennis)
Unfortunately for Luke, even though Tilda is a holistic physician from Harlem, she may not be on his side for much, if any, of the new season. In the comics, this scientific genius always managed to have trouble find her, and eventually became a crime lord using the name Nightshade. In more recent years, the character has found her calling as a hero, now going by the name of Nighthawk, but it's unlikely we'll see the character come full circle in just one season. Right now, we haven't been given any details of how she'll fit into Season 2, so we'll have to wait and see.
Rosalie Carbone (Annabella Sciorra)
Season 2 is throwing yet another bad guy at Luke Cage, and this one sounds like someone who could give Mariah Dillard a big run for her money. Rosalie Carbone is being described as a "dangerous downtown criminal underworld power player" who's got some major plans for Harlem, and we can only assume that those plans will put Luke (and possibly the rest of Harlem) on high alert. In the comics, Rosalie took over her crime family after the death of her dad and when her uncle went missing, so this villain (who typically vexes The Punisher) is definitely well-connected and poised to do a lot of harm if Luke can't stop her plans.
Assistant Managing Editor
NJ native who calls LA home and lives in a Dreamatorium. A decade-plus CinemaBlend veteran who is endlessly enthusiastic about the career he's dreamt of since seventh grade.