Carrie Fisher's 8 Best TV Roles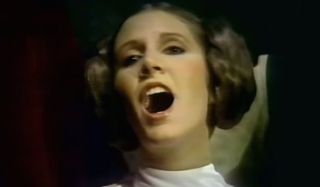 2016 took another iconic celebrity this week, as Star Wars legend Carrie Fisher passed away Tuesday morning at the too-soon age of 60. Fisher's immediate rise to fame played a big role in the outspoken and complex person she became, and her career brought her to all manner of projects big and small. Obviously synonymous with the role of Princess Leia that cemented her Hollywood status, Fisher also made her mark on a slew of TV series over the years, usually in hilarious ways. To honor the actress, we're looking back and remembering her eight best television roles, and listing if and where they're available to watch.
Princess Leia - Star Wars Holiday Special
If a TV special is considered so terrible, by both viewers and the studio responsible, that it is never re-aired nor released in any home entertainment format, then it's easy to think that everything involved isn't worth your time. That is mostly the case with 1978's jumbled Star Wars Holiday Special, a severely misguided multi-format tie-in, but its existence is justifiable for two reasons. One, it was the formal introduction for fan favorite bounty hunter Boba Fett. Two, it featured Carrie Fisher's Princess Leia inexplicably singing lyrics to John Williams' iconic Star Wars theme, a move so meta and ridiculous it should never be forgotten.
Where to Watch: Due to its non-official release status, the special isn't something you can buy. But YouTube is sometimes helpful in cases like this.
Rosemary Howard - 30 Rock
Carrie Fisher never let her bikini-fueled status as a sex symbol stand in the way of her feminism ideals, and that side of her was heightened in hilarious ways for her appearance on 30 Rock's Season 2 episode "Rosemary's Baby." As TV writer Rosemary Howard, Fisher played a seemingly composed idol of Liz Lemon's whose envelope-pushing approach to entertainment sadly didn't evolve with the rest of society. 30 Rock, and Tina Fey in particular, showed a lot of love to Star Wars and Princess Leia over its seven seasons, but Fisher's Emmy-nominated performance was thankfully its own thing.
Where to Watch: Netflix, Seeso
Carrie Fisher - Saturday Night Live
There were more than one role attached to Carrie Fisher's Season 4 appearance on Saturday Night Live, and she proved herself more than capable of nailing them all. Her expertly delivered monologue was, of course, Star Wars-based, and featured her telling a horrible joke to please The Force. She also popped up in other sketches, and one featured her on a "date" with Bill Murray that was revealed to be an insurance meeting. (Fisher and Murray should have done more together.) Hardly an amazing episode of Saturday Night Live in general, it proved that Fisher was a natural on the stage, something she would go back to time and again in her career.
Where to Watch: Hulu, Seeso
Mia - Catastrophe
Not one to generally take TV roles that go beyond a one-and-done commitment, Carrie Fisher surprisingly decided to accept a recurring role in the beyond excellent U.K. comedy Catastrophe. Fisher signed on as Rob's mother Mia, who is not exactly the easiest woman in the world for people to get along with, especially not Rob's wife Sharon. It's one of the rare times where Fisher got to play an outright shitty person, and she non-shockingly pulled it off with flying colors. Amazingly, co-creator and star Sharon Horgan had only recently shared an image from the production of the third and possibly fourth seasons, confirming Fisher will be back, which is everything we could have hoped for.
Where to Watch: Amazon
Carrie Fisher - The Big Bang Theory
If you're as awesome as Carrie Fisher was and will always be, then you only need to be Carrie Fisher to earn attention. That's what happened when the actress appeared in The Big Bang Theory for the Season 7 episode "The Convention Conundrum." The episode featured another Star Wars icon, James Earl Jones, who went out for a night on the town with Sheldon that ended in the pair showing up at Carrie Fisher's house and pranking her with Ding Dong Ditch, something that it appears Jones has been doing to her for a while. Not the meatiest of cameos, but a hilarious one nonetheless.
Where to Watch: Unfortunately, older seasons of The Big Bang Theory aren't available for streaming, but the clip can be seen on YouTube.
Angela McKinnon - Legit
Never one to adhere strictly to hugely popular shows, Carrie Fisher spun a wickedly memorable role for the criminally underappreciated Jim Jeffries comedy Legit. For this salacious performance, Fisher played a Hollywood executive that offers Jim a path to success that involves getting down and dirty in her office. (The episode is called "Licked," for an uncloaked hint.) One of Fisher's more shocking and gut-busting roles, Angela McKinnon reaches her high point during an exchange where it's made clear that of all the people that could have played Chandler on Friends, Matthew Perry got the gig because he licked her pussy "like a champ." Classic.
Where to Watch: Unfortunately, Legit doesn't seem to be available on any of the normal streaming platforms, nor FX's website/app.
Angela - Family Guy
Carrie Fisher brought her voice to several memorable animated characters on TV over the years - Thumbelina, for one - and the TV role she played more times than any other was Pawtucket Brewery Shipping Department supervisor Angela on Family Guy. Thankfully, Fisher didn't have to do in live-action many of the things that the morally loose Angela did in the animated world, such as solicit sex from Peter (and Chip). Perhaps more interesting is how Fisher played into Family Guy's Star Wars-focused specials; Alex Borstein's Lois portrayed Princess Leia for all three, while Fisher-as-Angela appeared in It's a Trap as Mon Mothma, giving her a rare double-credit (though non-canonical) within that universe.
Where to Watch: Hulu
Carrie Fisher - Sex And The City
Here's another appearance where Carrie Fisher didn't need to adopt any fictional personas to make an impression on the small screen. For a Season 3 episode of Sex and the City, Fisher made a surprising appearance to ruin the post-coitus glow that Sarah Jessica Parker's Carrie was sharing with Vince Vaughn's Keith. Turns out Keith wasn't so much an agent he claimed as much as he was Fisher's personal gopher, and the actress shined as she's half-curmudgeonly handing Carrie's panties to her while repeatedly calling her a whore. In the cameo world, it's go big or go home, even if characters are having sex in that home.
Where to Watch: HBO Go, HBO Now
There are, of course, many other TV performances that Carrie Fisher excelled at, including voicing Leia again for Robot Chicken and the HBO documentary Wishful Drinking, which centered on her one-woman stage show of the same name. So don't think of this list as a completist edition, but rather a launching pad to discover everything else the actress did on television in the past 40 years. R.I.P.
Nick is a Cajun Country native, and is often asked why he doesn't sound like that's the case. His love for his wife and daughters is almost equaled by his love of gasp-for-breath laughter and gasp-for-breath horror. A lifetime spent in the vicinity of a television screen led to his current dream job, as well as his knowledge of too many TV themes and ad jingles.