Supergirl Season 3: What We Know So Far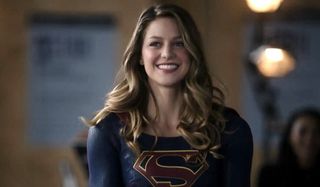 Supergirl's world has gotten bigger since the show's move to The CW for Season 2. Kara's teamed up with her famous cousin Clark to battle evil, met and fallen for Mon-El, started a friendship with Lena Luthor, and battled Lena's mom Lillian, among other things. Now that Season 2 has come to an end, let's take a look at what we can expect from the next round of Kryptonian action in Season 3.
Is Supergirl Renewed For Season 3?
Luckily for Supergirl fans everywhere, we don't have to wait to see if we'll get more adventures in the coming TV season. Back in early January, Supergirl was renewed for Season 3 along with six other shows on The CW, including Arrow, The Flash and Legends of Tomorrow. So, not only will we get to see at least one more season of Supergirl, but The CW has made sure that its entire Arrow-verse will remain intact for at least the 2017-2018 television season.
When Will Supergirl Season 3 Start?
For a while, we had no idea when Season 3 would kick off, and we could only guess at the next time we'd get to see Kara and co in action on the small screen. Given that Season 1 of Supergirl kicked off on October 26 and Season 2 of the superhero show began on October 10, the odds were pretty good that we'd seen another October premiere. Now, we finally know for sure. Supergirl Season 3 will debut on Monday, October 9 at 8 p.m. ET on The CW.
What's The Story Of Supergirl Season 3?
Season 2 ended with the death of Queen Rhea of Daxam after Kara and the D.E.O. released so much lead into the atmosphere that Earth was inhospitable for any Daxamites, so we can be pretty confident that the Daxamite threat is done for the time being. Lillian Luthor is still around, and everything we've seen of the Luthor ladies (and heard about Lex) indicates that Lillian won't give up on her cause. The end of Season 3 revealed to our heroes that President Olivia Marsdin (played by Lynda Carter) is actually an alien; if she comes back, there will probably be some stories to be told about her deception to the American people. Throw in Mon-El's departure, and the Season 2 status quo will likely be changed in some big ways for Season 3.
Meanwhile, a large focus of Season 2 was on the personal lives of Kara and her friends and family, and we can get into how things might shake out for them in Season 3 on the next few pages.
Kara/Supergirl
Kara got a serious shock when she discovered the Daxamite Mon-El had crashed near National City at the beginning of the season. That shock quickly turned to a reasonable amount of mistrust, which led to a grudging friendship, and then true friendship. Then, Kara and Mon-El started down a romantic path, even though (unbeknownst to Kara) Mon-El was still holding onto some major secrets which could have derailed their brand new relationship at any time. Kara forgave Mon-El for keeping his secrets after the musical crossover with The Flash taught her some lessons about love, and their relationship was going surprisingly well, even when his evil mom showed up to take him home. Sadly for the lovebirds, Kara had to flood the atmosphere with lead to get rid of Queen Rhea and the Daxamite invaders, which meant that Mon-El too had to flee the planet.
Kara has also gotten involved in another dubious friendship, but this one is with Lena Luthor. Lena seems to be legitimately trying to distance herself and her family's company from the wrongdoings that landed her big brother Lex in prison under the yoke of 37 consecutive life sentences. Still, Kara's willingness to give her a chance has repeatedly put her at odds with many of her friends and family, who doubt that any Luthor can really be trusted. Lena was instrumental in figuring out how to get rid of the Daxamites in the final run of Season 2, and her loyalty to Kara still seems to outweigh any lingering sense of loyalty to Lillian.
Since shows like Supergirl know that morally ambiguous characters are usually just too good to let go of, I wouldn't bet on either Mon-El or Lena Luthor being completely written out of Kara's life in Season 3. Even if something unsavory is revealed about either character when Season 3 kicks off, Kara had developed trust with both, and she'll likely still feel hopeful about them being good guys deep down at heart, and want to forgive whatever transgressions might be revealed and give them another chance. This means, of course, that they'll continue to be a part of her life.
Alex
Kara's adoptive sister Alex has gone through one of the biggest personal changes during Season 2 of Supergirl, as the character came out to friends and family (and herself) and began dating tough cop Maggie Sawyer. Seeing as how this is her first lesbian relationship, there's no guarantee that it will last into Season 3, but, right now, things look good for the couple. There were a lot of ups and downs in their relationship as Alex tried to adjust to her new relationship, but the two very clearly loved each other and were willing to work out the kinks in their romance. Alex actually went so far as to propose to Maggie in the Season 2 finale, although the episode didn't reveal whether or not Maggie said yes. Considering what we know about Floriana Lima's role in Season 3, Alex may be in for some heartbreak.
On a professional level, Alex is still going strong at the D.E.O., and her working relationship with Kara is stronger than ever. Winn has been an asset to Alex and J'onn, and we can only hope that things will continue to run smoothly in October, especially if she has to deal with some personal heartbreak. She may also go rogue again if she has the chance to enact revenge on Cadmus for what was done to her father, although she did seem to learn her lesson on that front in Season 2.
James/Guardian
James saw several changes to his personal and professional life in Season 2. After (finally) beginning to fall for Kara, the two decided to keep their relationship in the friend zone early in the season. Needing something to do with all that free time that he wouldn't be using to date Kara, James decided to become a superhero in his own right, and took on the crime-fighting persona Guardian without her knowledge. He ran into some setbacks, but with Winn helping him out, he became an asset to Supergirl by the end of the season and helped the citizens of National City in the face of the Daxamite invasion. While he lacked the powers to do what Kara and even Mon-El could do, he was still helpful on the streets and will likely continue to be so in Season 3.
James also moved up several rungs on the professional ladder in the second season, when Cat Grant left him in charge of CatCo so she could go off and find new challenges for herself. Although Cat did return to claim her place at CatCo at the end of the season, we have no reason to believe that Calista Flockhart is any more willing to move to Canada for Season 3 than she was for Season 2. Even if she does drop by more often than she did in Season 2, CatCo will likely continue to be run by James with some help from Snapper Carr (and, of course, Kara).
Winn
Winn's big stories in Season 2 have revolved around him leaving CatCo and going to work for the D.E.O., and deciding to help James in his efforts as Guardian. Winn's personal life seems to be looking up, as he recently began dating an alien named Lyra who defended him from some bullies while he was trying to enjoy some solo down time in the alien bar. Hopefully, things will continue to go well with Lyra, and Season 3 will see Winn's personal and professional life continue to develop. A version of Winn showed up in the Flash/Supergirl musical crossover and showed off some killer pipes, so, hopefully, he'll be bursting into song again if The CW goes for another musical superhero event.
J'onn/Martian Manhunter
J'onn will likely be running the D.E.O. for a long time to come on Supergirl, especially now that he's been officially sanctioned by the president. While much of his arc in Season 2 had involved him getting to know White Martian M'gann, that storyline seems to have been cleared up by halfway through the season when she returned to Mars. He did, though, send M'gann a message on Valentine's Day, so it seems possible that we could see the two together at some point in the future. She did return to lend a hand in the finale. We'll have to wait a while before we know what else Supergirl might throw at J'onn in Season 3.
What Crossovers Can We Expect?
The big three-part, four-show crossover of last fall was a huge success for The CW, so fans can be pretty sure that another epic crossover will be in the works. The next crossover between Supergirl, The Flash, Arrow, and Legends of Tomorrow promises to be even bigger, as executive producer Andrew Kreisberg has already revealed that the plan is for a full four-night crossover. Last year's crossover featured Kara, but only on The Flash, Arrow, and Legends. This year, it sounds like Supergirl will get an episode as well. The second crossover may go differently than the first, however, as a schedule switcheroo has placed Supergirl on Mondays, The Flash and Legends on Tuesdays, and Arrow on Thursdays.
Also, the Music Meister is still on the loose, so there's a chance of a second musical crossover. Cisco also designed a device that will allow Kara and Co. to hop from Earth-38 to Earth-1 whenever necessary. We may be in for many crossovers in Season 3.
Who Is The Next Supervillain?
The Season 2 finale ended on a cliffhanger that could have pointed to a number of huge DC Comics characters as the Season 3 supervillain. Luckily, we didn't have to wait too long before learning just which one will be menacing the Girl of Steel this fall. The Worldkiller known as Reign will complete her journey to Earth from Krypton. We don't yet know how exactly she'll run afoul of Kara, although the final scene of Season 2 seemed to reveal that Reign had been literally created for the purpose of dominating Earth. Odette Annable of The Astronaut Wives Club and Brothers & Sisters will play Reign, and while we haven't seen how she'll look in the role, we do know that her appearance on the small screen will be quite different from her appearance in the comics.
Who Will Be Back?
In addition to the regulars from Seasons 1 and 2 who will be back, we can count on Lena Luthor in an increased capacity in Season 3. Katie McGrath was bumped up from her recurring role, which means that we'll see plenty of Lena, whether she stays good or turns bad. Floriana Lima will be back as Maggie Sawyer, although in a reduced capacity as the actress wants to pursue some other opportunities in her career. We can't say at this point if Cat Grant or Mon-El will be back, but the odds are pretty good that Supergirl will reintroduce Cat if Calista Flockhart is ever available, and Kara will undoubtedly do anything she possibly can to make Earth livable for Mon-El if he ever returns from the Phantom Zone. We'll have to wait and see.
What New Characters Will Be Introduced?
Reign is really the only big official character announcement that we've gotten so far. That said, some Easter egg hints and a tease from Supergirl star Melissa Benoist points to the possible introduction of the Legion of Super-Heroes, which in DC Comics lore is a superhero group comprised of 31st-century heroes from different planets who work together to protect the galaxy. It's possible that characters like Saturn Girl, Lightning Lad, and/or Cosmic Boy will turn up in some way in Season 3. Whether this is via flashback, in the present on Earth, or wherever Mon-El has ended up remains to be seen.
What Changes Happened Behind The Scenes?
Supergirl will be quite different from a production standpoint moving forward. Co-creator/co-showrunner/executive producer Ali Adler is stepping down from Supergirl to focus on other projects for the The CW. Although she'll still work as a consultant on the series, she'll move on to projects like the Dynasty reboot. Co-showrunner Andrew Kreisberg is staying on, and Supergirl producers Jessica Queller and Robert Rovner are being promoted to executive producer roles. We'll have to wait and see if these changes affect the Supergirl we've come to know and love.
Tune in to The CW on Mondays this fall for new episodes of Supergirl. In case you need to catch up on Seasons 1 and/or 2, the entire series so far is already available, streaming on Netflix. Check out our summer TV premiere guide and our 2017 Netflix premiere schedule to discover your other viewing options.
Your Daily Blend of Entertainment News
Yennefer's apprentice, Gilmore Girl; will Vulcan nerve pinch pretty much anyone if prompted with cheese...Yes, even Jamie Fraser.
Your Daily Blend of Entertainment News
Thank you for signing up to CinemaBlend. You will receive a verification email shortly.
There was a problem. Please refresh the page and try again.