Why Goldbergs Fans Should Not Miss Tonight's Episode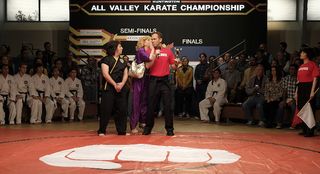 Few series capture the beauty that is 80s pop culture better than ABC's The Goldbergs. Adam F. Goldberg's semi-autobiographical sitcom has tackled many beloved movies in its four seasons, and this week's episode, "The Kara-te Kid," is no exception. Its nod to Karate Kid is reason enough to tune in tonight, but there's another reason Goldbergs fans won't want to miss this one. Beyond capturing the magic of the classic 80s underdog story, The Goldbergs will address a running gag on the show.
This is where it gets just a little bit spoilery. I'm not going to go into major plot points about what happens in the episode. And the referenced running gag is mentioned in ABC's official episode description, so you may already be aware. If not, and you'd prefer not to know, please skip this article and watch The Goldbergs on ABC tonight. It's a good one.
Moving on...
In "The Kara-te Kid," Adam will fight his name-nemesis, "other Adam Goldberg." This has been a bit of a running gag in the series, and is presumably connected to the real-life name confusion between the series' creator and the actor by the same name, Adam Goldberg, the latter of whom you may recall from such films as Dazed and Confused and Saving Private Ryan, and more recently, FX's excellent drama series, Fargo.
In case you're unfamiliar with this situation, actor Adam Goldberg has nothing to do with The Goldbergs and no relation to its creator, apart from the name similarity. That the same-name situation has apparently caused confusion has not gone unnoticed or unaddressed by either Adam Goldberg, thanks to social media. The two went back and forth on Twitter over it a while back, with things seemingly getting mildly heated. It looks to be a point of irritation or inconvenience for at least one -- if not both -- of them that they're both in the same industry, with the same name.
The Goldberg's main character -- played by Sean Giambrone -- also being named Adam Goldberg adds another amusing layer to this situation, so it seems only too fitting that an "other Adam Goldberg" managed to make his way into The Goldbergs as an occasionally referenced character. In the Goldbergs-verse (Goldverse?), other-Adam Goldberg is lead character Adam's "name-nemesis." They go to the same school and sometimes get confused for one another.
If you were unaware that The Goldbergs creator shared a name with a notable actor, the joke still works on its own, as one kid having the same name as another kid at school is the kind of thing that might happen to two unlucky kids. It's actually a decent joke to work into a sitcom on its own, even if it weren't rooted in reality, at least a little bit. But given that this show thrives in finding the humor in Adam Goldberg's actual life, it's only fitting -- and all the funnier -- that there appears to be a history with this particular gag.
Given the name drops of "other Adam Goldberg" in previous episodes, the series seemed ripe to feature the character in the the show, and what better way to do that than a Karate Kid episode. Again, without going into any plot specifics beyond what's already out there, expect a lot of references from the beloved Ralph Macchio film, along with the typical shenanigans we've come to know and appreciate from this lovable family.
"The Kara-te Kid" falls in line as one of the The Goldberg's best (around!). It's been evident over the last couple of seasons that this series has hit its stride, finding the right balance of humor and nostalgia, as well as a mixture of stand-alone stories, and serialized elements. The ABC comedy has also done well in establishing characters that may be a bit over-the-top* at times, but are also well worth caring about. Case in point for tonight's episode of The Goldbergs, not only does the recurring other-Adam-Goldberg gag get addressed, but the situation between Erica and Geoff is also worked in to the B-story, adding a light layer of humor and emotion to episode. The well for 80s nostalgia may eventually run dry for The Goldbergs, but from the last couple of seasons, all evidence points to that not happening any time soon, as the comedy remains one of the better half-hours on TV.
*Note to The Goldbergs, please do a full-on Over the Top episode.
The Goldbergs airs Wednesday at 8:00 p.m. ET on ABC.
Photo Credit: ABC
Your Daily Blend of Entertainment News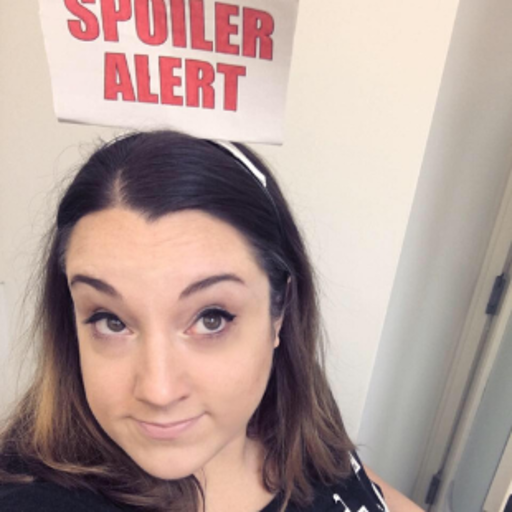 Assistant Managing Editor
Kelly joined CinemaBlend as a freelance TV news writer in 2006 and went on to serve as the site's TV Editor before moving over to other roles on the site. At present, she's an Assistant Managing Editor who spends much of her time brainstorming and editing feature content on the site.