American Horror Story Cult: What We Know So Far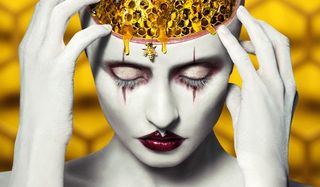 Ryan Murphy, Brad Falchuk and their Gang of Mischievous Miscreants are back to put their collective nose to the grindstone to deliver a new and nerve-wracking season with FX's American Horror Story: Cult. (And you don't even want to know what they do with the grindstone afterward.) After all those deadly twists and turns from last year's mega-meta Roanoke, fans are ready to see what's coming from this politically motivated and clown-heavy new season, and we're here to clue everyone in on what to expect, as well as how the weekly episodes play out. And all without any voodoo involved. Well, maybe a little.
Below, you'll find everything we've learned about American Horror Story: Cult on the way to its highly anticipated premiere, as things were thankfully back to normal on the "dishing out information" front. From trailers to new and returning cast members, it's all here. Remember to bookmark and keep checking back for new updates, because you never know when a clown-faced Minotaur might show up on any given week.
When Will American Horror Story: Cult Premiere?
After last year's earlier-than-normal debut for Roanoke, FX and everyone else must have decided the pre-October bow was the more practical and desired time to kick things off, since it's happening again. American Horror Story: Cult will make its grand debut on Tuesday, September 5, at 10:00 p.m. ET. In case anyone thought they wouldn't have to worry about getting post-Labor Day nightmares, those thoughts are for naught.
What Have We Seen So Far From American Horror Story: Cult?
Understandably, FX was quick to put out the usual plethora of 15-second teasers, and American Horror Story: Cult produced some freaky-as-balls promos that were full of clowns and gross patterns. But fans finally got a taste of the show itself once the first trailer came out, offering up a first look at Evan Peters in his blue-haired glory. You can check that out below.
While trailers are always awesome, everybody knows that one of American Horror Story's most signature elements is the opening credits sequence. This season is far from an exception, also, as the Cult opener is chock-full of clowns and Presidential masks, cluing audiences in on the kinds of tension that will assumedly be clouding each of this season's installments.
Now all that's left to do is watch the premiere itself. And you can bet we'll be doing just that.
What's The Theme For American Horror Story Season 7?
It's every year's $64,000 question, and it's always one that gets fans pumped for the next season. As revealed during this year's San Diego Comic-Con, via a weirdly intriguing water show, American Horror Story: Cult will be about...cults. Although not necessarily just the stereotypical cults that people think of, such as Jonestown, but also cults of personality. (Plus, nothing supernatural will happen.)
Ryan Murphy initially started teasing this season by saying some form of the 2016 Presidential election would get filtered through the unadulteratedly bizarre lens of American Horror Story, though he later revised that thought to say that would just be an introduction to this harrowing story. (On one hand disappointing, since we've seen what _AHS' _take on real-world people, but on the other hand not so disappointing, for the same reason.) And it's a story that focuses on the many different issues that have come up in the U.S. over the growing rift between political parties, as well as the media attention given to that rift. For what it's worth, Murphy stated that both sides of the spectrum would get their due focus.
Once the Cult theme was revealed, it became slightly more clear that this tale would be one where Sarah Paulson's hyper-fraught Ally Mayfair-Richards is coping with fears that will undoubtedly get exploited by a titular group (probably made up of clowns) that believe in something much different from what her ideals are. And with Evan Peters' Kai Anderson as Ally's rage-filled polar opposite, we can't wait to see the kinds of obsession-plagued madness that'll ensue.
We know that part of that madness will involve certain Freak Show characters, specifically John Carroll Lynch's Twisty the Clown, who's set to appear in at least two episodes. We also can't wait to see how this season will tie into Season 8 and beyond, especially since it's supposed to be a big crossover season.
What AHS Cast Members Are Returning For American Horror Story: Cult?
Last year's American Horror Story: Roanoke, which completely changed the theme-revealing game, also went a bizarrely indirect route with its casting announcements. All of the big stars were almost exclusively revealed through random interviews from the actors themselves, but Cult went the more traditional route, with Ryan Murphy announcing the first two additions himself. (Or re-additions, as it were.) Let's take a look at the rundown now.
Sarah Paulson
While Jessica Lange used to be thought-of as THE go-to leading lady for American Horror Story, dependability continues to come in the form of Sarah Paulson. Having played lead roles from Season 2 onward, it just wouldn't feel like a year of AHS without one of Paulson going through some transformation for our eyes. With the fear-laden mother Ally Mayfair-Richards, the actress may have found her most human American Horror Story character yet.
Evan Peters
Though Paulson played a two-headed freak show act for one season, you can't get a more varied set of bonkers roles than the American Horror Oeuvre of Evan Peters, who has gone from school shooter ghost to Franken-boyfriend to the fabulous Mr. March. He'll thankfully also be back for not just the role of the manipulative Kai Anderson, but also a host of other infamous faces.
Cheyenne Jackson
First joining the American Horror Story ensemble for Hotel, Cheyenne Jackson has become something of an expected presence in this twisted world. In Cult, he'll play Dr. Vincent, a psychiatrist that will undoubtedly be more grounded and thoughtful than his previous characters.
Adina Porter
After breaking into the world of American Horror Story in a huge way for Roanoke -- both in the fake-reality segments and in the "real world" of the show, True Blood vet Adina Porter is back for Cult, and it looks like she'll again be used to being in front of a camera as news reporter Beverly Hope.
John Carroll Lynch
Across two seasons of American Horror Story, the always excellent John Carroll Lynch has played the tortured (and torturing) Twisty the Clown, as well as the clown-loving John Wayne Gacy. He'll return for Cult to reprise his role as the attention-hungry entertainer -- Twisty -- and we'll likely see his influence play a big part over the course of the season, even when he's not around.
Emma Roberts
Though Emma Roberts took a break from AHS to star in two seasons of Ryan Murphy's Scream Queens, she returned for American Horror Story cult in a limited capacity to portray another news reporter named Serina Belinda. Serina will apparently cause some friction when she gets a big and possibly unwarranted promotion over Adina Porter's character.
Chaz Bono
Chaz Bono didn't sign on for American Horror Story for the glitziest roles, having played the faux-hillbilly Lot Polk in Roanoke. And for Cult, it looks like Bono will be playing some kind of a business-minded person named Gary Longstreet. If nothing else, he's got the best last name this season.
Also reported to return for American Horror Story: Cult are fan favorite Francis Conroy, who should always be in every TV show on the air, as well as Mare Whittingham. Unfortunately, there's been no sign of who either of them will be playing, or in what capacity.
What New Actors Are Joining American Horror Story: Cult?
This season will see plenty of newcomers making their way into the American Horror Story-verse, although not all are new to Ryan Murphy-centered programming in general. The first new addition was perhaps the most intriguing one, and so that's where we'll start.
Billy Eichner
The consistently hilarious and high-volume actor Billy Eichner was the first AHS newbie announced. He'll join Cult in a recurring capacity as Harrison Wilton, and he'll likely be around for more than half of the episodes. We don't know quite what to expect just yet, but we do know that he'll have a bunch of mysterious tank tops, and that's legitimate character info. You'll know Eichner from his roles on Parks and Recreation, Hulu's Difficult People, Hairspray Live! or his extremely popular web-turned-truTV series Billy on the Street.
Alison Pill
With her last two big TV roles coming via The Newsroom and The Family, actress Alison Pill obviously decided to weird things up a notch by joining American Horror Story: Cult as Ivy Mayfair-Richards. Not much is known about the role just yet, beyond her ability to wield a knife both in and out of a kitchen setting. Currently seen in the sequel Goon: Last of the Enforcers, Pill will make a fine addition to this sordid series.
Billie Lourd
The daughter of the late Carrie Fisher, actress Billie Lourd gave audiences a glimpse of her Ryan Murphy-influenced madness on Scream Queens with Emma Roberts, and she's jumping into the American Horror Story world as Cult's Winter Anderson. Note the last name similarities with Evan Peters' Kai, and get worried about any and all kids on this show, as Winter is looking to help out mothers in need. (I can't tell if it's also worth noting her character's first name is basically the same as Sarah Paulson's Lana Winters.)
Colton Haynes
American Horror Story always welcomes dapper-looking gents, and Colton Haynes will fit in nicely as the hard-nosed Detective Samuels. It's not immediately clear what he'll be detecting in Cult, but the trailer had enough murder-looking moments to make it seem fairly obvious that he'll be trying to solve some murders. Fans who know him from his work on Teen Wolf and Arrow are likely in for a completely different character than his normal parts.
Leslie Grossman
Leslie Grossman and Ryan Murphy's professional relationship goes back to 1999, when they worked together on the dramedy Popular, and they've since worked together on Nip/Tuck and The New Normal. She joins American Horror Story: Cult as Meadow Wilton, wife of Billie Eichner's character, and those two should be a whole lot of fun to watch. Assuming they aren't playing the most evil monsters ever. (Which, really, would also be a lot of fun.)
Lena Dunham
Not meant to be longstanding within the American Horror Story: Cult world, Girls creator notorious radical feminist Valerie Solanas, who tried to murder artist Andy Warhol. She'll show up in the seventh episode -- with her name actually in the title -- and it'll be interesting to see just how heavily she plays into the story being told.
Where Can I Watch American Horror Story: Roanoke And Other Seasons?
Unfortunately, because of (fill in the blank with a reason), American Horror Story: Roanoke currently isn't available for streaming. That goes for Netflix, where the FX series has long been a home for binge-happy fans, and FX's actual website, which kept some/all of the episodes up when the season was airing. You can currently check out the first five seasons of American Horror Story on Netflix, as well as on Hulu and on Amazon Prime, and if you can't wait for the freebies, you can rent American Horror Story: Roanoke on Amazon, iTunes and other streaming retailers.
So there you have it, American Horror Story fans. Remember to bookmark this page and keep checking back for the plethora of updates as they ooze out of the woodwork and other various materials. And while you're waiting on the new season, head to our fall TV schedule to see what new and returning shows are on the way.
Your Daily Blend of Entertainment News
Assistant Managing Editor
Nick is a Cajun Country native, and is often asked why he doesn't sound like that's the case. His love for his wife and daughters is almost equaled by his love of gasp-for-breath laughter and gasp-for-breath horror. A lifetime spent in the vicinity of a television screen led to his current dream job, as well as his knowledge of too many TV themes and ad jingles.