How Bill Nighy Felt About Returning For Love Actually's TV Sequel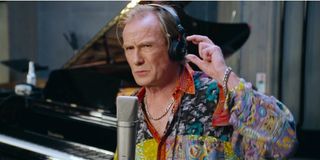 While it's probably a stretch to call the impending Love Actually follow-up a proper sequel, especially since it's only going to be 14 minutes long, audiences still can't wait to see what's happened to all those characters that have only become more beloved since the original's 2003 release. So there's quite a bit of pressure to make sure that Red Nose Day Actually provides the requisite amount of romance and whimsy to impress. Bill Nighy, who will be reprising his role of Billy Mack, has now admitted that he felt nervous going back to the character almost a decade and a half after originally playing him. Bill Nighy explained,
Bill Nighy made this admission to me when I sat down to discuss his work on the upcoming World War II romantic comedy Their Finest. Of course, I couldn't pass up the opportunity to discuss Red Nose Day Actually with the legendary British thespian, especially since him showing up on NBC for the special will be one of the first times he'll have a major role for U.S. primetime TV. Not the usual way most actors go about it, but it works for us.
While talking about slipping back into the Love Actually mindset (and costume-set), Bill Nighy went into further detail about why pretty much all of the original cast jumped at the chance to return. In his words:
It seems likely that everyone involved would have been completely down to return to such a beloved rom-com universe anyway, but no one can plainly guarantee such a large ensemble cast's reformation. However, because of Richard Curtis' ceaseless charitable efforts, all the actors had additional motivation to spark their interests in Love Actually's reemergence.
You can watch a snippet of my discussion with Bill Nighy regarding the Love Actually sequel, and see just how spiffing he looks in his fantastic suit, by clicking on the clip below.
Red Nose Day Actually will be a part of The Red Nose Day Special, which will broadcast on Thursday May 25 at 10/9c on NBC. Those cheeky blighters across the pond will be able to watch it on Friday March 24, though, as Red Nose Day unfolds on the BBC from 7 GMT. Those of you that are counting down the weeks, days, and even seconds until the airing of Red Nose Day Actually can take some comfort in its trailer, which is on the next page. And in the meantime, head to our midseason TV schedule and our summer premiere guide to see what else the small screen will offer in the near future.
Your Daily Blend of Entertainment News
Thank you for signing up to CinemaBlend. You will receive a verification email shortly.
There was a problem. Please refresh the page and try again.