The Walking Dead Finally Let Shiva Go Wild, And It Was Awesome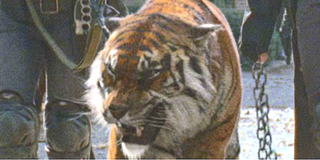 Spoilers below for those who have yet to watch The Walking Dead finale, titled "The First Day of the Rest of Your Life."
The Walking Dead Season 7 has finally come to an end, we're in for another long hiatus before we see what fresh horrors await our not-so-merry band of survivors in the zombie apocalypse. Luckily, we got some pretty epic sequences in "The First Day of the Rest of Your Life" to tide us over. After a whole season of Shiva prowling around and setting the mood in the Kingdom, we finally got to see the ferocious feline bare her teeth and go nuts on some humans. Shiva went wild, and it was amazing.
There's been plenty of action in Season 7, but the people in the Kingdom spent most of the episodes trying to eke out an existence without making enemies of the Saviors. Shiva has been stealing the show by stalking around Ezekiel's showroom, but she just hasn't had much to do. Luckily, the latest round of battle between Rick and Negan brought Ezekiel and the Kingdom into the fray, and Shiva got to tear her way through some unfriendly folks.
Of course, Shiva wasn't the only creature kicking ass and taking names in the finale. "The First Day of the Rest of Your Life" gave us the epic battle sequence that I never knew I was waiting for over the past seven years. We got Ezekiel and Shiva showing up out of nowhere to start shredding Saviors and save the day. We got Maggie leading a band of rampaging Hilltop fighters for the assist. We got Daryl and Rosita and Michonne taking advantage of the moment to turn on Jadis' people and the Saviors alike.
We're probably never going to see a truly happy ending on The Walking Dead, but this was at least a pretty killer battle sequence for the good guys. There was no better way for it to start than courtesy of Shiva. Check it out!
Frankly, after watching everything going so very, very, very wrong for Rick and Co. right off the bat, I was ready for Shiva to start mauling people and make things a little bit more right with the world. Sure, my girl Sasha died and Jadis turned on the Alexandrians and Rick got himself shot again, but damn it, a tiger ripped into a bunch of bad guys in the middle of a zombie apocalypse showdown, and I really needed that.
I was going to call some serious shenanigans if we didn't get to see Shiva in the thick of the fight in "The First Day of the Rest of Your Life," and not just because the promos for the finale pointed toward her getting in on the action. The Walking Dead may defy a lot of writing conventions, but not even The Walking Dead could possibly finish a season with a big old striped Chekhov's gun still waiting to go off. We'd been watching Shiva growl and bare her teeth for fifteen episodes, and showrunner Scott Gimple promised that we wouldn't have another crazy cliffhanger at the end of Season 7. Thankfully, we got a Shiva unleashed, and some of the most rewindable moments of the entire series came courtesy of her in all her violent glory.
We have a while to wait before we get to see Shiva and Co. back in action on The Walking Dead, but there's plenty of great TV worth watching in the meantime. Check out our midseason TV premiere schedule and our summer TV guide to see all your options, and don't forget to drop by our rundown of all the 2017 TV renewals and cancellations.
Resident of One Chicago, Bachelor Nation, and Cleveland. Has opinions about crossovers, Star Wars, and superheroes. Will not time travel.
Your Daily Blend of Entertainment News
Thank you for signing up to CinemaBlend. You will receive a verification email shortly.
There was a problem. Please refresh the page and try again.