The White Princess Review: Starz' New Period Drama Is Captivating But Slightly Confusing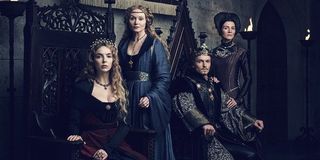 Starz first dabbled in the period of English history known as the War of the Roses back in 2013 with The White Queen, which was based on a series of historical novels by best-selling author Philippa Gregory. Now, the network is back in the War of the Roses game with The White Princess, which picks up where The White Queen left off. The eight-part series gets off to a strong and truly captivating start, only slightly muddled by confusing elements that might frustrate viewers.
The White Princess begins in the aftermath of the battle that finally settled the conflict of who would sit on the English throne. Princess Elizabeth of York (Jodie Comer) was betrothed to marry whichever man emerged victorious; unfortunately for Lizzie, her beloved Richard was killed by Henry Tudor (Jacob Collins-Levy), and she was set to marry Henry. Neither Lizzie nor Henry especially wants to marry, but the alliance between the Tudors and the York is absolutely necessary to stabilize England and prevent another round of war.
Lizzie and Henry are alternately counseled and manipulated by their respective mothers. Dowager Queen Elizabeth (Essie Davis) wants nothing more than to overthrow the Tudors. Lady Margaret Beaufort (Michelle Fairley) gave up everything to get Henry on the throne, and she will stop at nothing to make sure that his - and her - place on top remains secure. Lizzie's sister Cecily (Suki Waterhouse) and cousin Maggie (Rebecca Benson) are her companions, even as Maggie's younger brother Teddy (Rhys Connah) is in grave danger as the last surviving male heir of Richard III. Meanwhile, the Duchess of Burgundy (Joanne Whalley) is causing trouble from across the English Channel. Throw in bouts of domestic unrest, a spreading sickness, and a surprising twist of witchcraft, and The White Princess is a series in which nobody is safe.
Created by Emma Frost of The White Queen, The White Princess takes viewers on a fictionalized journey through a tumultuous period in English history, and the result is a captivating story filled with compelling characters, told through a distinctly female point-of-view. History is so typically told through the eyes of kings and princes and male conquerors that we don't often get to see the experiences through the eyes of women, and The White Princess is almost exclusively about the women in the court of Henry VII.
Fair warning: if you go into The White Princess believing that the "white" points toward purity or naiveté or utter innocence in the heroine, you may be surprised by what you get in Lizzie. The "white" refers to the white rose of House York, and she certainly has her thorns whenever a Tudor tries to pluck at her. She is an active player in her own fate, even if she is surrounded by an inexperienced king, a jealous sister, a pair of scheming matriarchs, and a court full of enemies. Lizzie isn't always likable, but she feels all the more nuanced for her difficult moments, and it's easier to cheer her on knowing her flaws. The dynamic that develops between Lizzie and Henry is surprisingly fascinating, especially considering their early interactions.
That said, the real stars of The White Princess aren't the leading lady and the king. Genuine powerhouse performances come from Essie Davis as Dowager Queen Elizabeth and Michelle Fairley as Lady Margaret. Although the two characters seem pretty firmly entrenched in "hero" and "villain" camps at the beginning, the actresses bring enough shades of gray that neither character comes across as wholly good or wholly bad. Neither Elizabeth nor Margaret sits on a throne in The White Princess, but they are arguably the most powerful characters, and frankly far more chilling than any of the men who purport to be players in the game at court. Frankly, if Elizabeth and Margaret were on the same side, the War of the Roses probably would have ended earlier and cleaner.
Elizabeth and Margaret are very much not on the same side, however, with one dabbling in witchcraft while the other pushes piety to the very limit. Michelle Fairley in particular is wonderful in crafting a multi-dimensional character out of a woman who could have been little more than a Maleficent. There's no weak link among the cast, but I have to give Fairley the edge over them all.
Of course, Michelle Fairley's presence only makes it easier to draw comparisons between The White Princess and Game of Thrones. Given that George R. R. Martin actually based the politics of his A Song of Ice and Fire books on the War of the Roses, the similarities between the two aren't all that surprising. Still, if you're a Thrones fan, you may catch yourself wondering if you'd seen some of these exact scenes before, simply set in Westeros. That's not necessarily a bad thing; it's just difficult to ignore.
As far as I'm concerned, the only major problem with The White Princess lies in the fact that episodes aren't quite thorough enough in establishing who is who on which side of the conflicts. It's not helped by the fact that several characters go by the same name, and there are a few plot points that had me pausing my video to hit up Wikipedia to figure out what historical event I was meant to know about to understand a given twist. You don't need to be a huge history buff to understand what's going on in The White Princess, but a knowledge of English history is certainly helpful.
All things considered, The White Princess isn't the most spectacular drama to ever grace the small screen. The plots can get confusing and even tiresome when they center on history that hasn't been exposited on screen, and it takes a couple of episodes before a few of the characters really come into their own. That said, I was on the edge of my seat while watching the first few episodes, and I could watch Essie Davis and Michelle Fairley attempt to outmaneuver each other all day long. I was certainly pleasantly surprised to discover that The White Princess is not a soap opera set in the 15th century. Rather, it's a story of women working their way to the top behind the scenes at a royal court, and that's not something we see every day on the small screen.
The White Princess (opens in new tab) premieres on Sunday, April 16 at 8 p.m. ET on Starz. Be sure to check out our midseason TV premiere guide and our summer TV premiere schedule for all your other viewing options.
Resident of One Chicago, Bachelor Nation, and Cleveland. Has opinions about crossovers, Star Wars, and superheroes. Will not time travel.
Your Daily Blend of Entertainment News
Thank you for signing up to CinemaBlend. You will receive a verification email shortly.
There was a problem. Please refresh the page and try again.