The Superheroes Marvel Picked To Join Squirrel Girl In The New Warriors TV Show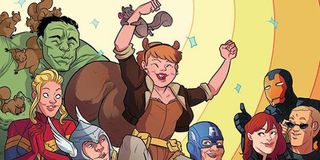 The silver screen isn't the only landscape in which superheroes have thrived over the last few years. Television has become densely populated with some truly great comic book heroes, and more seem to join the pack with each passing season. There's definitely a case to be made that DC is winning in the realm of broadcast television, but Marvel is currently making a big move with the development of Freeform's New Warriors TV series. We don't know much about the upcoming show (set to debut in 2018) but Marvel has finally revealed exactly which heroes we'll see.
Until today, the only thing that we knew about the New Warriors series was that it will be a half-hour comedy-superhero hybrid series, and that it will primarily center on the exploits of Doreen Green, a.k.a. Squirrel Girl. Doreen is a relatively unknown hero to mainstream audiences, but her star has started to rise as more and more people (including some notable filmmakers and actors) have clamored for her to get a solo project of her very own. We can now confirm that she and her squirrel-inspired powers will headline the new series, and she won't be alone, with these five other members of the New Warriors team officially joining her, starting with Mister Immortal.
Mister Immortal
Real name Craig Hollis, Mister Immortal's unique ability is that he is impossible to kill. By his own admission, anyway. You can throw all sorts of damage and chaos his way, and he will just walk it off, a la Deadpool. This ability has given him a substantial chip on his shoulder, which means he will serve as the "troublemaker" of the New Warriors team. Mister Immortal is also a highly skilled athlete and acrobat, so expect him to perform plenty of high-flying maneuvers.
Night Thrasher
Although Dwayne "Night Thrasher" Taylor does not have any real superpowers, he makes up for it by being an incredibly skilled combatant -- in fact, he almost got the drop on The Punisher in a previous comic book story -- and he is enhanced by his use of an advanced combat suit. Somewhat similar to Tony Stark in terms of personality, Night Thrasher comes from a wealthy family and is a bit of an attention hog, complete with a YouTube channel to promote his exploits.
Speedball
Contrary to what his codename may suggest, Robbie Baldwin is not a speedster in the vein of Quicksilver or The Flash. Instead, the name Speedball should be taken far more literally, as he has the unique ability to shoot balls of kinetic energy (which he admittedly has very little control over) at his enemies. Baldwin loves his status as a hero alongside the other members of the New Warriors team, but his overwhelming enthusiasm can often lead him to be portrayed as an "impulsive and immature" character.
Microbe
Zack "Microbe" Smith easily has one of the weirdest power sets of any member of the upcoming New Warriors ensemble, as he has the unique ability to communicate with germs and make them do his bidding. This ability to communicate with bacteria allows him to be the eyes and ears of the city, as the microscopic organisms can provide him with all of the information that the team needs. The kicker? Microbe is actually a hypochondriac, which means his relationship to germs probably doesn't sit well with him
Debrii
A boisterous and opinionated telekinetic who has no qualms about sharing her feelings with other members of the New Warriors team, Deborah Fields' young hero Debrii continues to cope with a "deep loss in her personal life" that came about as a direct result of her actions as a superhero. On that note, it seems safe to say that she will hide some real and raw emotional damage underneath her calm and humorous exterior as the series progresses. That's so Freeform.
We will bring you more information concerning the upcoming New Warriors TV series as more details related to the project become available to us. The series is currently slated to make its debut on Freeform in 2018 along with Cloak & Dagger. For now, make sure to get yourself up to speed on the rest of 2017's spring and summer television debuts and fill out your TV viewing schedules accordingly!
Your Daily Blend of Entertainment News
Originally from Connecticut, Conner grew up in San Diego and graduated from Chapman University in 2014. He now lives in Los Angeles working in and around the entertainment industry and can mostly be found binging horror movies and chugging coffee.