Why Taken Needs To Be Renewed For Season 2 After That Insane Finale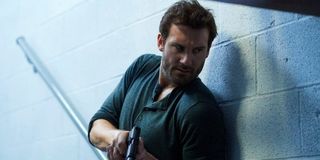 Warning: spoilers ahead for the Taken Season 1 finale.
NBC took a big risk this midseason with the debut of Taken, which is a TV adaptation of a very popular film best known for Liam Neeson's performance. The series would have to try and bring the same kind of suspense to an ongoing series with an actor who is very much not Liam Neeson. Clive Standen stepped into the shoes of Bryan Mills for TV, and they were quite big shoes to fill. Luckily, he managed to make the role his own, and his version of Bryan is markedly different yet hits the same essential character beats of the film version. Season 1 just ended with an insane finale, and we can now safely say that Taken needs to be renewed for a Season 2 for several reasons.
First of all, viewers deserve to see payoff of the cliffhanger. The finale ended with Bryan injured and left without his team in Mexico... but it was clear that he was not in the least defeated. Sure, he was pretty battered, and he wasn't exactly surrounded by allies. Still, if I was one of Bryan's enemies, I would probably be running for the border after seeing the look in his eye. Clive Standen spoke to ET about the final scene of the episode, saying this:
Come on! We can't be done with Bryan's story for good, just when he's been let off the leash and left without any handlers with him in Mexico to try and rein him back in. We deserve to see Clive Standen tackle this new aspect of Bryan's character, which will presumably involve a lot of kicking ass and taking names, and who doesn't love a dose of that in primetime?
Second of all, Bryan unleashed means a Bryan much closer to the Bryan of the Taken movies, and it would be fascinating to see what Clive Standen does with the character. He has made Bryan his own consistently throughout Season 1, and we can be sure that he wouldn't suddenly start a Liam Neeson impression; Season 2 could be a fascinating look at another layer of the character, and it would definitely be fun to compare the two versions of Bryan. Besides, the first movie is so popular for a reason, and we should get to see if the show can recapture the magic with its special small screen twist.
Finally, the cast really came together in the second half of the season as the various crises required more and more of their characters. Season 2 would need to have some fundamental differences for the entire cast of characters, and it would give us something worth tuning into every week to see how they adapt. After all, an ongoing series requires more character development that what is needed in a two hour movie. A second season would allow us to see more of how the characters deepen in the series even as the plot begins to more closely resemble that of the movie.
What are your thoughts? Does Taken deserve a Season 2 to pay off on that insane Season 1 finale? Let us know in the comments! Stay tuned to CinemaBlend for the latest in TV news, and don't forget to check out our summer TV premiere schedule to discover all your viewing options now and in the coming weeks. Be sure to drop by our rundowns for cable/streaming and broadcast TV renewals and cancellations as well.
Resident of One Chicago, Bachelor Nation, and Cleveland. Has opinions about crossovers, Star Wars, and superheroes. Will not time travel.
Your Daily Blend of Entertainment News
Thank you for signing up to CinemaBlend. You will receive a verification email shortly.
There was a problem. Please refresh the page and try again.