Barb From Stranger Things Has Fate Revealed In Hilarious Video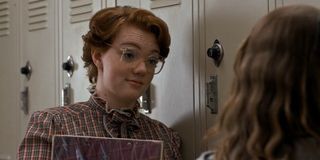 Grassroots movements and campaigns partly defined last year in entertainment, but arguably none became quite as vocally backed as the Justice for Barb movement, inspired by Shannon Purser's ill-fated character from Stranger Things. Many have speculated as what became of the fan-favorite and now-deceased character within the hit Netflix series., and as it turns out, a clip from last night's MTV Movie & TV Awards has an answer for us: she has totally been sleeping with the Demogorgon during her time in The Upside Down. Check out the clip below to see for yourself.
That clip reunites former Workaholics co-stars Adam DeVine and Jillian Bell in a pitch-perfect Stranger Things parody, which easily turned into one of the highlights of last night's MTV Movie & TV Awards. In an attempt to prove that one disturbing alt-reality exists -- The Sunken Place from Get Out -- DeVine accidentally goes one layer too deep and finds himself trapped in The Upside Down from Stranger Things. Upon his arrival, he encounters a more grown-up (if not necessarily more mature) version of Barb, whose time in the bizarre alternate dimension has been primarily characterized by boredom and some weird Demogorgon sex. This is why you never schmoke all the weed before trying to get to The Sunken Place, Mr. DeVine.
This probably goes without saying, but I would pay full admission price for an entire Stranger Things parody series starring Jillian Bell as Barb. She is absolutely perfect in the role. (Not that Shannon Purser would have to stay out.)
The parody does not stop with the arrival of Barb, either. Several other celebrities make cameos in the sequence, such as Trey Songz, Hannibal Buress, fellow Workaholics vet Anders Holm, and DeVine's Mike and Dave Need Wedding Dates co-star Aubrey Plaza -- who rocks the Eleven cosplay in this scene.
It's another "take my money" moment, as again, I would watch an entire Stranger Things parody featuring Ms. Plaza as the telekinetic, teenage badass, especially after seeing her stellar and unsettling performances in FX's Legion.
This Stranger Things spoof follows the long MTV Movie Awards tradition of airing prerecorded parodies of famous pop culture institutions. Unlike other award shows like The Oscars or The Golden Globes, where Demogorgon-banging doesn't get referenced, the MTV Movie Awards handles its subject matter with a far more casual and crass sensibility. By taking this approach, the MTV award show has carved out a fantastic niche for itself by allowing beloved comedians and actors to take part in some seriously hard-R versions of classic and trend-setting films and TV shows -- such as The Matrix, Star Wars, and now Stranger Things. With 2017 almost half over, we will have to wait and see what spoofs are on the horizon for next year.
If this Stranger Things parody does one particular thing correctly outside of stunt casting, it's that it has officially made us even more excited for the second season of The Duffer Brothers' hit series to make its debut on Netflix, which will occur on Tuesday, October 31, 12:01 a.m. PT. Here's everything you need to know about the upcoming season of the hit show, and then here's our summer TV schedule for you to plan your small screen viewing over the coming months.
Originally from Connecticut, Conner grew up in San Diego and graduated from Chapman University in 2014. He now lives in Los Angeles working in and around the entertainment industry and can mostly be found binging horror movies and chugging coffee.
Your Daily Blend of Entertainment News
Thank you for signing up to CinemaBlend. You will receive a verification email shortly.
There was a problem. Please refresh the page and try again.