More Alleged Bachelor In Paradise Details Are Emerging, A Lawsuit May Follow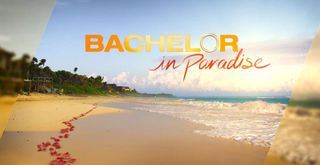 The controversy surrounding Season 4 of ABC's Bachelor in Paradise continues to grow, as more details come out and it looks like a lawsuit may be on the way. A crew member from the show, which suspended production Sunday after a producer on the reality series filed a formal complaint detailing what they believed to be sexual misconduct between contestants Corinne Olympios and DeMario Jackson, has now revealed more information about what happened, and it sounds just as awful as you were probably expecting.
According to the source, the first day of shooting for Bachelor in Paradise saw Jackson and Olympios find out that part of the storyline for the show was supposed to involve them hooking up, so the two decided to get to know one another, alone, over drinks. Both contestants had more than their share of alcohol, but it was Olympios who was, apparently, so intoxicated that she kept going limp once she and Jackson were together in the hot tub. The crew member notes that Jackson had to hold Olympios up to keep her from going under the water, but that while he was doing so it looked like he was having sex with her. After he finished, he laid Olympios by the hot tup and performed oral sex on her. The source, who spoke with Daily Mail, says that Olympios seemed to be unconscious for this entire time, and that after a few minutes some other crew members came out to get her, carrying her to her room since she was "limp" and couldn't walk on her own.
Now, when Olympios finally awoke the next day, people began to fill her in on what happened, and she said she remembered none of it. This has prompted the contestant, who is now at home in Miami after being examined and interviewed, to retain the services of a lawyer and consider filing suit against Bachelor in Paradise. The source says that Olympios feels the producers of the show failed to protect her and also notes that she couldn't have given consent to Jackson since, even after being told what happened, she still doesn't remember any of it.
The source also says that one of the things that bothered a lot of people on set about the incident was that no one had Olympios undergo medical attention after getting her back to her room. They simply decided to let her sleep it off and hope she'd be alright when she woke up.
Sources to other outlets, including TMZ and Entertainment Weekly, have said that Olympios and Jackson have talked since the incident and are on good speaking terms, meaning that it would seem she doesn't blame him fully for what happened. Instead, it looks like she places most of the blame on the producers for sitting back and watching things unfold when they, pretty clearly, should have stepped in before actual sex acts occurred.
Well, this is a huge, horrible mess. And, considering the nature of Bachelor in Paradise, which is basically focused on people having drunken hook ups, I'm surprised nothing like this has shut the show down before. There's no word yet on whether or not the series will be back at some point, but the source says the set is now a crime scene, with investigators from the L.A. police having been called in to look it over. Stay tuned to CinemaBlend, and we'll update you on new details regarding Bachelor in Paradise as they become available.
Bachelor Nation, Gilmore Girl; will Vulcan nerve pinch pretty much anyone if prompted with cheese...Yes, even Jamie Fraser.
Your Daily Blend of Entertainment News
Thank you for signing up to CinemaBlend. You will receive a verification email shortly.
There was a problem. Please refresh the page and try again.