Star Wars Rebels' Showrunner Just Blew Our Minds With An Unproduced Ahsoka Scene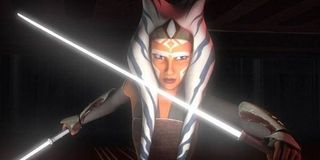 Star Wars Rebels has been the place to be on the small screen when it comes to action set in that galaxy far, far away for three seasons so far, and a fourth is on the way. Most of the characters' fates are still in question, and there's one in particular that has had fans puzzled for years now. Ahsoka Tano left the series after the Season 2 finale, in which she may or may not have died at the hands of Darth Vader. Well, we still don't know exactly what happened to Ahsoka in the Season 2 finale, but Rebels showrunner Dave Filoni took to social media to reveal something that happened to her in the penultimate episode. Check it out!
Unbeknownst to us, Ahsoka met Bendu in the second-to-last episode of Season 2! While Ezra was busy failing to connect with a giant spider and Kanan was making a very short-sighted promise to Hera, Ahsoka was apparently off in the wilderness of Atollon, hanging out with Bendu! Judging by their conversation (as shared by Dave Filoni on Twitter), Ahsoka knew quite well that her life as she knew it would be over after the mission to Malachor. Of course, Bendu being Bendu, he didn't explicitly say what would happen, but he said enough that Ahsoka was planning on confronting her former master one last time. The little scene puts a whole new spin on the Season 2 finale.
Unfortunately, this little scene isn't especially helpful in helping us figure out just what is going on with Ahsoka at the moment. The odds of survival were not in her favor when she was trapped in a lightsaber duel with Darth Vader, but she was seen moving down into the Sith temple on Malachor in the final minutes of the Season 2 finale. We haven't known for sure if she was alive and simply exploring the temple or if that was her spirit descending into the temple for unknown reasons.
Dave Filoni has been quite enigmatic when it comes to what happened to her. Although he was kind enough to debunk one gigantic (and fairly outlandish) theory about her fate, he has kept mum about whether or not Ahsoka is alive somewhere. We do know that Ashley Eckstein will be voicing Ahsoka again for Star Wars Rebels Season 4, so the recent Forces of Destiny short all about Ahsoka won't be the last time we ever see her in action. As for whether Ahsoka will appear in the flesh or via flashback or via Force ghost... well, we can only wait and see at this point.
Season 4 of Star Wars Rebels will debut on Disney XD this fall. It will be the final season of Rebels, and we're going to see more elements from Rogue One and A New Hope popping up as the Rebels timeline approaches the beginning of the original trilogy. For Star Wars action before Rebels returns, swing by the Disney YouTube page to catch the Forces of Destiny shorts. Our summer TV premiere guide can point you anywhere else on the small screen you want to go.
Resident of One Chicago, Bachelor Nation, and Cleveland. Has opinions about crossovers, Star Wars, and superheroes. Will not time travel.
Your Daily Blend of Entertainment News
Thank you for signing up to CinemaBlend. You will receive a verification email shortly.
There was a problem. Please refresh the page and try again.