Watch Ahsoka Reunite With Anakin And Yoda In New Star Wars: Forces Of Destiny Short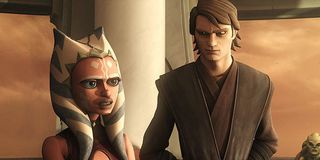 The prequel era of the Star Wars universe once consisted only of the movie trilogy, but it expanded to include a vast number of original characters and plots thanks to the Clone Wars TV series, which gave a closer look at pre-Vader Anakin Skywalker and introduced viewers to his Padawan apprentice, Ahsoka Tano. The two became quite close during their adventures together, and her departure from the Jedi Order likely contributed to Anakin's fall to the Dark Side. Now, a brand new Star Wars: Forces of Destiny short has given a look back at Ahsoka while she was still a Padawan, and it reunites her with both Anakin and Yoda. Check it out!
In "The Padawan Path," Ahsoka is on her way to a special ceremony at the Jedi Temple on Coruscant when she happens across a rogue droid menacing civilians. Rather than race to join Anakin and Yoda so that they could celebrate her accomplishments, she jumped in to save the day and stop the droid before it could hurt anybody. Ahsoka was dirty and worn out when she finally arrived at the Temple to be awarded a new strand for her Padawan beads, but she saved lives. All things considered, this encounter between Ahsoka and Anakin went a lot better than their most recent encounter in Star Wars Rebels.
"The Padawan Path" (written by Jennifer Muro) brought voice actors Ashley Eckstein and Matt Lanter back to their roles as Ahsoka and Anakin one more time. While the style of animation in Forces of Destiny is obviously quite different from that of The Clone Wars, the voices make it clear that these are the characters were grew to know and love before everything fell apart. Given that the last time we heard Matt Lanter in the Star Wars universe was when he (as Darth Vader with a malfunctioning mask) was preparing to duel Ahsoka to the death, hearing him call her "Snips" once more is a relief.
This short also answered a relatively minor (but still lingering) question about Ahsoka: when she did get the extra length on her Padawan beads? I'd still like to know what happened that she picked up her second lightsaber, but I'll take the Padawan beads answer! Jennifer Muro told CinemaBlend that Forces of Destiny will fill in some unseen moments from the lives of Star Wars heroines, and we'd already gotten answers to questions about Rey in The Force Awakens and Leia in Return of the Jedi. Now we have Ahsoka! Considering that we have yet to see characters like Jyn Erso, Hera Syndulla, and Sabine Wren in Forces of Destiny, we can bet that more answers about more eras of the Star Wars saga are on the way.
The Forces of Destiny shorts are being released daily on the Disney YouTube channel, and they've provided fun windows into the lives of some of the most legendary Star Wars characters. Stay tuned to CinemaBlend for the latest in Star Wars and Forces of Destiny news, and don't forget to take a peek at our summer TV premiere schedule.
Resident of One Chicago, Bachelor Nation, and Cleveland. Has opinions about crossovers, Star Wars, and superheroes. Will not time travel.
Your Daily Blend of Entertainment News
Thank you for signing up to CinemaBlend. You will receive a verification email shortly.
There was a problem. Please refresh the page and try again.