Will Star Wars Rebels Bring Ahsoka Back? Here's What The Actress Says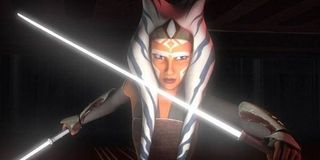 One of the biggest characters of Star Wars TV is none other than Ahsoka Tano, who made her debut back in the very first installment of The Clone Wars and who made a triumphant return in Star Wars Rebels. She's been missing ever since the Rebels Season 2 finale, and fans have been wondering for more than a year now if and when Ahsoka would be back. Voice actress Ashley Eckstein recently weighed in on what could be next for Ahsoka, saying this:
When we last saw Ahsoka confirmed among the living on Star Wars Rebels, she was battling Darth Vader on her own while a Sith temple was collapsing on top of her. Basically, the odds weren't very good for Ahsoka surviving, and although her ultimate fate was ambiguous, many fans have believed that she's been dead ever since the end of Season 2, and that last glimpse of her descending into the temple was simply her spirit moving on. Judging by Ashley Eckstein's comments to Yahoo, however, Ahsoka will indeed be back again.
Ahsoka herself didn't appear in the otherwise action-packed trailer for the upcoming fourth and final season of Star Wars Rebels, but showrunner Dave Filoni dropped a pretty huge clue at the Rebels panel at the recent Star Wars Celebration convention that she's actually very much alive. Of course, he didn't answer any direct questions about if, how, and when she'll be back. Still, fans had reason to be optimistic. Ashley Eckstein's promise that Ahsoka will indeed be back is just icing on the cake.
Season 4 really could be ideal for an Ahsoka return to the Star Wars universe. Admittedly, I was somebody who was hoping that she actually died in the Season 2 finale based on the simple fact that it would have been a totally epic way to go, but the recent release of the Last Jedi trailer and Luke Skywalker's comment that the time has come "for the Jedi to end" means that there's no better time for Ahsoka to make her grand return as a neutral Force-wielder with her white lightsabers. Given that Rebels returns this fall and The Last Jedi debuts this December, an Ahsoka reappearance could be perfectly timed.
Interestingly, Ahsoka's status as a neutral Force-wielder means that she can survive the end of Rebels and into the original trilogy timeline without negating Yoda's statement in Return of the Jedi that Luke will be the last of the Jedi once he is dead. Technically, she could even turn up in The Last Jedi. Sure, she wouldn't exactly be a spring chicken by that point, but we can't rule it out just yet.
Additionally, Ahsoka's return as a neutral Force-wielder will also give Rebels the loophole it needs to keep Ezra alive. Kanan is pretty firmly in the "I'm a Jedi!" camp, and he stood up against neutrality in the Season 3 finale in an impassioned speech to Bendu, so I'm pretty convinced that the poor guy is going to die sometime before the end of Star Wars Rebels, but that doesn't necessarily have to be how Ezra's story ends. He's not a full-fledged Jedi yet, and he's already admitted that he sees value in using the power of the dark side of the Force. Something in Season 4 could easily happen to push him away from the straight and narrow Jedi path, and it could have something to do with Ahsoka.
Then again, I could be totally wrong and Kanan will live a long happy life with Hera (who we do know for sure will survive the end of Rebels) and a bunch of adorable little hybrid children while Ezra becomes a classic Jedi and Ahsoka pops in and out. We'll have to wait and see.
Star Wars Rebels returns for its final season in the fall. Check out our midseason TV premiere guide and our summer TV premiere schedule to discover your viewing options now and in the coming weeks, and don't forget to take a look at our rundowns of cable/streaming and broadcast TV renewals and cancellations so far.
Resident of One Chicago, Bachelor Nation, and Cleveland. Has opinions about crossovers, Star Wars, and superheroes. Will not time travel.
Your Daily Blend of Entertainment News
Thank you for signing up to CinemaBlend. You will receive a verification email shortly.
There was a problem. Please refresh the page and try again.