Big Brother 19 Live Feed Spoilers: Who Will Get Evicted This Week?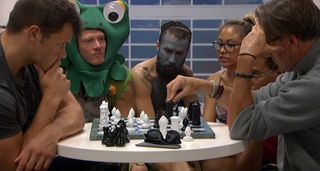 By comparison to the first "week" of Big Brother 19, this week has been relatively predictable as it relates to game play. We're about to get into spoilers from the live feeds, including the Veto results, who's on the block ahead of eviction night, and who's probably going home.
That's your spoiler warning! If you'd rather wait until the episodes air to find out, read no further!
Head of Household:
Paul
Original nominees:
Alex
Josh
Ramses
Won the Veto:
Paul
Veto used?
Yes, Paul used the Veto to save Josh and nominate Cody.
Currently nominated:
Alex
Ramses
Cody
Curses:
Third Nominee - Used by Ramses this week.
Ve-Toaded - Jessica Cody Jason
Temptations active or unused:
Pendant of Protection - Paul (in use)
Ring of Replacement - Christmas, not used.
Paul went into this week planning to backdoor Cody, and in what is becoming a trend this season, everything went Paul's way. Cody was not chosen to play in the Veto, Paul won it, used it to save Josh and put Cody up as the replacement.
The plan has always been to send Cody out. Given the fallout from his botched replacement nominations (trying to put up Paul, failing, nominating Christmas and losing almost his entire alliance), this is not surprising. Cody's an easy target.
Seeds are being sewn to target other people in the house later on down the line, including Ramses and possibly Jason. Kevin's honestly is in question (unsurprisingly so), but he's so convincing with his lies that people appear to be unwilling to believe he's not telling the truth about his vote and other things.
In all likelihood, Cody will go on Thursday night. I don't see the houseguests turning on Josh, and though Ramses looks to be set up as a target in the near future, people seem rallied around sending Cody home.
What's interesting is that Cody sat down with Christmas today and they cleared the air about some things. This seemed more of an effort to give Jessica half a chance of not being the next obvious target, and maybe Cody's attempt to clear the air before he goes, in case he has any chance of coming back. We haven't been told that there's a Battle Back coming, but have Cameron or Jillian been spotted out and about since their evictions? They might be sequestered and awaiting a chance to return to the game. It seems like there's a good chance something's coming, when we consider the curse that comes with the temptations each week. Perhaps whoever takes (or uses) the Halting Hex will bring someone back into the game.
Back to Cody, if only he'd swallowed his pride and anger a week ago and tried to mend fences with people. Trust would've certainly been lost, but he maybe he would have avoided being the primary target if he and Jessica had gotten on board with the save-Christmas plan. Or at the very least, spent some time with the rest of the house, instead of each other all day. Live and learn, I guess.
In other news, Raven fell coming down the stairs on Wednesday evening. She hit her head, her elbow and needs to get stitches on her foot, but after getting checked out, she returned to the house, so hopefully her injuries aren't that bad.
Big Brother may be regretting this season full of hexes.
Your Daily Blend of Entertainment News
Thank you for signing up to CinemaBlend. You will receive a verification email shortly.
There was a problem. Please refresh the page and try again.