Suits Season 7 Premiere Added A New Partner To The Firm, And We Still Can't Believe It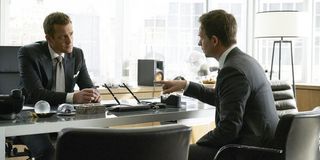 Warning: spoilers ahead for the Season 7 premiere of Suits, "Skin in the Game."
Suits has finally returned to USA for Season 7, and we got our first look at a Pearson Specter Litt that officially includes Mike and doesn't involve Jessica. The premiere set the stage for a lot of changes in Season 7, and it featured a twist that managed to be both a huge shock and a long time coming. There's a new senior partner at Pearson Specter Litt, and that partner is none other than Donna Paulsen.
Yes, the new senior partner at one of the most prominent corporate law firms in New York City is Harvey's longtime secretary Donna. She decided back in Season 6 that she needed more out of her professional life, and she made it very clear in "Skin in the Game" just how much more she wanted. Law degree or no law degree, Donna wanted to be a partner.
On the one hand, a secretary becoming a senior partner at a law firm is incredibly hard to believe. On the other hand, this is Donna we're talking about. She has kept Pearson Specter Litt (and Harvey) running against all odds throughout the years on Suits, and she has never gotten the credit that she earned due to the fact that she's a secretary and not a lawyer. It was a bold move for her to ask Harvey to make her a partner.
Of course, Louis very helpfully illustrated just why Donna deserved higher official standing in the Pearson Specter Litt firm. While in the middle of a temper tantrum, he reminded Donna that she was just about at the bottom of the pecking order at the firm when it comes to actual assertable authority. Despite all of her hard work and experience, she was still outranked by pretty much everybody. Well, that's no longer the case. Her status as a partner gives her an equal vote to Louis and Harvey, and she even has an office. Go Donna!
Gretchen deserves some kudos as well. When Donna was beginning to doubt that Harvey would ever even seriously consider her proposal that she become a partner, Gretchen reminded her that if she's going to push to become a partner, she needs to push hard. Donna was therefore motivated to write the check for the $500,000 buy-in. She put a lot of skin in the game with that check, and it was proof that she wasn't messing around. Hopefully this leads to more scenes between Gretchen and Donna in the future.
It should be interesting to see how the status quo at Pearson Specter Litt changes now that Donna is a senior partner. Suits may be able to take Donna and Harvey's relationship in some new directions now that he doesn't outrank her to a skeevy degree. He's still the managing partner, but she has a vote now, and things are bound to change. It should also be fun to see how Louis learns to treat Donna as a partner. All things considered, I'd say that we're in for an interesting season of legal action at Pearson Specter Litt.
You can catch new episodes of Suits on Wednesdays at 9 p.m. ET on USA. Check out our summer TV premiere schedule for all your other options now and in the coming weeks.
Resident of One Chicago, Bachelor Nation, and Cleveland. Has opinions about crossovers, Star Wars, and superheroes. Will not time travel.
Your Daily Blend of Entertainment News
Thank you for signing up to CinemaBlend. You will receive a verification email shortly.
There was a problem. Please refresh the page and try again.