What The Punisher's First Trailer Needs To Show Us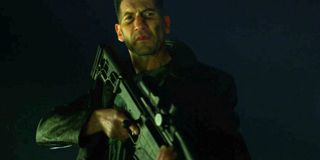 If you thought Daredevil and Jessica Jones were intense, then you haven't seen anything yet. Jon Bernthal's Frank Castle is gearing up to take center stage in the upcoming solo Punisher series, and all eyes are on the new Netflix show to completely redefine what's possible in the Marvel Cinematic Universe. With San Diego Comic-Con in full swing this weekend, fans are on pins and needles waiting to see what the first official trailer will have in store. On that note, we have put together a list of everything that we want to see from The Punisher's first official trailer. Check out our list of entries, and let us know what you think in the comments section below!
Frank Showing Off With A Ton Of Weapons
You cannot have Frank Castle without an insane arsenal of weapons. The Punisher is known for his use of guns, knives, grenades, or any other lethal object under the sun, and his Netflix series will obviously continue to embrace that concept. If the first trailer for The Punisher is about to drop, then we want to see flashes of Frank as he waves around everything that goes bang. In addition to the guns, however, we also want to see him use them in a way that makes him look like more than an average thug. This guy is one of the most brilliant tacticians in the Marvel universe (he even rivals Steve Rogers), so we want to see how he operates when he fully commits himself to a guerrilla war.
A New Corner Of New York
Although some of Frank Castle's best stories have often taken him on globe-trotting journeys to exotic corners of the globe, the character still feels inextricable from New York City. Having said that, the other Defenders series have already explored neighborhoods like Hell's Kitchen and Harlem. In order to carve out his own particular niche in the gritty, small screen Marvel Cinematic Universe, The Punisher should move to an entirely new borough of New York with a completely different ensemble of outlandish (and endlessly violent) personalities. Don't get me wrong; we absolutely love it when the Marvel heroes cross over with one another, but the first season of The Punisher needs to define itself with a unique style and setting.
The Punisher's Colorful Bad Guys
It is hard to have consistent bad guys when you regularly leave a trail of dead bodies in your wake, but The Punisher has managed to carve out an incredibly underrated rogues gallery over the years. From Jigsaw to Barracuda to Finn Cooley (who debuted on Season 2 of Daredevil, albeit with a face), Frank's bad guys are just the right balance of colorful, flamboyant, and disturbing. The Punisher's villains uniquely offset the grim vigilante's no-nonsense demeanor (not unlike Batman's villains), so that potential for dark comedy should be placed front and center when the teaser for the upcoming Netflix series finally premieres online. A hero is only as good as his worst villains, and Frank Castle's foes are pretty much the worst of the worst.
Microchip
During Frank Castle's final on-screen moments at the end of Daredevil's second season, the proto Punisher revealed that he had a hidden disc labeled "Micro" behind a family photo. Although it certainly proved mysterious for newcomers to the Marvel Cinematic Universe, longtime Marvel fans recognized that this moment actually teased the eventual arrival of David "Microchip" Lieberman. The man responsible for bringing Frank's war on crime into the digital age, Microchip provides essential tech support that a special forces operative might not necessarily be able to do on his own. Daredevil makes it abundantly clear that Micro will play a fundamental role in the continuation of The Punisher's core story, so the trailer should at the very least shed a little bit of light onto his overall importance.
A Mature, Hard-R Atmosphere
There's plenty of room for campiness in the Marvel Cinematic Universe -- look no further than the Guardians of the Galaxy films for evidence of that fact. However, that doesn't belong in a solo series based on The Punisher's down and dirty battle against crime. The Frank Castle introduced in Season 2 of Daredevil comes from a horrible world of violence, death, and a cynical outlook towards human nature. Fans responded incredibly well to the gritty, hard-R atmosphere of Jon Bernthal's Punisher, and the first trailer for his solo series needs to reassure audiences that the cast and crew will continue to embrace that particular style. While we are sure the series will feature a few jokes here and there, the core thesis of the show needs to be dark and dreary.
The Fully Formed Punisher
Despite the fact that Frank Castle absolutely steals all of his scenes in the second season of Daredevil, audiences have not really seen the Marvel Cinematic Universe's version of The Punisher yet. They saw the tragic origin of this classic vigilante, but a fully-formed Punisher is still waiting in the wings for his ultimate debut. Quite a bit of time will have passed by the time The Punisher actually debuts on the streaming service, and the first trailer for the show should give us a solid understanding that Frank Castle has immersed himself in his new persona as The Punisher. He (literally) burned his old life to the ground and found a new purpose in the final moments of Daredevil Season 2; now bring on The Punisher!
Originally from Connecticut, Conner grew up in San Diego and graduated from Chapman University in 2014. He now lives in Los Angeles working in and around the entertainment industry and can mostly be found binging horror movies and chugging coffee.
Your Daily Blend of Entertainment News
Thank you for signing up to CinemaBlend. You will receive a verification email shortly.
There was a problem. Please refresh the page and try again.