Will Marvel's Inhumans Affect Henry Ian Cusick's Work On The 100? Here's What He Told Us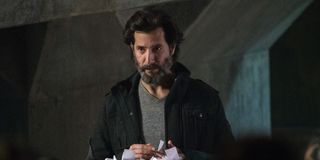 (Image credit: Photo courtesy of The CW)
The 100 raised the stakes higher than ever before in Season 4, with all the survivors of all the clans on Earth in danger from a wave of deadly radiation. The season ended with almost all of the characters' fates unknown after a six-year time jump, and Clarke revealed that she hadn't been able to contact any of her friends. The cliffhanger naturally has had fans wondering if some characters might not be back in Season 5, and the news that series regular Henry Ian Cusick had landed a role on Marvel's Inhumans was cause to worry that something awful might have happened to Marcus. Henry Ian Cusick spoke with CinemaBlend, and he told us this about his future on The 100:
Well, we still don't know what happened to the people in the bunker during the big time jump, but Henry Ian Cusick's confirmation that he's on board for Season 5 at least settles the question of whether Marcus Kane and Co. are alive. It was tragic to imagine that Clarke would someday manage to open the bunker, only to discover her loved ones had died. Still, The 100 has never held back from tackling truly heartbreaking stories. Given that we'll be waiting until midseason to check back in with the characters on The 100, we can be glad that we don't have to wonder if we'll never seen Marcus in the flesh again.
Of course, there are still many mysteries to ponder. For one thing, we don't know what happened down in the bunker that nobody has managed to communicate with Clarke or break their way out. For another thing, the finale never explained the radio silence from Bellamy and the others up on the Ark. Then, there's the question who exactly is in the ship that landed in front of Clarke and Madi on the little patch of green that hadn't been desolated by radiation. We're in for what will feel like a very long hiatus before Season 5.
Fortunately, we'll get Inhumans to hold us over while we wait for more of The 100. Henry Ian Cusick will be playing a character by the name of Dr. Evan Declan. Since Marvel is even more secretive than Lost, we don't know too much about what's too come, but all the footage we've seen has pointed to a TV show unlike anything else.
Henry Ian Cusick is best known for his work as an actor on shows like The 100 and Inhumans, but he's also been working on a fresh new project in the tech industry. Cusick is the spokesperson for the social media platform JamBios, which has been called the "anti-Snapchat" and allows users to document their thoughts to keep, for themselves or to share with others. If you haven't checked it out yet, now is the time, as there's an exciting contest currently being run. Here's what's happening:
You can catch Henry Ian Cusick back on the small screen in the fall with Inhumans and then again in midseason with The 100. Take a look at our summer TV schedule for your viewing options in the meantime, and don't forget to swing by our list of reboots and revivals that are in the works.
Resident of One Chicago, Bachelor Nation, and Cleveland. Has opinions about crossovers, Star Wars, and superheroes. Will not time travel.
Your Daily Blend of Entertainment News
Thank you for signing up to CinemaBlend. You will receive a verification email shortly.
There was a problem. Please refresh the page and try again.