Game Of Thrones' Hot Pie Opened A Real-Life Bakery With The Best Name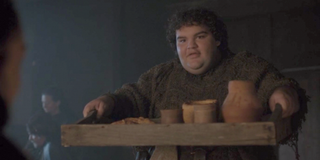 Not too many characters on Game of Thrones have gotten happy endings after joining forces with a member of the Stark family, but Arya's pal Hot Pie has been an exception. The two became friends when they both joined Yoren on his journey toward the Wall, then they went their separate ways in Season 3 when Hot Pie stayed behind at a tavern to bake bread for the customers. Ben Hawkey, who played Hot Pie on Game of Thrones, has opened his own bakery, and it has the perfect name: You Know Nothing John Dough.
The name for Ben Hawkey's bakery is a play on the words of the immortal phrase (first uttered by Ygritte) of "You know nothing, Jon Snow," and it pretty much guarantees that nobody will forget what his shop is called. The You Know Nothing John Dough bakery menu consists of one item: the direwolf loaf. Inspired by the more or less direwolf-shaped loaf of bread that Hot Pie baked for Arya in Season 3, the direwolf loaves are made from wholewheat cornbread and flavored with orange zest. They're also shaped much more definitively like direwolves than what Hot Pie made for Arya, although these were presumably baked with the aid of cookie cutters.
Unfortunately for those of us on the American side of the pond, treats from You Know Nothing John Dough are available exclusively via the Deliveroo food delivery service, which only delivers to folks in the U.K. For those who are in the delivery area, however, the direwolf loaves come at a good deal. Each loaf only costs £1.00, so a whole pack of wolf loaves wouldn't be too pricy.
You Know Nothing John Dough opened on the same weekend as Season 7 of Game of Thrones debuted, so the timing was pretty much perfect. The very next weekend, Ben Hawkey himself made a surprise appearance on the show, reprising his role as Hot Pie to serve Arya some pie and send her north to reunite with her family (and Nymeria). He also dropped a little advice about baking, saying that browning the butter beforehand makes for a better product.
Arya, reflecting on the pies she baked for Walder Frey out of his own sons, noted that she didn't brown her butter. It was a morbidly hilarious scene, and it probably guarantees that Ben Hawkey's direwolf loaves will sell better than Maisie Williams' meat pies ever would. Williams may want to keep her day job. In case you've forgotten the time Hot Pie debuted his direwolf-ish bread on Game of Thrones, check it out:
Something tells me Arya and Gendry wouldn't have nearly as hard of time guessing what Ben Hawkey's direwolf loaves are as they did with Hot Pie's bread. We'll have to wait and see if Hot Pie ever turns up on Game of Thrones again, and we can only hope that Ben Hawkey's direwolf loaves will someday make their way to the U.S.
Resident of One Chicago, Bachelor Nation, and Cleveland. Has opinions about crossovers, Star Wars, and superheroes. Will not time travel.
Your Daily Blend of Entertainment News
Thank you for signing up to CinemaBlend. You will receive a verification email shortly.
There was a problem. Please refresh the page and try again.