Carol Burnett Is Returning To TV For A Crazy New Netflix Show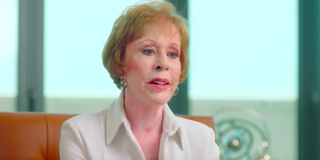 Carol Burnett is an absolute legend of comedy, and TV as a whole is a lot less funny when she's not involved in a project. Fortunately for fans, she's set to return to the small screen in the not-too-distant future for a brand new show that will definitely be unlike anything else in showbiz. Burnett is coming to Netflix (which could really use some original hits these days) for a series called A Little Help with Carol Burnett, and the series announcement is proof that she'll be bringing her distinctive sense of humor along for the ride. Take a look!
A Little Help with Carol Burnett will be an original unscripted series on Netflix that gives youngsters the chance to dole out advice to celebrities as well as everyday people, all in front of a live studio audience. The video is obviously scripted, but it gives a taste of what's to come when the show actually premieres. We have Carol Burnett herself at a job interview with a kid for a Netflix show, and the kid is not as immediately impressed with her as most adults would be. In fact, the interview is labeled "Candidate 0426" rather than "Carol Burnett."
Carol Burnett's list of her accomplishments -- including her work on The Carol Burnett show, her Emmys, and her films -- don't blow the young man's mind, but he decides to give her a shot at Netflix. He has a few conditions, however: she must use her phone to text rather than call, she must slouch when she sits, she must "stay woke," and she must hit social media, presumably to interact with all the other cool kids.
Obviously the minute and a half of footage that serves as a series announcement isn't enough for us to judge the show itself, but I know I got a few laughs right off the bat. I never knew I needed to see Carol Burnett very seriously asking a grade-schooler if he knows who Julie Andrews is, and her attempt to describe Dolly Parton without mentioning the unmentionable to an impressionable young mind was pretty fabulous. Netflix (opens in new tab) hasn't yet announced what celebrities will appear on the show with Burnett and the youngsters; hopefully Julie Andrews and/or Dolly Parton will be on the lineup. Surely Carol Burnett could call in a couple of favors, right?
Unfortunately, we won't get to see a full episode of A Little Help with Carol Burnett for a while yet. The show won't debut until some point in 2018. Still, the announcement video gives us something solid to look forward to from Carol Burnett on television. Burnett has been attached to an in-development sitcom for a while now, but we haven't heard of much in the way of progress. We can't say at this point if A Little Help with Carol Burnett means that Household Name won't happen, so we'll have to wait and see.
Stay tuned to CinemaBlend for the latest in TV news. For what's available on Netflix in 2017, be sure to swing by our Netflix guide. Our summer TV schedule and our fall TV premiere guide can help you plan out what to watch and when to watch it on the small screen.
Resident of One Chicago, Bachelor Nation, and Cleveland. Has opinions about crossovers, Star Wars, and superheroes. Will not time travel.
Your Daily Blend of Entertainment News
Thank you for signing up to CinemaBlend. You will receive a verification email shortly.
There was a problem. Please refresh the page and try again.