New Luke Cage Season 2 Photo Shows One Character Getting An Awesome Upgrade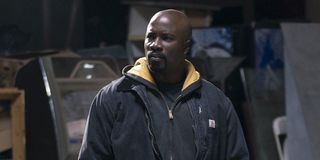 Warning! The following post contains spoilers for Luke Cage Season 2 and The Defenders! Read at your own risk.
Those who watched The Defenders know that while most heroes managed to escape the encounter with The Hand with little to no injury, Misty Knight took a pretty nasty slice. The Luke Cage aligned detective ended up losing her arm at the hands of Bakuto, and was told by Danny Rand at the end of the miniseries he would use his ownership of a "state of the art," hospital to help her in any way he can. Many speculated this meant Knight was getting an awesome upgrade in the form of a bionic arm, and recent pictures from the set now confirm that is the case! Check it out.
The image comes from EW, and was shared by Misty actress Simone Missick. The picture, which comes from the set of Luke Cage Season 2, shows Misty Knight alongside Luke Cage with a metal arm connected by a wire going into her actual arm. The arm definitely looks cutting edge, but not so much so that it doesn't look like anything that could not exist in today's world. One thing fans of the comics might complain about is the arm is not the trademark goldish/bronze color the character is typically known to have, although a hint of that color can be seen just near the tip of where the mechanized prosthetic ends.
Of course, Marvel is sharing absolutely no details regarding the circumstances of Misty Knight's new arm, which has some Marvel fans frustrated. While it seems as though The Defenders lined up Danny Rand to be the one to set the wheels in motion for Knight's bionic arm, it was traditionally Tony Stark who created the arm in the comics. Having Robert Downey Jr. make a cameo to give Knight her arm would be crossover dream come true, although as mentioned, it appears as though the story is leaning towards the hospital developing the arm via cutting edge tech and Danny Rand's deep pockets.
Marvel also didn't indicate whether or not this new arm had any enhanced capabilities beyond what a normal arm may provide. The bionic arm of the comics can do a wide range of super hero things ranging from freezing objects to firing concussive blasts. If Misty Knight's arm can do all of that in Luke Cage, she'd have little reason to be holding a gun with it, so it's unlikely those abilities are present for now. Hopefully the arm comes with at least SOME enhanced abilities, as surely many fans would love to see Misty uppercut some punk into oblivion via enhanced strength or something crazy like that.
While we've been blessed with an early look at Season 2 of Luke Cage, the series is not expected to air until 2018. That's fine for now, as The Punisher is expected to be out before the year's end and there are still plenty of crazy things to discuss regarding The Defenders. Beyond that, there's also a ton of great programming coming soon both related and unrelated to super heroes, so be sure to visit our fall premiere guide to stay up to date.
Mick likes good television, but also reality television. He grew up on Star Wars, DC, Marvel, and pro wrestling and loves to discuss and dissect most of it. He's been writing online for over a decade and never dreamed he'd be in the position he is today.
Your Daily Blend of Entertainment News
Thank you for signing up to CinemaBlend. You will receive a verification email shortly.
There was a problem. Please refresh the page and try again.