Daredevil's Season 3 Villain May Have Been Revealed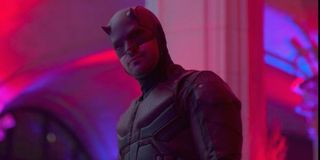 Warning: spoilers ahead for The Defenders! Read ahead at your own risk!
It takes more than a falling building to put Matt Murdock down permanently. After surviving the collapse of the Midland Circle skyscraper in the final act of The Defenders, the red-clad Marvel badass will soon face one of his hardest challenges yet: hanging out with his mom. But more to the point here, an alleged casting call for a villainous role in Daredevil Season 3 has some of us under the assumption that we may soon see Marvel baddie Sin-Eater make his way to Hell's Kitchen.
The purported character description, first reported by That Hashtag Show, reads as such:
That description seems to promise a brand new character waltzing into Daredevil's world in Season 3 when the Born Again storyline receives its quasi-adaptation. We obviously haven't received definitive confirmation one way or the other yet, but the basic description of "Steve" certainly seems to lend credence to the possibility that his hidden darkness will be that of the Marvel villain Stanley "Sin-Eater" Carter. Plus, as a series regular, he could very well be a long-term bad guy instead of a just a one-off henchman.
The core concept behind Sin-Eater is the type of origin story that would work well within the established Defenders universe. Real name Stanley Carter, Sin-Eater is a former S.H.I.E.L.D. agent endowed with near superhuman-level strength and stamina after being subjected to a botched experiment. Disillusioned with the state of law enforcement, he dons a mask and a shotgun and begins a murderous crusade against powerful and influential New Yorkers whom he believes have "sinned." He's essentially what would happen if The Punisher's knack for brutal violence married Daredevil's religious sense of justice, and the offspring of that marriage was completely insane and had Luke Cage's strength as a babysitter.
Sin-Eater's potential inclusion in Season 3 also feels thematically relevant when we consider the way the Daredevil story leaves off in The Defenders. The Born Again storyline leans heavily on Matt's Catholic background to inform its themes, with Margaret Murdock's repentance originating from her own troublesome past, and the inclusion of a character quite literally called "Sin-Eater," heavy-handed as it may potentially feel, arguably does an excellent job of juxtaposing Matt's faith with his violent alter ego.
Of course, with all of that said, we should probably note that there's still room for "Steve" to be revealed as some character other than Sin-Eater. With Season 3 of Daredevil still a long way off, new details could come forward to change our take on this character drastically. The Defenders universe has played fast and loose with iconic Marvel Comics personalities over the years, so it could be anyone from Mister Fear to a highly revised take on Bullseye -- whom many fans have wanted to see for quite some time. (The double-mention of "athletic" could hint at Bullseye's baseball experience from the comics, after all.) We will just have to wait and see what happens.
The Defenders is currently available to stream on Netflix, as are the four heroes' standalone shows, and the Marvel Cinematic Universe will get even bloodier when The Punisher's solo Netflix series debuts this fall. Beyond that, make sure to take a look at our summer TV premiere guide and our fall TV premiere guide to keep yourself in the loop on all of the biggest and best small screen projects set to debut over the course of the next few months!
Originally from Connecticut, Conner grew up in San Diego and graduated from Chapman University in 2014. He now lives in Los Angeles working in and around the entertainment industry and can mostly be found binging horror movies and chugging coffee.
Your Daily Blend of Entertainment News
Thank you for signing up to CinemaBlend. You will receive a verification email shortly.
There was a problem. Please refresh the page and try again.