What The Defenders' Final Scene Means For Daredevil Season 3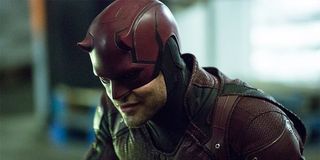 SPOILER WARNING: The following article contains massive spoilers for The Defenders. If you have not yet watched the show, and don't wish to know major details about the ending, please bookmark this page and save it for after your streaming experience is complete!
As The Defenders finale draws towards the end, audiences are left wondering exactly how the franchise will handle the future of Charlie Cox's Matt Murdock. After all, the show presents the idea that he is dead, buried under the rubble of Midland Circle; and yet it had previously been announced that we will soon be seeing the release of Daredevil Season 3. Fortunately, the final scene of the show winds up partially answering this riddle, confirming that the blind lawyer is still alive -- but it also gives us a hint at an important future relationship for the hero, as it looks like Matt will soon be meeting his mother.
To refresh your memory, the final scene of The Defenders follows up a conversation between Karen (Deborah Ann Woll) and Foggy (Elden Henson) in the church, where they discuss Karen's nagging feeling that Matt may still be alive. As the sequence starts, we see the hero lying in a bed -- a nun and first aid equipment on his right, a rosary to his left, and a cross above him. Apparently, Matt has somehow gotten back to a nunnery. Though he is cut, bruised, and beaten to hell, he's been put back together with bandages and gauze, and after what is inferred as a good bit of unconsciousness, he begins to stir. Seeing Matt's left arm move, the nun at his bedside says the key bit of dialogue that we're here to discuss:
Whether audiences knew it or not, Daredevil previously dropped hints about Matt Murdock's mom at the beginning of the third episode in the second season, "New York's Finest," but only now does it really look like we will be getting a real introduction. Fans who only really know Daredevil through the 2003 movie and the Marvel Netflix show may only know about Matt's relationship with 'Battlin' Jack Murdock, but Margaret Murdock, a.k.a. Sister Maggie, was created by Frank Miller and David Mazzucchelli for Marvel Comics back in 1986. This specifically occurred during the famed "Born Again" arc, when Kingpin learns of Matt Murdock's true identity, and uses that information to systematically destroy the hero's life.
When Matt is at his lowest point, he goes back to his father's old boxing gym, and it's there that his mother finds him, and winds up nursing him back to health. Clearly the Marvel Cinematic Universe is handling the circumstances in a very different way, but it's noteworthy that the ultimate scenario is basically the same, with Matt needing his mother to help him start to rebuild his life.
So what does the introduction of Sister Maggie mean for Daredevil Season 3, on beyond the tortured, conflicting feelings that it will generate in Matt Murdock regarding the question of where she's been? Well, one thing we can't help but notice is that this is actually the second nod that the franchise has given towards the "Born Again" storyline. In the tenth episode of the second season, "The Man In The Box," Wilson Fisk (Vincent D'Onofrio) has a direct confrontation with Matt in lawyer-mode during his stay in prison, and the encounter proves to spark his curiosity about defense attorney. Since we last caught up with him, he's had his people looking into Matt's background -- so it's not hard to take Maggie's forthcoming role as a possible clue that the show is heading in that direction.
That on the table, there is a second significant Daredevil comic arc in which Maggie plays a key role, and, frankly, it's as dark if not darker than what goes down in "Born Again." Without going into deep spoiler-y details that would potentially ruin some major twists, "Guardian Devil" is a plot that involves one of Matt's greatest foes, Bullseye; a baby who may or might not be the Antichrist; and the death of one of the most important Daredevil characters. We wouldn't expect Season 3 to be a direct adaptation, particularly because of some of the specific characters involved (like the Spider-Man villain Mysterio), but it would be a disturbing road for the series to go down, and would give Maggie a significant role to play in the story outside of the big dramatic explanation for why she had to abandon her only son.
Given the secrecy surrounding all Marvel projects, we probably won't know the specific comic book influences that will feed into Daredevil Season 3 until we're actually watching it, but the events and end of The Defenders most definitely gives the show an interesting place from which it can build. Naturally we're very excited to see where it goes and will be following developments closely -- and it will be particularly interesting to learn who will be playing Sister Maggie in the hit series.
The Defenders is now streaming on Netflix, and Daredevil Season 3 is scheduled to premiere at some point in 2018. In the meantime, we would recommend checking out our 2017 Netflix schedule for the full run-down on all of the content coming out between now and the end of the year. You can also read our summer TV guide and our fall premiere schedule, which have info on everything going on outside the Netflix realm!
Your Daily Blend of Entertainment News
Assistant Managing Editor
NJ native who calls LA home and lives in a Dreamatorium. A decade-plus CinemaBlend veteran who is endlessly enthusiastic about the career he's dreamt of since seventh grade.