Watch It's Always Sunny Characters Yelling At Dee In This Awesome Montage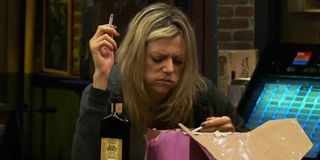 It's no secret that It's Always Sunny in Philadelphia has achieved an insane degree of consistency seldom seen in the world of sitcoms. The FXX comedy remains as sharp as ever, even in its extended hiatus, and one of the most routinely satisfying running gags is the gang's constant berating of Kaitlin Olson's Sweet Dee. In fact, a compilation of characters calling Sweet Dee a "bitch" made its way online, and it's guaranteed to be one of the funniest things that you will see all day. Check it out below and prepare yourself for tons of delightfully NSFW yelling.
As I said, they're nothing if not consistent, right? The It's Always Sunny gang has been around since 2005, and pretty much every episode of the fan-favorite show features a moment in which everyone goes after Dee. Sometimes she deserves it. Sometimes she doesn't deserve it. Either way, it never fails to disappoint. Especially when everyone brings out their bird impressions.
There are plenty of standout moments in that compilation, but one of the best is the sequence from "Psycho Pete Returns," in which Dee's brother (and possible full-blown serial killer) Dennis Reynolds threatens to skin her and turn her into a piece of high-end luggage. From the deadpan delivery by Glenn Howerton -- who could potentially take a reduced role in the show's future because of his upcoming NBC comedy AP Bio -- to Kaitlin Olson's legitimately frightened response, it's all gold.
Then there's the bit from "Charlie Work," the Season 10 episode told mostly in one long take, in which Charlie Kelly hurriedly barks orders at everyone in the bar and delivers the pitch-perfect line: "You move the goddamn dumpster, you bitch." That episode is also noteworthy because it features another great moment where Dennis scratches Mac and screams, "Look at me when you're talking to me!"
Then, of course, there are the moments in that video that don't come from the leading members of the gang. It's obviously great to watch Frank, Mac, Charlie, and Dennis wail on Dee for the smallest offense, but it's also pretty clear that everyone else in Philadelphia hates her as well. Whether it's Artemis' grandstanding monologues or Rickety Cricket getting revenge by slamming Dee in the face with a chair, it becomes pretty clear that Dee has arguably become an even bigger punching bag (sometimes literally) for the show's characters than Charlie's unfounded ignorance is.
While that video shows her taking a lot of punishment, that doesn't mean that Sweet Dee hasn't dished out her own verbal and physical abuse onto others over the years. After all, she's just as insane as the rest of them. She has even gotten into the world of competitive boxing and delivered some solid trash talk along the way -- albeit with the help of some Roid Rage.
CinemaBlend will keep you posted with more information related to the future of It's Always Sunny in Philadelphia (whenever Season 13 ends up airing) as more details become available to us. As for Kaitlin Olson, you can catch her on The Mick when her Fox sitcom returns on Tuesday, September 26 at 9 p.m. ET. Beyond that, take a look at our fall TV premiere guide for more details on the rest of this season's major small screen debuts!
Your Daily Blend of Entertainment News
Originally from Connecticut, Conner grew up in San Diego and graduated from Chapman University in 2014. He now lives in Los Angeles working in and around the entertainment industry and can mostly be found binging horror movies and chugging coffee.