Outlander Just Delivered A Bloody Twist That Will Change Everything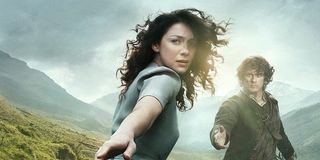 Warning: major spoilers ahead for Episode 2 of Outlander Season 3, called "Surrender." If you haven't caught the episode yet, feel free to check out some of our non-spoilery articles.
Outlander got off to a bloody start in last week's Season 3 premiere, as the Battle of Culloden resulted in the massacre of almost all of the Scottish soldiers. Jamie was on death's door himself due to a terrible wound, and it was only thanks to an unexpected twist of fate involving a British soldier's debt of honor that he survived. He made it home to Lallybroch at the end of the premiere, and "Surrender" gave viewers a look at Jamie's new life as a Jacobite traitor following the crushing of the rebellion by the Brits. Unfortunately for young Fergus, Jamie's status as an outlaw in the woods around Lallybroch wasn't doing his family any favors aside from the occasional dead deer.
Here's how everything went wrong for poor Fergus. Jamie's spirit was pretty thoroughly broken six years after the Battle of Culloden and departure of Claire, but Fergus -- who made it back to Lallybroch with the paperwork to transfer ownership of the lands to young Jamie -- wanted nothing more than to rouse Jamie to fight back against the Brits. Jamie wanted nothing of it until Fergus made a bloody mess of himself. When Fergus discovered he was being followed by redcoats (including a Scot by the name of Corporal Macgregor), he began to taunt them. The decision backfired when Fergus was boxed in by redcoats, and Macgregor retaliated at the poor boy by chopping his hand off and leaving him to die in the woods.
Fortunately for Fergus, the attack happened in the woods where Jamie was lurking. As soon as the redcoats left the scene with Fergus bleeding to death, Jamie emerged to tie off Fergus spurting wound in the manner Claire taught him, and he was able to carry Fergus back to Lallybroch for treatment. There wasn't much Jenny could do for Fergus except for stopping the bleeding and plying him with whiskey, but it was enough that he lived. Still, the little French pickpocket is never going to pick another pocket.
Fergus actually took the incident pretty well, all things considered. When Jamie visited him, Fergus reminded him of the promise he made in France: if Fergus was to lose an ear or a hand while in Jamie's service, Jamie would provide for him for the rest of his days. Although Jamie was living as an outlaw so hunted by the Brits that mere rumor of his proximity was enough for his family to be harassed, he vowed that he would keep his side of the bargain, and he found a pretty solid way of providing a whole lot of money for Fergus, Jenny, and the rest of the family.
A substantial reward was being offered for the capture of Red Jamie the Jacobite. Jamie, tired of putting his loved ones in danger and wanting to provide for them, decided that the best course of action would be for Jenny to turn him into the redcoats. That way, Jenny would get the reward and stop the British from doubting their loyalties and harassing them, and Jamie would stop endangering everybody. Besides, it was clear that six years of living as a cave hermit hadn't done much for his spirit, and imprisonment by the redcoats might not be so different from being forced into hiding on his own lands.
That said, Fergus' wound had the benefit of reigniting Jamie's fighting spirit, and it was clear that he was done with inactivity on all fronts. Even if he has been arrested and sent to an English prison, Jamie hasn't entirely given up. Our great Scot will likely begin to resemble the hero he became once more, and his family in Lallybroch's fortunes will have been much improved. The bloody twist that saw poor Fergus lose a hand is a game-changer for all the characters in the 18th century timeline, and we can bet that not all of the effects have been seen just yet. After all, we still have to meet adult Fergus later in the season.
New episodes of Outlander air on Sundays at 8 p.m. ET on Starz, and our fall TV guide can help you figure out what to watch on the other six nights of the week.
Your Daily Blend of Entertainment News
Laura turned a lifelong love of television into a valid reason to write and think about TV on a daily basis. She's not a doctor, lawyer, or detective, but watches a lot of them in primetime. Resident of One Chicago, the galaxy far, far away, and Northeast Ohio. Will not time travel, but will sneak references to The X-Files into daily conversation.