9 Devastating Losses We Should Probably Expect In Outlander Season 3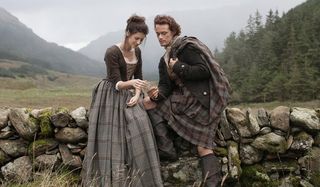 Outlander is finally returning to Starz for Season 3 this weekend. Although Season 2 ended with Claire and Jamie separated by about 200 years of history, the finale gave hope that Claire would be able to travel back to reunite with Jamie. Unfortunately, we're bound to face some losses in the new batch of episodes, as there's no way the course of true love will run entirely smooth for Jamie and Claire. Using the events of Diana Gabaldon's book Voyager on which Season 3 will be based and what we know so far about Season 3, we've compiled a list of devastating losses we should probably expect sooner rather than later. We can't guarantee that these particular plot twists will happen, but we should prepare ourselves anyway.
Warning: major spoilers ahead for Voyager and all that has been released about Season 3 so far. Seriously, if you haven't read the book and don't want to be spoiled, check out now and take a look at some of our non-spoilery articles.
A Whole Bunch Of Highlanders
If there's one thing we've known from almost the very beginning of Outlander, it's that the Highlander way of life was doomed to end after the Battle of Culloden. The Scots would be thoroughly defeated by the English, and a great many Highlanders would die. Jamie and Claire tried everything in their power to stop the Battle of Culloden from ever happening, but they failed, and the Season 2 finale ended with Jaime returning to the Scottish army to face almost certain death with them. Even if Jamie doesn't die, a whole lot of Scots will.
Murtagh's Reactions
If Season 3 follows Voyager insofar as the list of dead Scots, then we can expect Murtagh to die at the Battle of Culloden. If that's the case, Jamie will lose his beloved godfather who stood with him through absolutely everything, and we'll be deprived of Murtagh's fantastic reactions to just about everything. He could deliver the comic relief as well as some of the most heartfelt and touching moments of the series. Murtagh has loved Jamie like his own son and followed him through thick and thin. Should he die as he did in the book, we'll lose his reactions to everything. Is it too early to miss him?
Kilts
In Voyager (as well as in real life), the Battle of Culloden resulted in the Diskilting Act enacted by the English to punish the rebellious Scots. The possession of any Scottish tartan was outlawed, and Scots could be legally punished if they were found wearing their native dress, which meant that kilts were out of the question for daily wear. The Battle of Culloden is obviously going to go badly for the Highlanders, and the odds are pretty good that the show will follow the book and Culloden will be the last or one of the last times we see Scots in kilts on Outlander.
Young Fergus
Young Fergus made his debut in Season 2 as a pickpocket (originally named Claudel) living in a brothel, but he became part of the Fraser family when Jamie recruited him to steal papers. Fergus is immensely loyal to Jaime, and will certainly stick by his side as much as possible in the aftermath of Culloden. In fact, he'll be back with Jamie after the big time jump, which means one thing: young Fergus won't be young anymore. French actor Cesar Domboy landed the role of adult Fergus, so we know for sure that we'll say goodbye to young Fergus in Season 3.
Young Fergus' Hand
We shouldn't count on all of young Fergus making it to adulthood. Before the time jump in Voyager, Fergus is on his way to visit Jamie when he comes across a band of English soldiers. Instead of running, he ends up with his hand cut off by one of the Redcoats. Given that filming a show like Outlander would undoubtedly be more difficult if it became necessary to hide an actor's hand, we couldn't be sure the Fergus would lose his hand on the show, but a photo released by Starz for Season 3 indicates that Fergus will at the very least suffer an arm injury.
Scotland
Claire and Jamie are in for a big voyage in Season 3, as we know they were filming on the ships formerly used by the Black Sails series in South Africa. Voyager sees the reunited lovebirds set sail to the Caribbean on a desperate mission to save a certain someone, and it's unlikely that the characters will make their way back to Scotland any time soon. Their trip to the Caribbean takes them in some unexpected directions that are definitely not on the way to Scotland. So, when Jamie and Claire depart Scotland in Season 3, we can bet that they won't be back for at least one season.
Tobias Menzies
Tobias Menzies has been stellar in Outlander in the dual roles of the unfortunate Frank Randall in the 20th century and the villainous Black Jack Randall back in the 18th century. Frank has already died by the time Claire and Brianna visit Scotland in the 1960s, so Menzies won't be playing Frank outside of the flashbacks in Season 3. Throw in the fact that Black Jack is killed in Voyager at the Battle of Culloden, and Menzies probably won't be playing anybody in the 1700s either. While it's possible he'll turn up in flashbacks as Frank or Jack in the rest of the series, we're probably going to lose Tobias Menzies as a regular.
Claire And Brianna
While the majority of us are probably already waiting with bated breath for Claire to travel back to the 1700s to reunite with Jaime, the reunion will come at the cost of Claire and Brianna as mother and daughter. Claire has to give up her daughter to return to her husband, and it could be as devastating for fans as it likely will be for the two characters. We'll still get flashbacks of Claire and Brianna, but once Claire goes back in time, that'll be it for them in Season 3.
1940s Fashion
Outlander will jump around in the 20 years between Claire's return to the 20th century and her trip back to the past. Once Claire relocates to America and gives birth to baby Brianna, we'll almost certainly see the end of the characters' time in the 1940s and all its fashion. Claire looked awfully snazzy in her 40s duds, and Frank was dashing as well. While it should be fun to see the fashion of the 50s and more of the 60s, we may come to miss the 40s. Perhaps not as much as Murtagh or young Fergus, but at least a little bit.
Season 3 of Outlander (opens in new tab) will premiere on Starz on Sunday, September 10 at 8 p.m. ET. Be sure to tune in to finally get more of Claire and Jamie, and don't forget to take a look at our fall TV premiere guide for what else you'll be able to watch in the not-too-distant future.
Resident of One Chicago, Bachelor Nation, and Cleveland. Has opinions about crossovers, Star Wars, and superheroes. Will not time travel.
Your Daily Blend of Entertainment News
Thank you for signing up to CinemaBlend. You will receive a verification email shortly.
There was a problem. Please refresh the page and try again.