How The X-Files Will Be Different In Season 11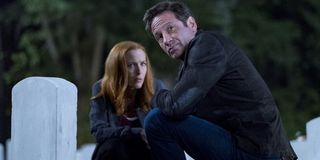 (Image credit: Image courtesy of Fox)
The X-Files will soon return to the airwaves with a brand new season. Season 10 ended on a killer cliffhanger, and fans have been waiting ever since the beginning of 2016 to find out what happens next for Mulder and Scully. There are still plenty of questions waiting to be answered about everything from Mulder and Scully's long-lost son to what the Cigarette-Smoking Man's endgame really is. Well, we still have a little bit of a wait before the Season 11 premiere, but The X-Files creator Chris Carter spoke with CinemaBlend about what's to come, and he told me this about how Season 11 will be different from Season 10:
Season 11 of The X-Files is going to be significantly longer than Season 10, which ran for only six episodes back in 2016. Season 11 scored an order for ten episodes, which wasn't all that surprising considering the fantastic ratings for Fox and the reactions from viewers in the aftermath of the cliffhanger. After the X-Files team figured out how to tackle the challenges of a revival, they were even better prepared for what was in store for the longer Season 11.
According to Chris Carter, the result is that we're going to get more standalone episodes with Monsters of the Week in Season 11 than in Season 10, and that can only be a good thing. Without standalones, we never would have gotten Robert Patrick Modell or Donnie Pfaster or the entire "Bad Blood" episode, and what would life be like without "Bad Blood"?
Of course, The X-Files wouldn't have become the cultural phenomenon that it did if not for the aliens and conspiracies that make up the mythology of the series, but the show has always been more than just Mulder and Scully chasing after aliens with badges and guns. Some of the very best episodes of The X-Files have been standalones that had nothing to do with aliens or government cover-ups or the Cigarette-Smoking Man. The extra four episodes in the new season could mean standalones that are even more engaging as well as mythology twists that are even more compelling. Who knows? Maybe the higher episode count means that we'll get some of our longest-standing questions answered.
The odds are quite good that there will at least be answers to questions about Mulder and Scully's families. Chris Carter previously revealed that Season 11 is going to feature a lot of story about William, and sneak peeks have revealed that none other than Jeffrey Spender -- a.k.a. Mulder's half brother -- will be back in the mix with a connection to William. I'll probably never get my answer about why that evil bee in Fight the Future waited until Mulder and Scully were in the middle of an emotionally-charged moment to sting, but I'll settle for some answers about William.
You can catch the first episode of The X-Files Season 11 on Wednesday, January 3 at 8 p.m. ET on Fox. For more premiere dates in the coming weeks, check out our 2018 midseason TV schedule.
Resident of One Chicago, Bachelor Nation, and Cleveland. Has opinions about crossovers, Star Wars, and superheroes. Will not time travel.
Your Daily Blend of Entertainment News
Thank you for signing up to CinemaBlend. You will receive a verification email shortly.
There was a problem. Please refresh the page and try again.