Why The X-Files Finally Brought That Long-Lost Character Back For Season 11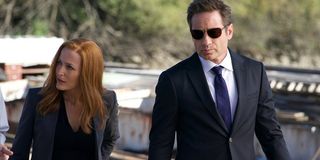 (Image credit: Image courtesy of Fox)
Spoilers ahead for the fifth episode of The X-Files Season 11, "Ghouli."
Fans of The X-Files have been waiting more than a decade to find out more about Mulder and Scully's long-lost son, William. The poor kid was put up for adoption at the end of Season 9 after Scully realized that she was not going to be able to keep him safe from all the people who found him via her, and he wasn't seen again until the Season 11 premiere featured some mysterious flashes between Scully and her now-teenage son. The X-Files creator Chris Carter spoke with CinemaBlend about the show, and he explained why Season 11 rather than Season 10 was the right time to bring William back:
When Mulder and Scully reunited to rejoin the FBI and begin investigating the X-Files again back in Season 10, there was something different about their dynamic than what we saw during the original run of the series, and a lot of that had to do with their absent son. While Chris Carter is on the record that he believes Mulder and Scully are still platonic, the show has established that they at least believed William to be their child. His absence -- and the reason for his absence -- hung over them in Season 10. William's introduction as a teenager in Season 11 is a payoff of what built up in Season 10.
Of course, William's introduction in "Ghouli" revealed that the adorable baby boy with the bunny ears hat and spaceship onesie didn't grow up to be the most upstanding young man. In fact, he had two girlfriends and used his powers to play tricks on his peers that ended up causing some serious harm. Chris Carter went on in our chat to explain why William wasn't exactly the teenager many fans might have expected:
As much as Scully gave William up in the hopes of allowing him to have a normal life without shadowy government figures, aliens, fanatics, and/or super soldiers constantly turning up on his doorstep, she couldn't stop him from developing powers. The magnetite Jeffrey Spender had injected him with didn't take away his special abilities, and William's adoptive parents simply weren't equipped for the weirdness of a son with powers. By all accounts, his adoptive parents loved him and took care of him, but they didn't have years of experience with the paranormal. If he had been raised by Mulder and Scully -- who are probably more used to weirdness than they are normal life at this point -- he likely wouldn't have had to struggle as much with his abilities.
We can really only wonder what might have been if Scully hadn't given William up for adoption. She didn't have any good options when she made her devastating choice to send him away, and she had no way of knowing that her son would develop powers. Fortunately, the final scene of "Ghouli" revealed that there's hope for Scully to reunite with her son and form a relationship. William is aware of their connection and seems to think well of her. Maybe there's hope. Chris Carter has promised that we're going to get more of William's story in Season 11:
When William inevitably returns for the conclusion of the "My Struggle" series, The X-Files will presumably deliver some answers about the Cigarette-Smoking Man's claim that he's William's real father. Plenty of fans are undoubtedly still holding out hope that Mulder and Scully conceived William the old-fashioned way and Old Smokey had nothing to do with it. Only time will tell. The trailer for the rest of Season 11 indicates that the next (and possibly final) run of episodes will be a wild ride. The Skinman will get an origin story featuring none other than Haley Joel Osment (and some flashbacks to his time in Vietnam), which should give some backstory on everybody's favorite long-suffering assistant director.
New episodes of The X-Files air on Wednesdays at 8 p.m. ET on Fox. For more viewing options now and in the coming months, take a look at our midseason TV premiere guide. If streaming is more your style, swing by our 2018 Netflix premiere schedule. If you're in the mood to check out some of the older episodes of The X-Files, you can find the full series streaming on Hulu.
Resident of One Chicago, Bachelor Nation, and Cleveland. Has opinions about crossovers, Star Wars, and superheroes. Will not time travel.
Your Daily Blend of Entertainment News
Thank you for signing up to CinemaBlend. You will receive a verification email shortly.
There was a problem. Please refresh the page and try again.