12 Big TV Shows That Need To Be Saved From Cancellation Immediately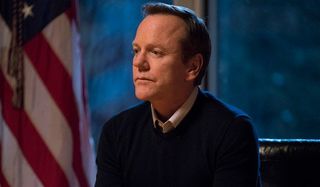 It's that time of the year where TV fans are getting butt cramps from being perched on the edge of their seats, waiting to hear if their favorite TV shows have been renewed or cancelled. Cable and streaming have obviously changed that game a bit, without being tied to traditional TV seasons, but little has changed in the broadcast network world. As such, the daylight savings time change usually brings about more nervousness than ever that all our beloved series could be going away forever.
Here, we're both celebrating some of the most captivating shows on TV as well as pleading for them to be in our lives for more years yet. And not like in a syndicated and airing reruns on TBS kind of way. We want all new seasons, and we want them in 5-7 months! Now let's kick things off with one of the wackiest shows to ever hit primetime. (If you want to see the shows not lucky enough to even get considered for this list, check out everything that got cancelled so far this year.)
Gotham - Fox
Comic book properties are all the rage on screens big and small, but there are no guarantees when it comes to high-concept Batman prequels in which Paul Reubens plays The Penguin's father. As such, Gotham has struggled mightily in the ratings game, and though it has maintained a core fanbase of Jerome-loving fanatics, that fanbase is not always up for tuning in to live episodes. And with Fox picking up NFL Thursday Night Football for the next five years, Gotham will need to carve out a new spot for itself somewhere on the schedule. And it absolutely needs to.
Chances of Renewal: Decent, but several other shows will probably need to fall for it to happen.
Agents of S.H.I.E.L.D. - ABC
When Agents of S.H.I.E.L.D. Season 4 got delayed and shifted to Friday nights, its cancellation seemed all but imminent. But the sci-fi-leaning drama completely changed and refreshed the game, potentially ensuring its future by taking its core group of characters into their own futures. The biggest problems? S.H.I.E.L.D. brings in ABC's smallest primetime audience, only the soon-to-depart Once Upon a Time has a lower demo rating, and the writers are preparing for cancellation. However, the show also doubles its Friday night stats in delayed viewing, making it one of TV's biggest DVR successes.
Chances of Renewal - Half and half. The numbers could be better, but ABC is lacking in big genre shows.
Altered Carbon - Netflix
Netflix has been dabbling in just about every genre in recent years, and the streaming service went full sci-fi with the first season of Altered Carbon. The show delivered enough twists and turns to keep even those who read the book guessing, and all that nudity enhanced the story in some key ways. Since Netflix doesn't share viewership numbers, we can't say how many people tune in, but Altered Carbon was generating a fair amount of buzz when it debuted. The fact that star Joel Kinnaman may not be able to return could complicate matters.
Chances of Renewal: Decent. Netflix hasn't shied away from cancelling series lately, but it doesn't really have anything else like Altered Carbon available.
Black Lightning - The CW
The CW debuted a fifth superhero series back in January, but it wasn't just another show set in the Arrow-verse. Jefferson Pierce and his family deal with entirely different threats than those that plague Oliver Queen and Barry Allen on their respective shows. While airing on The CW does mean that it doesn't score very high ratings, The CW doesn't necessarily cancel shows for not breaking ratings records. The network has something new and fresh in the superhero genre on network TV, and that's a good thing now that we're six seasons into the Arrow-verse.
Chances of Renewal: Very good. The CW hasn't cancelled any of its superhero series since Arrow premiered in 2012, and Black Lightning opens the network up to a whole new superhero universe.
Absentia - Amazon
Castle fans need not have worried about its former star Stana Katic moving on to brighter pastures -- or much, much darker pastures, as it were -- as the actress nailed the follow-up with the internationally acclaimed thriller Absentia. As a former FBI agent who resurfaces after having gone missing for years, Katic anchors the Amazon series' many twists and turns, adding emotional breadth to the disturbing mystery at its core. Because Amazon is Absentia's streaming home, and not its production studio, the company may not have anything to do with a Season 2 renewal. But if the thriller was a hot commodity within its library, maybe Amazon could throw some production dollars at it.
Chances of Renewal: Fairly likely, given its global success
Brooklyn Nine-Nine - Fox
Brooklyn Nine-Nine consistently delivers laughs and heartwarming storylines, but it's not so great about consistently delivering ratings. Despite the stellar cast that includes Andy Samberg, Andre Braugher, Terry Crews, and Chelsea Peretti, Brooklyn Nine-Nine simply isn't a huge hit in the ratings for Fox, and Fox has some other series like Ghosted and LA to Vegas that perform better. The show also already hit the magic 100 episode number that could lead to long-term syndication, so Fox may consider it time to give Nine-Nine the axe.
Chances of Renewal: Not great. If Fox focuses on critical acclaim over ratings, Brooklyn Nine-Nine could still have a future.
Crazy Ex-Girlfriend - The CW
Rachel Bloom -- and by natural extension, her titular firecracker Rebecca Bunch -- is the most watchable woman on TV, if you happen to like hilarious, brilliant, confident, uncomfortable, manic, surreal, insightful and absolutely perfect performances. Particularly performances that involve witty, catchy and endlessly varied music numbers. Unfortunately, its suicide-centered third season remained one of the least-watched primetime entries on TV, despite adding even more emotional complexity while losing none of the laugh-out-loud humor and humanity. The CW has kept Rebecca, Paula, Darryl and White Josh around for three seasons already, and while a fourth may be a stalker-ish pipe dream, we're wishing for it nonetheless.
Chances of Renewal: Sadly on par with Rebecca finding uncomplicated love, inner peace and true happiness.
Designated Survivor - ABC
Designated Survivor was one of the biggest new shows when it debuted on ABC in the 2016-2017 TV season, and it marked a return to primetime for Kiefer Sutherland as President Tom Kirkman. Unfortunately, the show took a big dip in the ratings from the end of Season 1 to the beginning of Season 2, and there's no guarantee that ABC will give it another chance with Season 3. The death of Alex Kirkman changed the series forever; it remains to be seen whether that's a good thing or a bad thing.
Chances of Renewal: Not terrible. Even if Designated Survivor isn't the ratings juggernaut it was back in the beginning, Kiefer Sutherland is a big name in primetime.
The Blacklist - NBC
The Blacklist has managed to hold on despite disappointing ratings for a while now, and it even survived the cancellation of its own spinoff. Season 5 has proven that the show isn't afraid to go in bold new directions after killing off poor Tom, and there's plenty of story potential for Liz following the end of her current vengeance arc. Executive producer Jon Bokenkamp has acknowledged that Blacklist could get the axe, but he's also said that he and the writers didn't craft the Season 5 finale as a series finale. A cliffhanger is on the way.
Chances of Renewal: NBC is scoring high enough ratings with some of its other shows that maybe The Blacklist could slip by and hold on for another season.
The Path - Hulu
Created by Jessica Goldberg, The Path is an enrapturing and well-crafted TV crossroads of cults and religions, with a bevy of talented stars at its center, from Aaron Paul to Michelle Monaghan to Hugh Dancy and more. Season 3 has only upped the ante for the Meyerist movement, putting Eddie and Cal at the height of its global popularity while bringing Sarah down to the depths of its sordid origins. And the additions of Sarita Choudhury and Freida Pinto have added another layer of mystery to the entire affair. But for all its strengths, The Path is also criminally under-discussed across the pop culture-sphere, and Hulu hasn't exactly sung its praises for being hugely popular, so for now, it's all about keeping the faith.
Chances of Renewal: Because Hulu doesn't release viewing stats, it's really hard to tell how well The Path has done.
The Last Man On Earth - Fox
As it goes with the best TV comedies, The Last Man on Earth's episodes are best viewed sequentially, yet lose none of their inherent silliness and weirdness when experienced in random order, thanks in part to that stellar cast. Unfortunately, Last Man's audience has been shrinking with each season's passing, and considering season renewals have never been guaranteed where this series is concerned, its future is as up in the air ever. But I, for one, want many more years of this show's singular relationship drama and its absurd post-apocalyptic mysteries, often with guest stars and wild hair styles attached. Don't be a friggin' turd, Fox, and renew Last Man on Earth before the virus gets us, too.
Chances of Renewal: Season 4 may have been the last for The Last Man on Earth, but we can cross our fingers and hope.
Rick and Morty - Adult Swim
Because Rick and Morty has probably been more successful than even Adult Swim's execs ever could have hoped, its inclusion here should have fans expressing the very opposite of "wubba lubba dub-dub." (Unless that fan is a birdperson.) But just because we're all expecting another round of intricately detailed sci-fi madness doesn't mean we're definitely getting it. No actual renewal has ever been announced, and no one is known to be currently working on pre-production on Season 4, which they probably would be in order to get the season out before another year and a half has passed. So Season 4 should be fulll steam ahead and yet, it's quieter than it is for Veronica Ann Bennet by the end of "Raising Gazorpazorp."
Chances of Renewal: Good, but no guarantees.
Stay tuned to CinemaBlend for the latest in renewals and cancellations. For the shows that are currently ongoing, take a look at our midseason TV premiere guide, our 2018 Netflix premiere schedule, and our 2018 Amazon Prime guide.
Nick is a Cajun Country native, and is often asked why he doesn't sound like that's the case. His love for his wife and daughters is almost equaled by his love of gasp-for-breath laughter and gasp-for-breath horror. A lifetime spent in the vicinity of a television screen led to his current dream job, as well as his knowledge of too many TV themes and ad jingles.
Your Daily Blend of Entertainment News
Thank you for signing up to CinemaBlend. You will receive a verification email shortly.
There was a problem. Please refresh the page and try again.