Krypton Review: Syfy's Superman Prequel Will Make You Miss Superpowers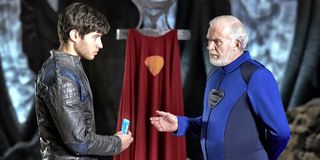 For the first time, fans of Superman lore are about to get more info on the world and people that led to his eventual arrival on our planet when Syfy unleashes Krypton on the masses. The big question on most people's minds has been whether or not a series that's Superman adjacent but has no superheroes present can give fans what they want. Well, now we know. While Krypton goes a long way toward establishing the world that Kal-El's ancestors lived in, the show ultimately fails to make itself feel like necessary viewing for those intrigued by Superman's home world, so much so that you'll probably find yourself really feeling the lack of superpowers.
Set 200 years before an infant Kal-El was sent to Earth by his father, Krypton focuses on his grandfather, Seg-El (Cameron Cuffe), as a young man trying to redeem the shamed House of El and also attempt to save his planet from a dangerous threat. When the story takes off, Seg-El is 23 and already very accustomed to living as one of the Rankless hordes in the city of Kandor. His house was disgraced several years earlier, leading the El's to be stripped of the rank they gained as founders of the science guild and having the House of El sigil outlawed. Seg has been helping his parents, Ter (Rupert Graves) and Charys (Paula Malcomson), make ends meet by running scams on drunk Guildsmen with his best friend, Kem (Rasmus Hardiker), but things are about to get even more difficult for the street rat.
After saving several Kandorian officials from a bomb, chief magistrate Daron-Vex (Elliot Cowan) arranges for Seg to regain rank by joining the House of Vex and binding with his daughter, Nyssa (Wallis Day). While this seems like good news at first, the arrival of Adam Strange (Shaun Sipos), an interplanetary time traveler, with a warning about the future of Krypton, Earth and Seg's grandson throw a pretty nasty wrench into his plans to finally rise in society. Seg is then thrown head first into a fight to save his planet, the future of Earth and the House of El with help from Adam, Kem and his own grandfather, Val-El (Ian McElhinney). Add to this Seg's secret affair with Sagitari private Lyta-Zod (Georgina Campbell), who is daughter to the Primus of the Military Guild Jayna-Zod (Ann Ogbomo), and Seg is about to have a hell of a time.
Those behind Krypton, which comes from executive producers David S. Goyer (Man of Steel, Batman v Superman: Dawn of Justice) and Cameron Welsh (Constantine, Ash vs Evil Dead), not to mention everyone at Syfy who decided to give the drama the green light, are clearly hoping that Superman fans will be interested enough in where everyone's favorite super friend came from to tune in and get hooked on the show. The big problem with that is that, obviously, Krypton has next to nothing to do with Superman. With the exception of Adam telling us that the Man of Steel's future on Earth is in jeopardy if Seg can't save his home world (and the visual of Superman's actual cape), it would be easy to forget that this show is looking to be the official word on Superman's family history.
The drama is going for a Game of Thrones feel, though, with only the teensiest bit of that show's sex, violence and deft handling of the complexities of vying for power or trying to keep the world safe from a massively misunderstood threat. There are lots of alliances made and broken, secret organizations, a grand religion, at least one forbidden affair, people in power who use it well and people in power who abuse that power. And, while it would be fair to say that Krypton should at least be commended for trying something new-ish in the sorta superhero genre, there just isn't enough here to keep people watching once they get past figuring out who's who in Kal-El's distant past.
I was able to preview the first five episodes of Krypton, and, even though I went into the experience knowing that there would be no superpowered heroics, I found myself waiting for something big to happen throughout those episodes. And, by the time the show did get to a surprise I really didn't see coming, it was at the very end of the fifth episode, which is way too late, especially when you're trying to hook people as soon as possible.
Overall, while Krypton has tried to give us an intriguing picture of some of the history of Superman's family and home world, it fails to really bring anything to the table that can keep us wanting more. The only shows that people keep watching are the ones that they feel they need in their lives, and this show is unlikely to do that for many viewers.
Krypton debuts on Syfy on Wednesday, March 21 at 10 p.m. EST. To see what else you can catch on the small screen in the coming weeks be sure to check out our midseason premiere guide, Netflix premiere guide, superhero show premiere guide and Amazon premiere guide.
Your Daily Blend of Entertainment News
Yennefer's apprentice, Gilmore Girl; will Vulcan nerve pinch pretty much anyone if prompted with cheese...Yes, even Jamie Fraser.
Your Daily Blend of Entertainment News
Thank you for signing up to CinemaBlend. You will receive a verification email shortly.
There was a problem. Please refresh the page and try again.